Savory and tender Instant Pot Cubed Beef is the ultimate lazy dinner: little effort, huge flavor, all packed into just one hour of cooking! Juicy chunks of beef and gravy is an easy recipe to make in the pressure cooker, perfect for serving over fluffy mashed potatoes.
Love Instant Pot Recipes? Make sure to try my Instant Pot Short Ribs Too!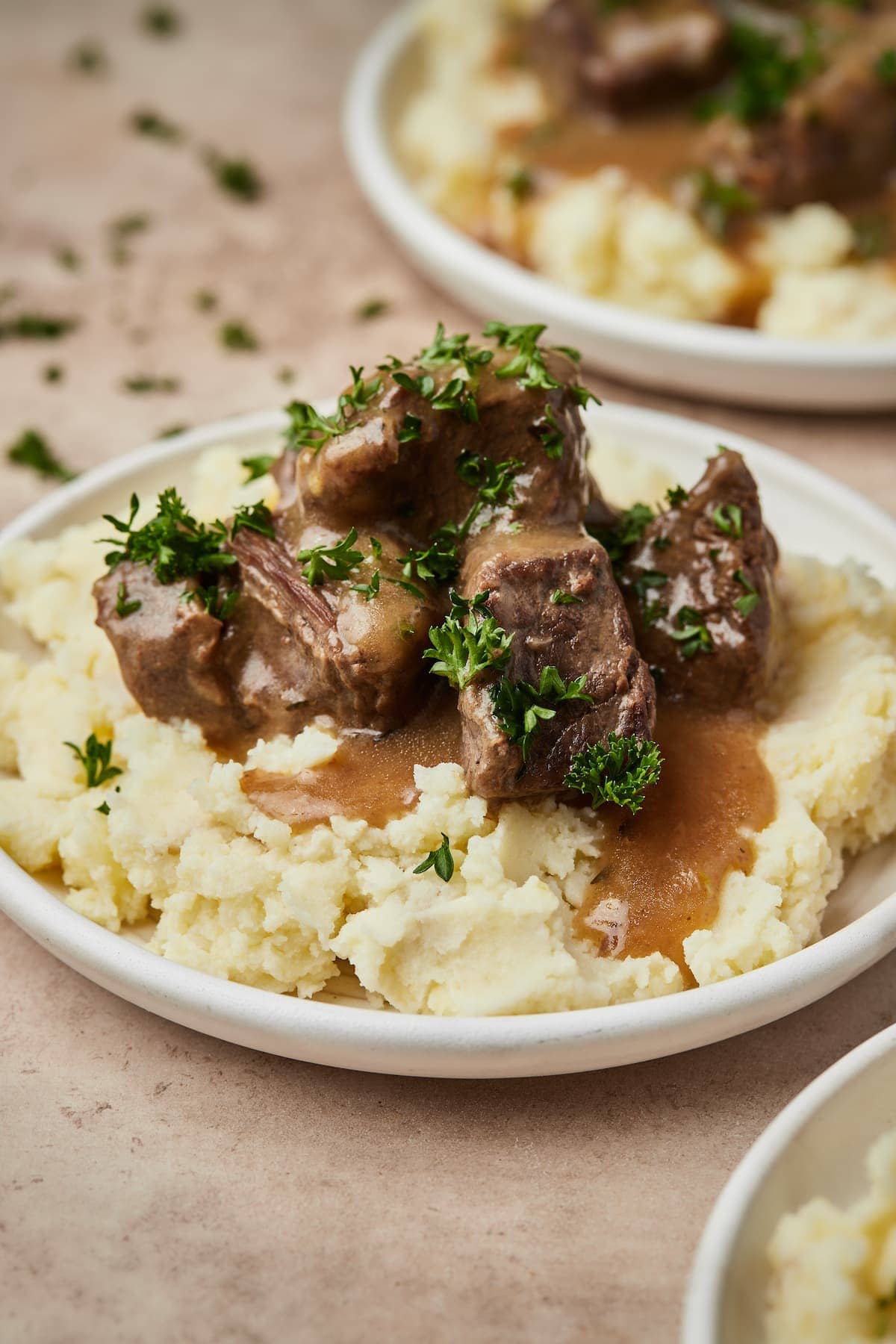 These Bite-Sized Beef Tips are Ultra-Tender!
Whenever I'm craving for a dish that's extra cozy but low maintenance, I turn to this easy recipe for savory, saucy Instant Pot Cubed Beef. You'll soon see why. Beef tips cook up deliciously tender and juicy in the pressure cooker, and this one-pot wonder means you can make an insanely tasty gravy from the leftover juices, all in the same pot. Minimal clean up, thy name is Instant Pot! The resulting dish is comforting, hearty, full of flavor, and oh-so-satisfying. The whole family is going to love these mouthwatering morsels of tender beef! All you need is a fresh batch of mashed potatoes, and dinner is sorted.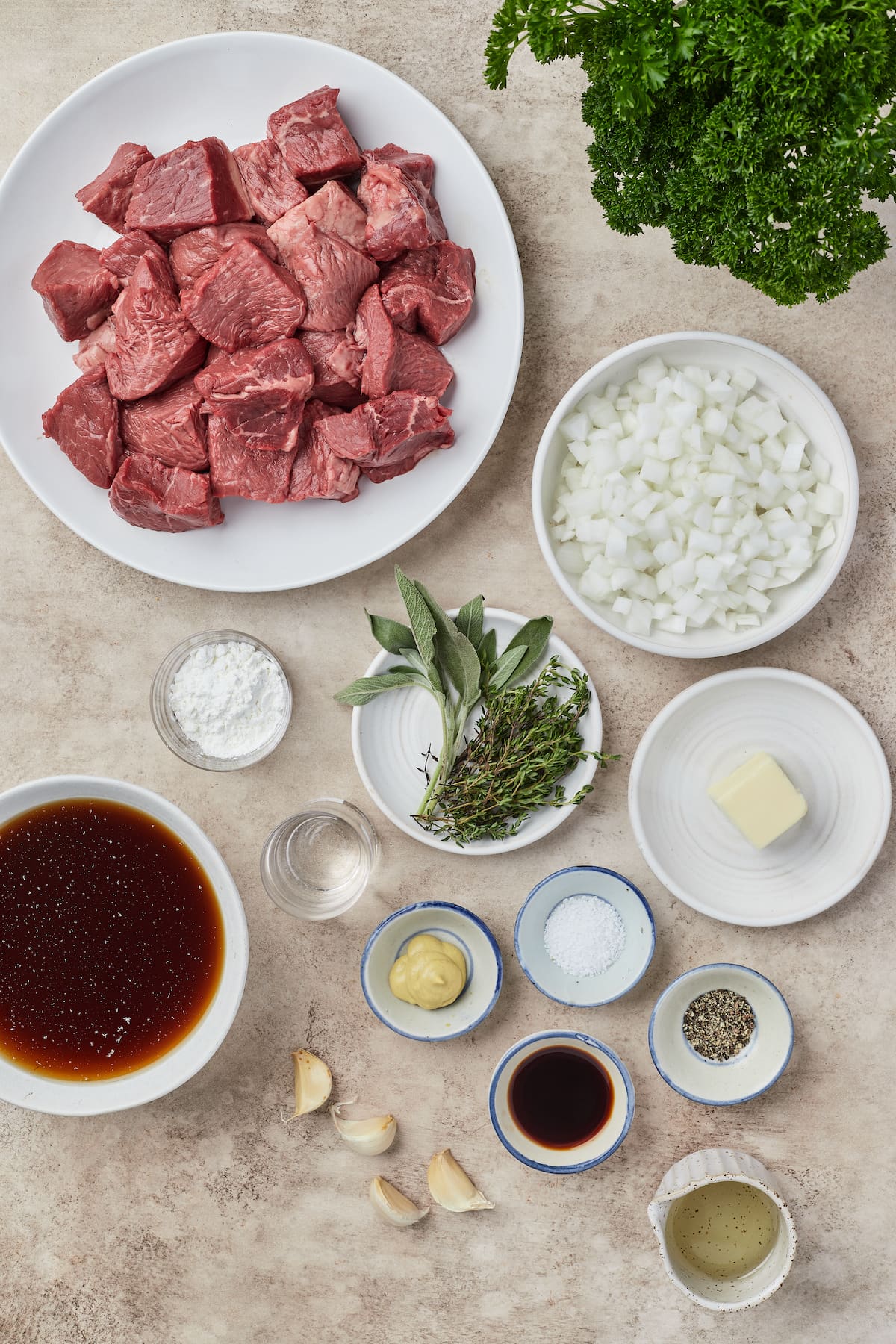 What You'll Need
Beef Sirloin: The whole roast, cut into cubes. A chuck roast will also work for this recipe – see the next section for more details.
Olive Oil: Or another oil with a high smoke point that's suitable for searing, like avocado oil, vegetable oil, or canola oil.
Onion: A medium white onion, finely chopped. Onion adds a delicious sweet-savory, caramelized flavor to the meat and gravy as it cooks.
Beef Broth: You can use bone broth, stock concentrate, or canned broth.
Garlic & Herbs: I use minced garlic, along with fresh sage leaves and thyme sprigs as aromatics in my recipe.
Cornstarch: Cornstarch is mixed with warm water and added to the sauces to thicken into a gravy.
Dijon Mustard: Adds a subtle heat and creaminess.
Soy Sauce: Alternatively, Worcestershire sauce also works to bring a nice umami flavor.
Butter: I use unsalted butter, as it allows more control over the overall saltiness of the dish.
Parsley: Optional, but fresh chopped parsley adds a bright pop of color as a garnish.
Salt & Pepper
Can I Use Another Cut of Beef?
When it comes to this Instant Pot beef recipe, the cut of beef is actually pretty flexible. I like to use either a beef sirloin or chuck roast, since these cuts are fattier and soften up great in the pressure cooker! However, just about any cut of beef will do, even tenderloin.
You can often buy cubed beef pre-cut (labeled as "beef tips" or "stew meat") from your local grocery store or butcher.
How to Make Instant Pot Steak Bites
Have dinner on the table in under an hour with this simple beef recipe! The Instant Pot makes these chunks of meat so juicy and tender, you'd swear it was slow cooked for hours. Here's how to make these easy cubed beef in the pressure cooker: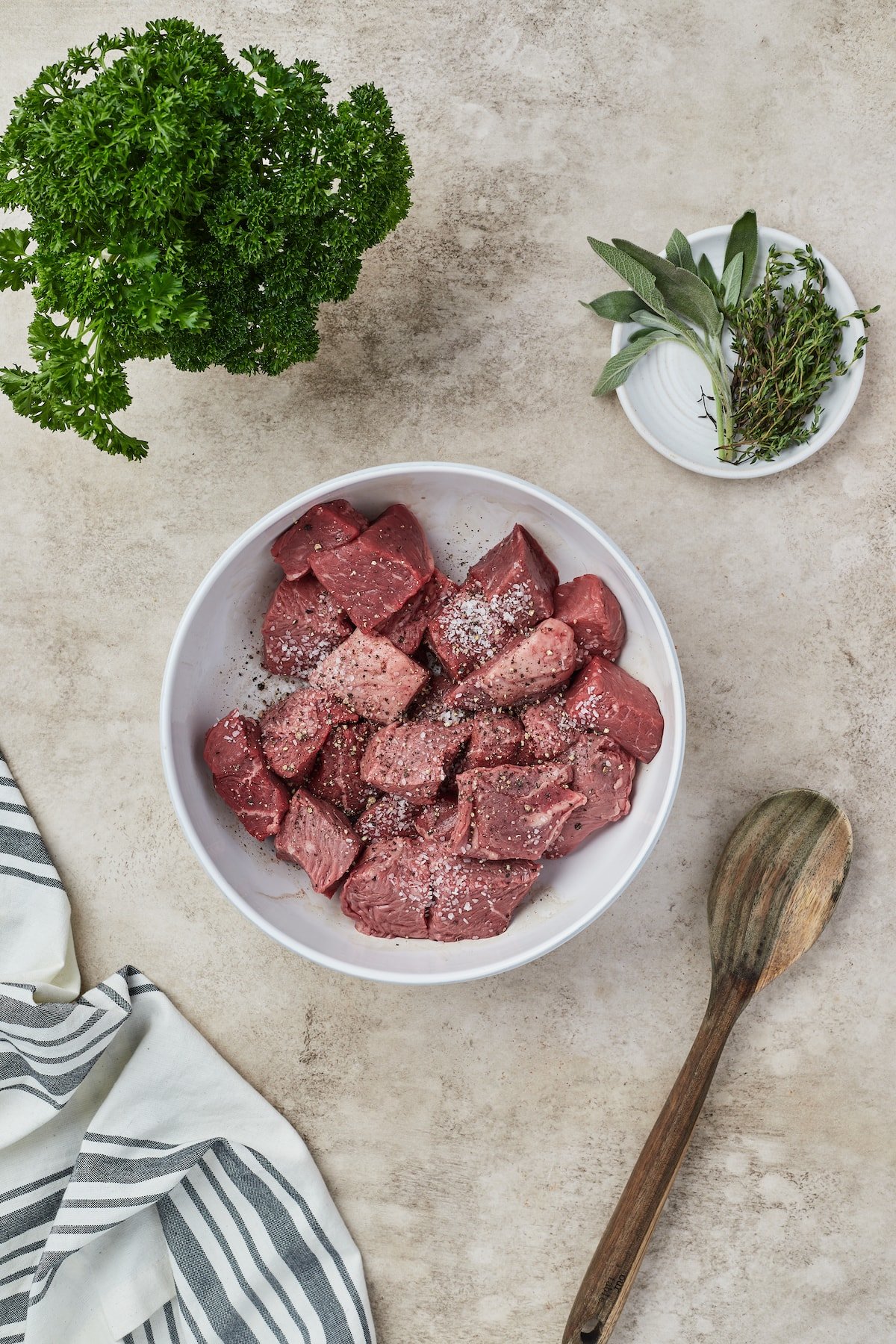 Brown: Give the beef cubes a generous sprinkle with salt and pepper, and toss to coat. With your Instant Pot set to saute, working in batches, brown the beef with a bit of olive oil and then set the meat aside for now.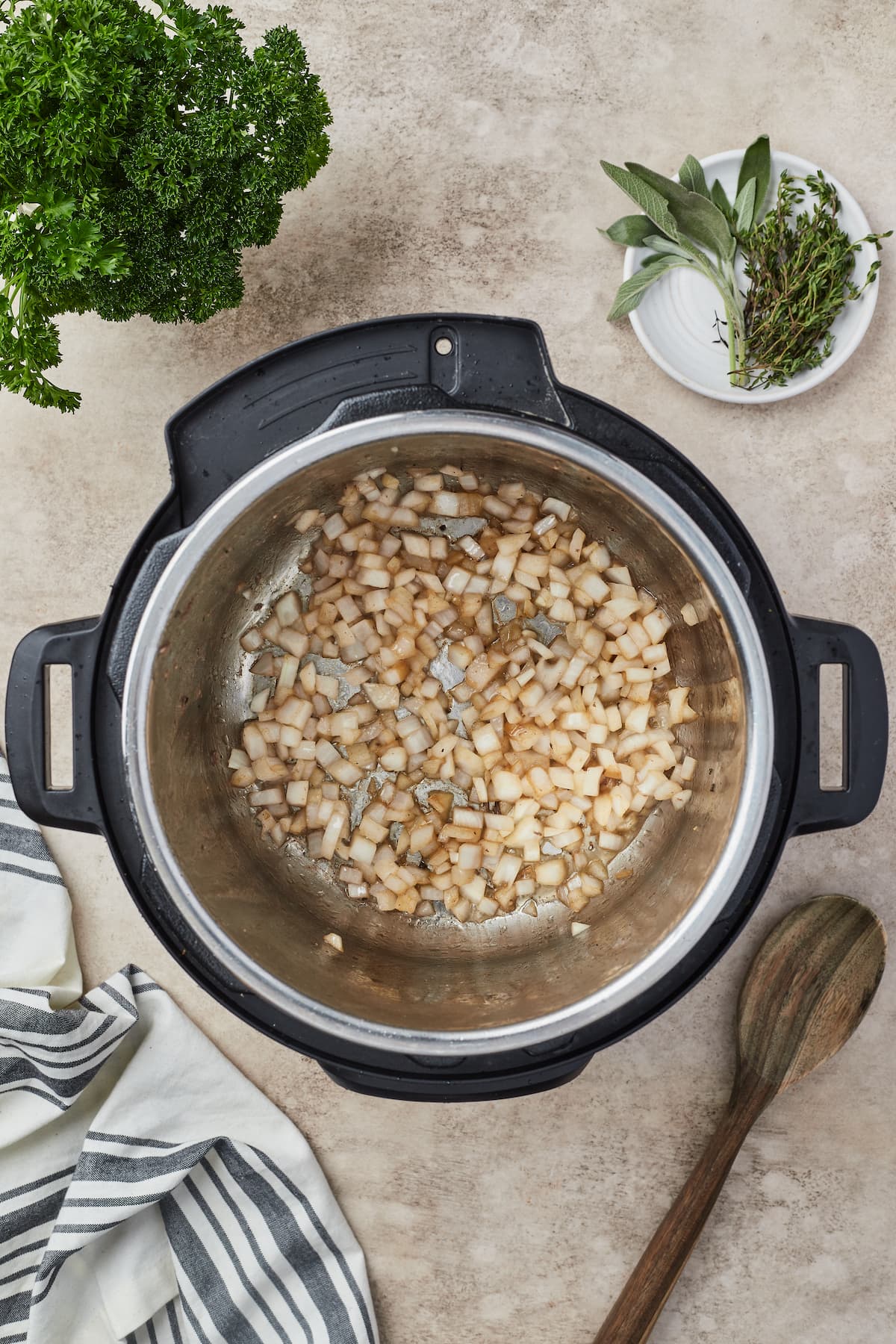 Saute: Add more olive oil as needed and saute the onions and garlic for a minute or two to soften.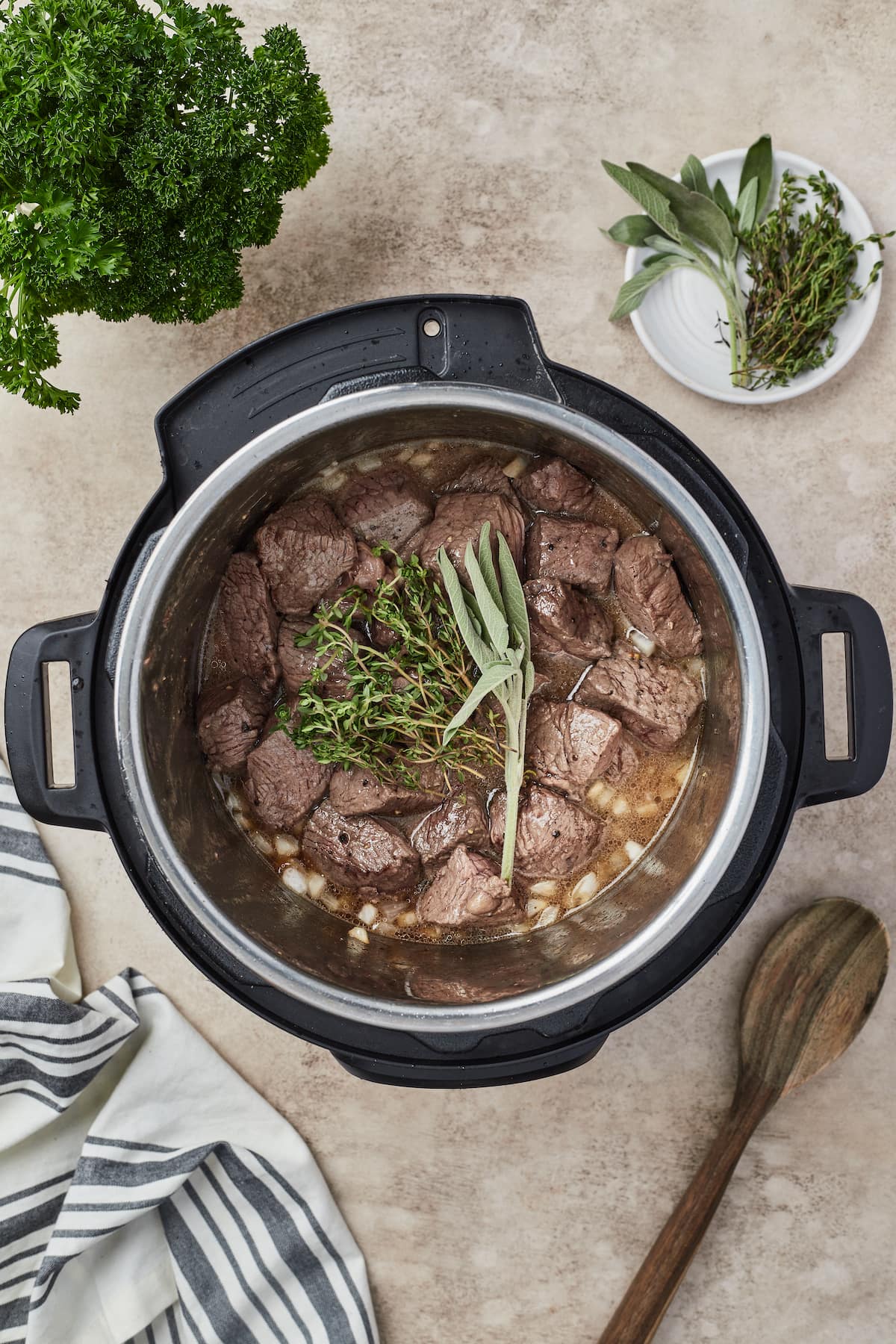 Combine: Pour in the beef broth to deglaze, and use a wooden spoon or spatula to release all that yummy browned flavor from the bottom of the pot. Next, add in the beef and herbs.
Cook: Seal the lid and set the Instant Pot to pressure cook on high. You'll need to let the pressure naturally release for an additional five minutes once the time is up, before manually releasing the rest.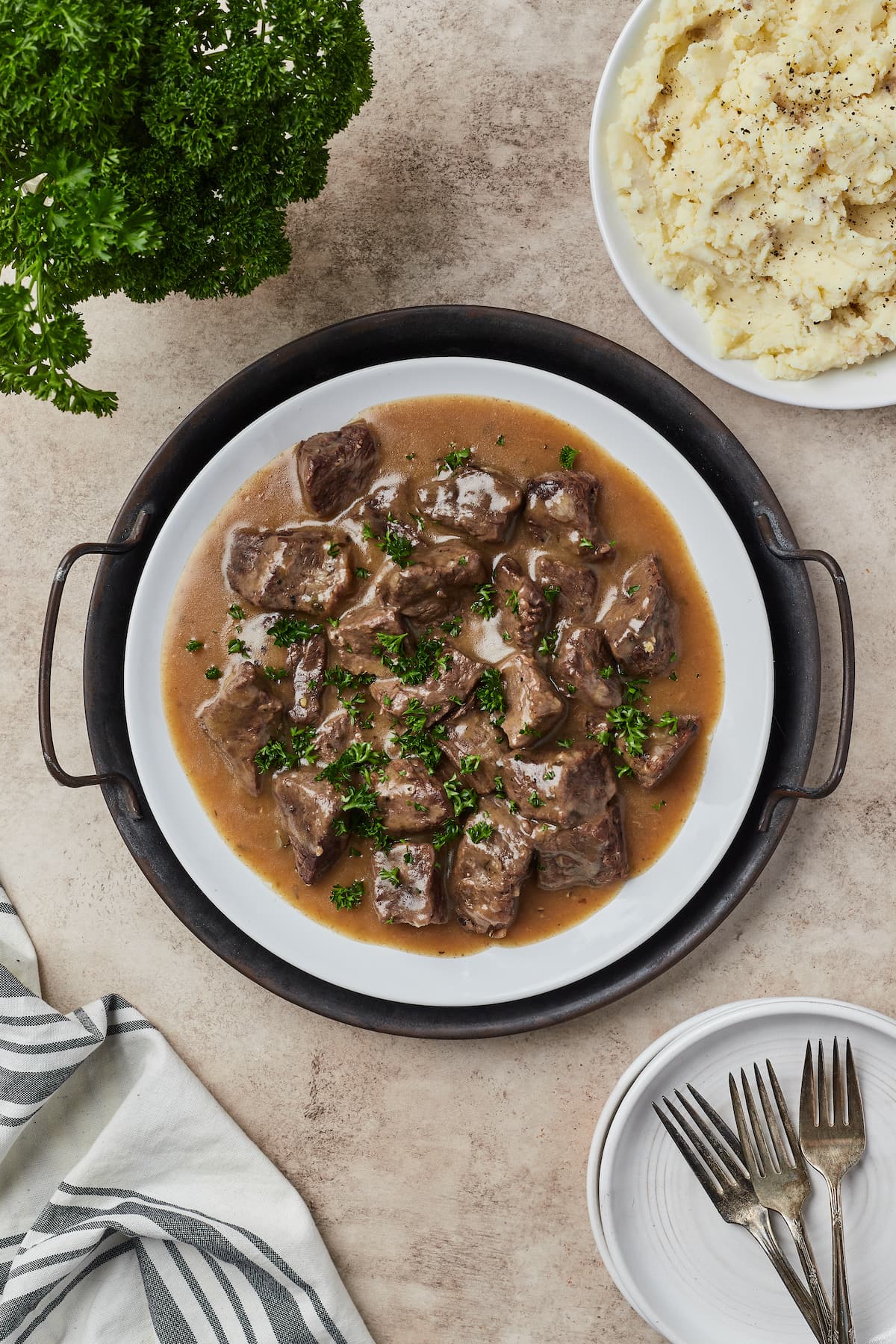 Make the Gravy: Pluck out the sage leaves and thyme sprigs, then transfer the beef cubes to a serving plate. Working with the juices that are left in the pot, set the Instant Pot back to saute, and whisk in a cornstarch slurry, Dijon and soy sauce. Simmer the gravy to thicken.
Finish and Serve: Stir the butter into the gravy until it's fully melted and your sauce is smooth and glistening. Then, pour it over top of the beef, sprinkle over a garnish of chopped parsley and serve!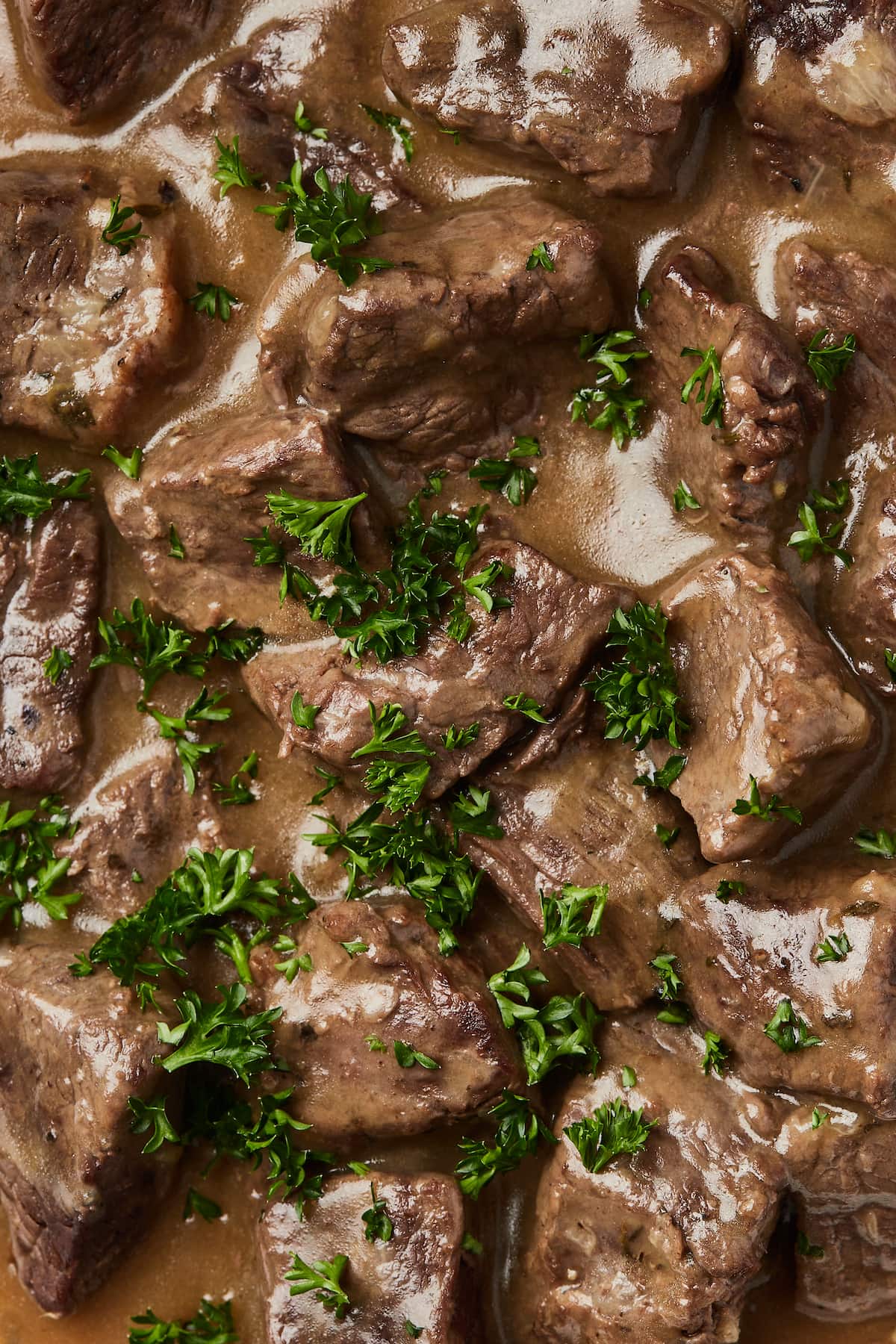 Tips for Success
Don't Overcrowd the Instant Pot: Working in batches is your best bet for successfully browned beef. Overcrowding the pot can lead to beef that's steamed, not seared.
Plan for the Cooking Time: Keep in mind that it can usually take your Instant Pot additional time to come to pressure, on top of the cooking time and pressure release. This Instant Pot recipe takes about 50 minutes in total, so budget the time accordingly!
Don't have an Instant Pot?: No problem! Make my easy Easy Slow Cooker Beef Tips instead!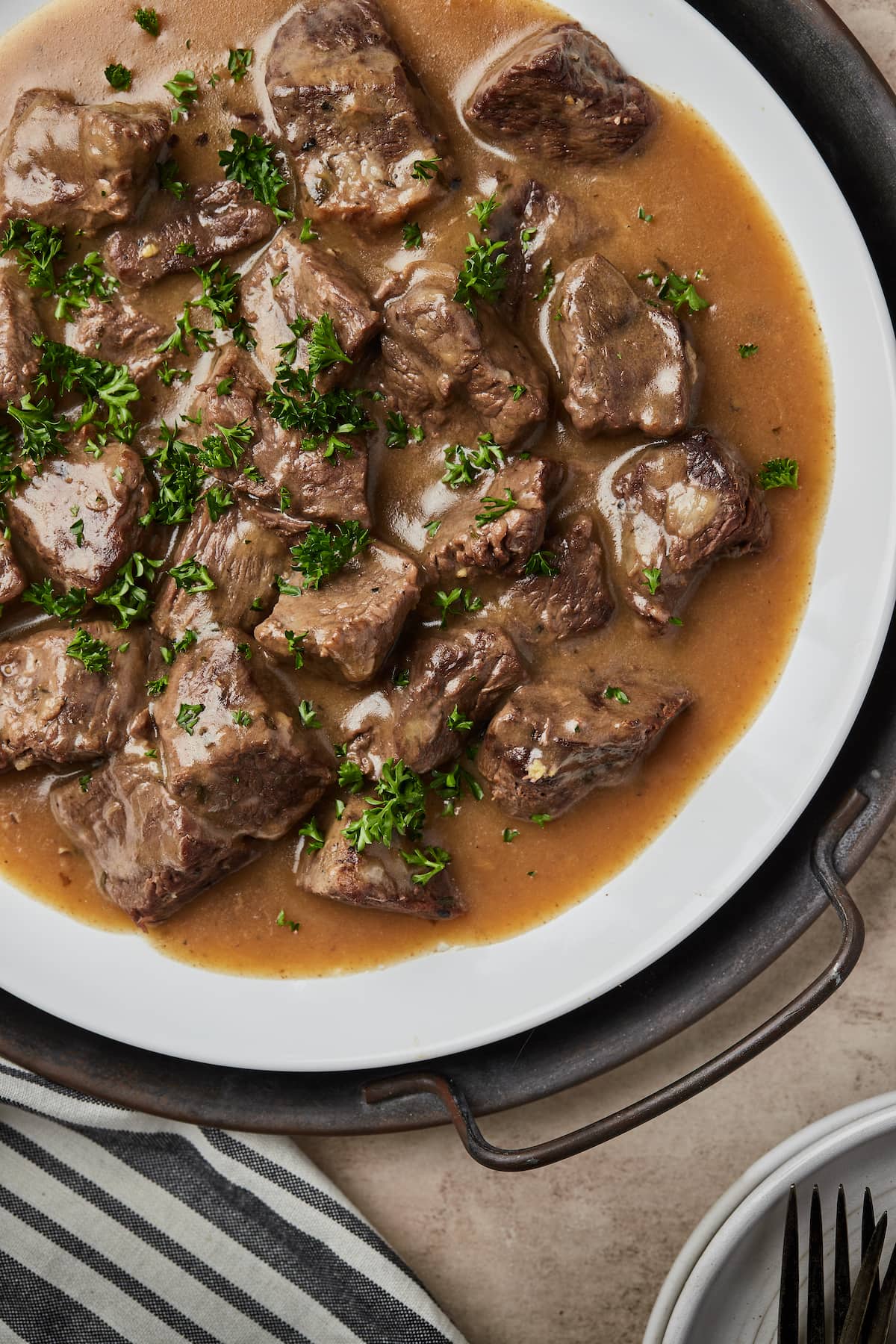 Variation Ideas
There are many ways you can change things up with your Instant Pot cubed beef. Here are some ideas:
Soy Alternatives: Worcestershire sauce is a good substitute for soy sauce in this recipe. Tamari can also be used as a gluten-free option.
Dry Herbs: A couple tablespoons each of dried sage and thyme can be used in place of fresh herbs. An Italian seasoning blend will also work!
Add Wine: Swap out a half cup of the beef broth for an equal amount of dry red wine for a richer flavor.
Add Veggies: For more of a stew vibe, add in diced carrots and celery (this also brings extra aromatics to the beef and sauce!). Steamed potatoes or broccoli can also be added after you make the gravy, for extra heartiness.
Add Mushrooms: Add in some mushrooms, any kind will work! You can also go all out with a gravy of cream of mushroom soup.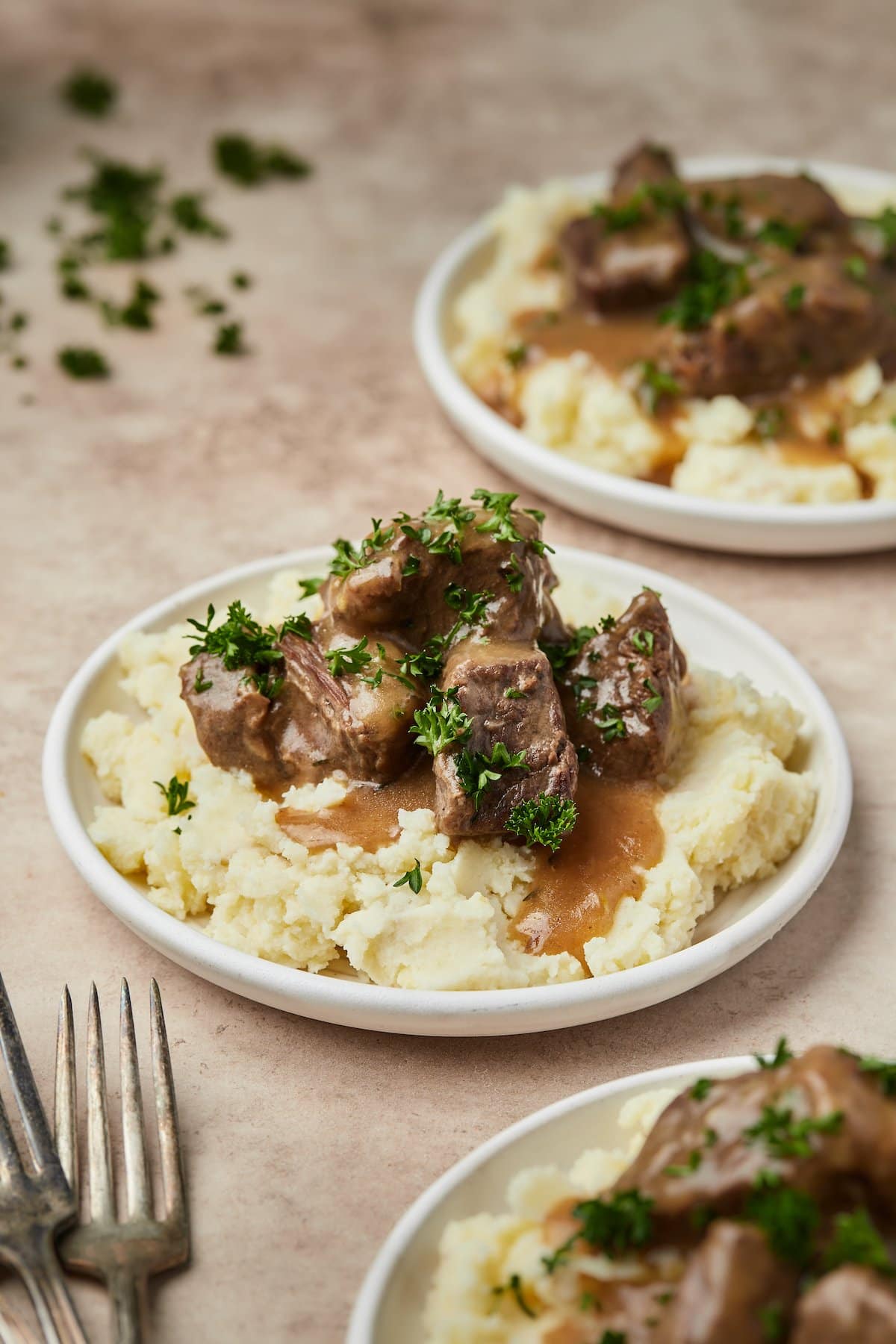 Serving Suggestions
In our house, nothing beats these tender beef cubes served over a bed of Fluffy Mashed Potatoes, or with a side of Homemade Parker House Dinner Rolls. Both are perfect for soaking up all that tasty gravy! It's a cozy meal that hits the spot every time.
Here are some more easy side dishes to serve with beef: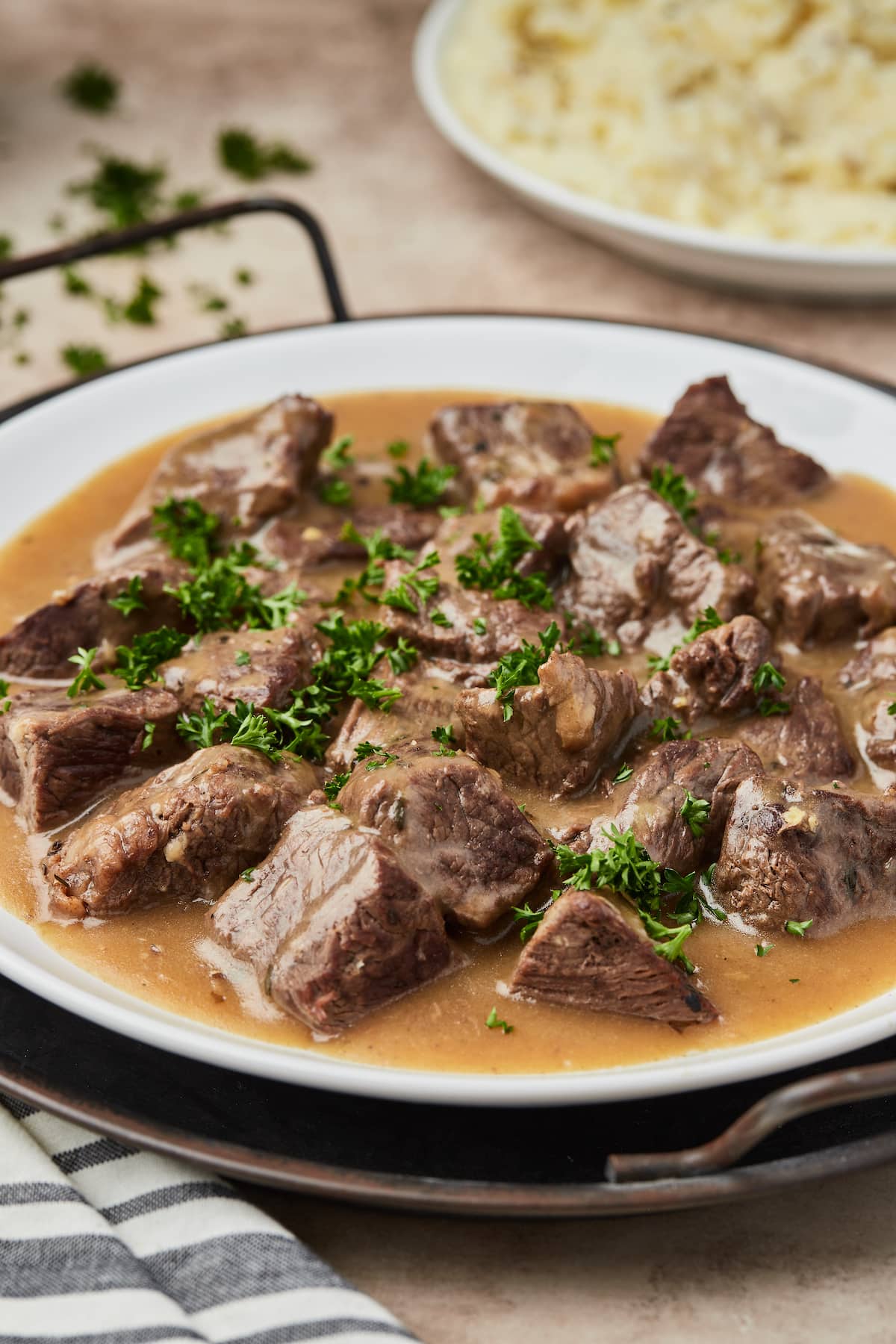 How to Store and Reheat Leftovers
Store leftover cubed beef, as well as the gravy, airtight in the fridge for up to 3-5 days. The beef is easy to heat up in a skillet or in the microwave with a bit of extra gravy (or a couple of dashes of water, for moisture).
Can I Freeze Instant Pot Beef Tips?
Yes! These tender beef tips freeze up perfectly – just wait until they're completely cool, and then transfer the beef to a freezer safe bag or container for storage. Keep the beef frozen for up to 2 months, and thaw it in the fridge overnight before reheating.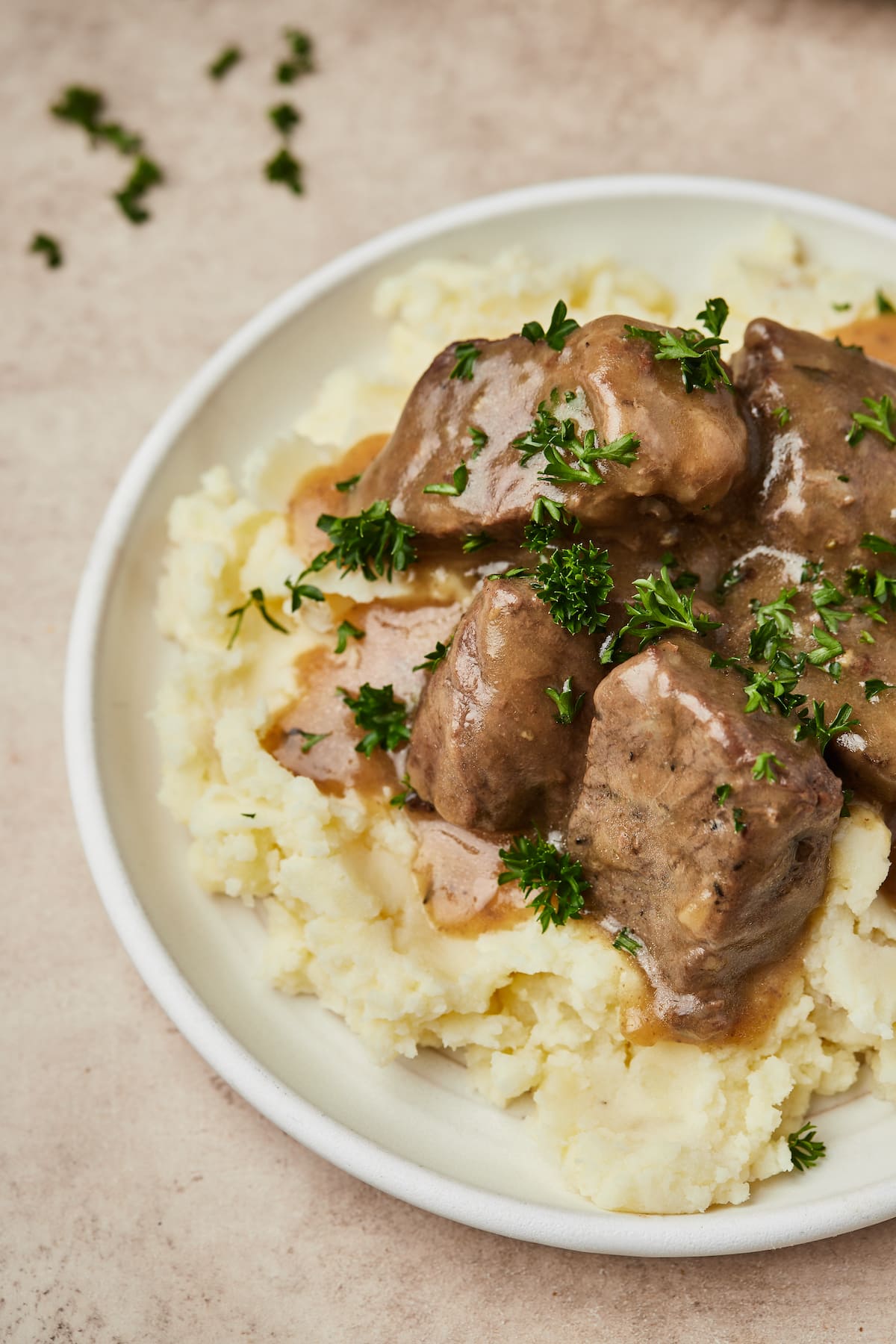 More Hearty Steak Recipes
---
Description
Savory and tender Instant Pot Cubed Beef is the ultimate lazy dinner: little effort, huge flavor! Juicy chunks of beef and gravy is an easy recipe to make in the pressure cooker, perfect for serving over fluffy mashed potatoes.
---
2

pounds beef sirloin roast, cut into

2

-inch cubes

2 teaspoons

kosher salt

1 teaspoon

ground black pepper

2 tablespoons

olive oil

1

medium white onion, finely chopped

4

cloves garlic, finely minced

1 cup

beef broth

4

–

5

fresh sage leaves

4

–

5

fresh thyme sprigs

2 tablespoons

cornstarch

2 tablespoons

warm water

2 teaspoons

dijon mustard

2 teaspoons

soy sauce

2 tablespoons

unsalted butter
chopped parsley
---
In a large bowl, toss the beef cubes in salt and pepper.
Turn your Instant Pot on to saute mode. Add in the olive oil and heat until it is shimmering. When the olive oil is ready, add half of the beef cubes and brown on all sides, about 2-3 minutes. Remove and set aside. Repeat with remaining beef.
Add more olive oil to the Instant Pot if it has gone dry. Add onions and garlic, and stir occasionally until slightly softened, about 1-2 minutes.
Pour in the beef broth and scrape the bottom of the Instant Pot to release any browned bits. Add in the beef cubes, sage, and thyme. Close the lid and pressure cook on high pressure for 25 minutes. Once the time is up, allow to naturally release for another 5 minutes. After the 5-minute natural release, open the valve to quickly release any additional pressure.
Discard the sage and thyme, set aside the beef on a plate, and retain the liquid in the Instant Pot to make the gravy.
Turn the Instant Pot to saute mode. Whisk together the cornstarch and warm water to create a slurry and add it in, along with the dijon mustard and soy sauce.
Bring to a simmer and whisk frequently until the gravy thickens, about 2-3 minutes.
Whisk in the butter until melted and the gravy is smooth and shimmering. Pour over the cubed beef, garnish with chopped parsley, and serve immediately.
---
Notes
Overcrowding in the Instant Pot during browning may cause the beef cubes to steam rather than brown.
Tamari can be used instead of soy sauce for a gluten-free option.
2-3 teaspoons each of dried sage and thyme can be substituted for fresh.
This dish can be stored in the refrigerator in an airtight container for up to 3-5 days.
Keywords: beef tips, instant pot beef, steak bites
Want To Save This Recipe?
Find more recipes like this:
PIN for later: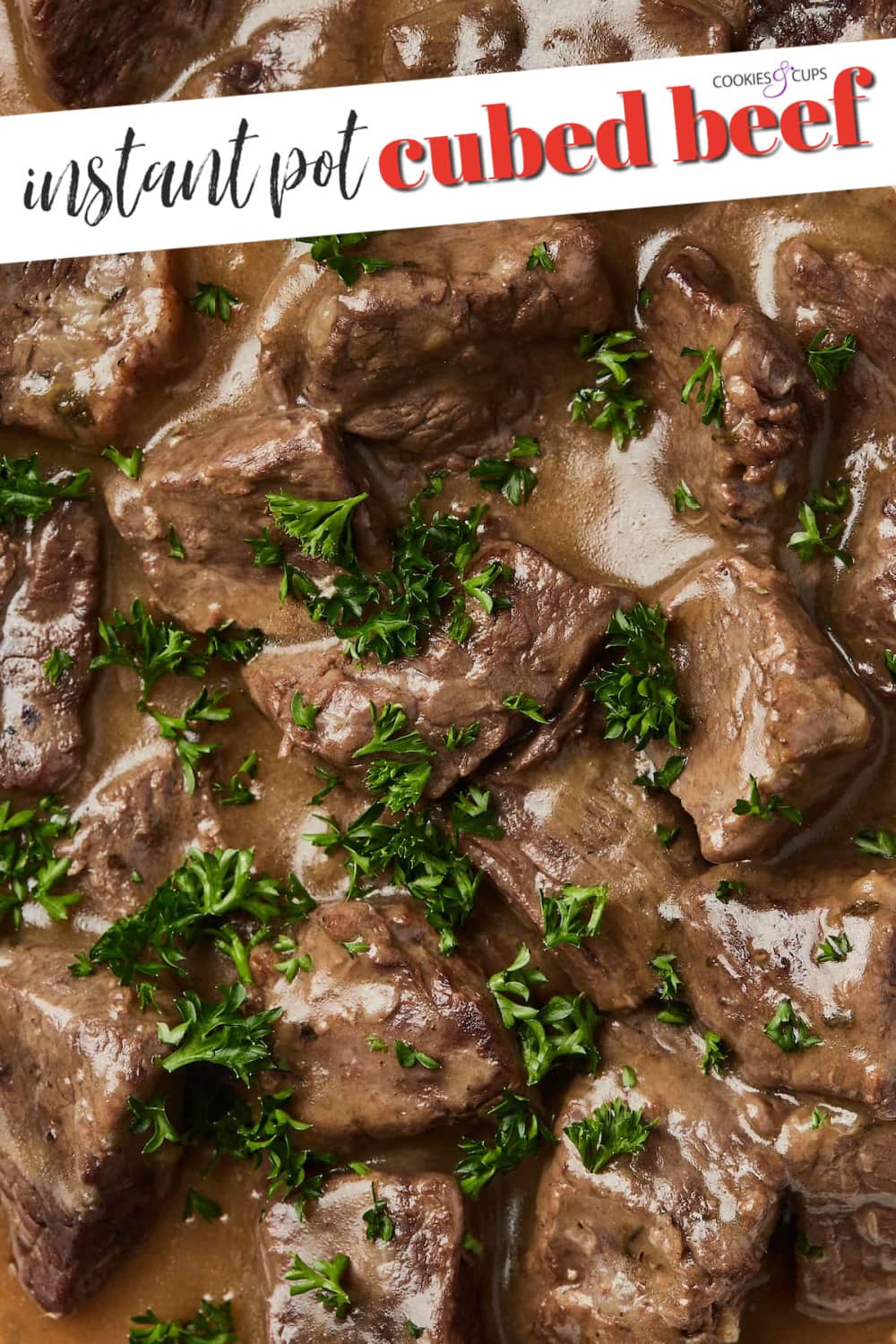 Source link
Originally posted 2022-08-06 12:16:48.