My Instant Pot Mississippi Pot Roast is the perfect one-pot beef recipe, cooked in a zesty sauce made with ranch, buttery gravy, and sweet, mild pepperoncini. This pressure-cooked Mississippi roast is just as irresistibly tender as any crock pot version! Serve it with mashed potatoes or on a sub roll!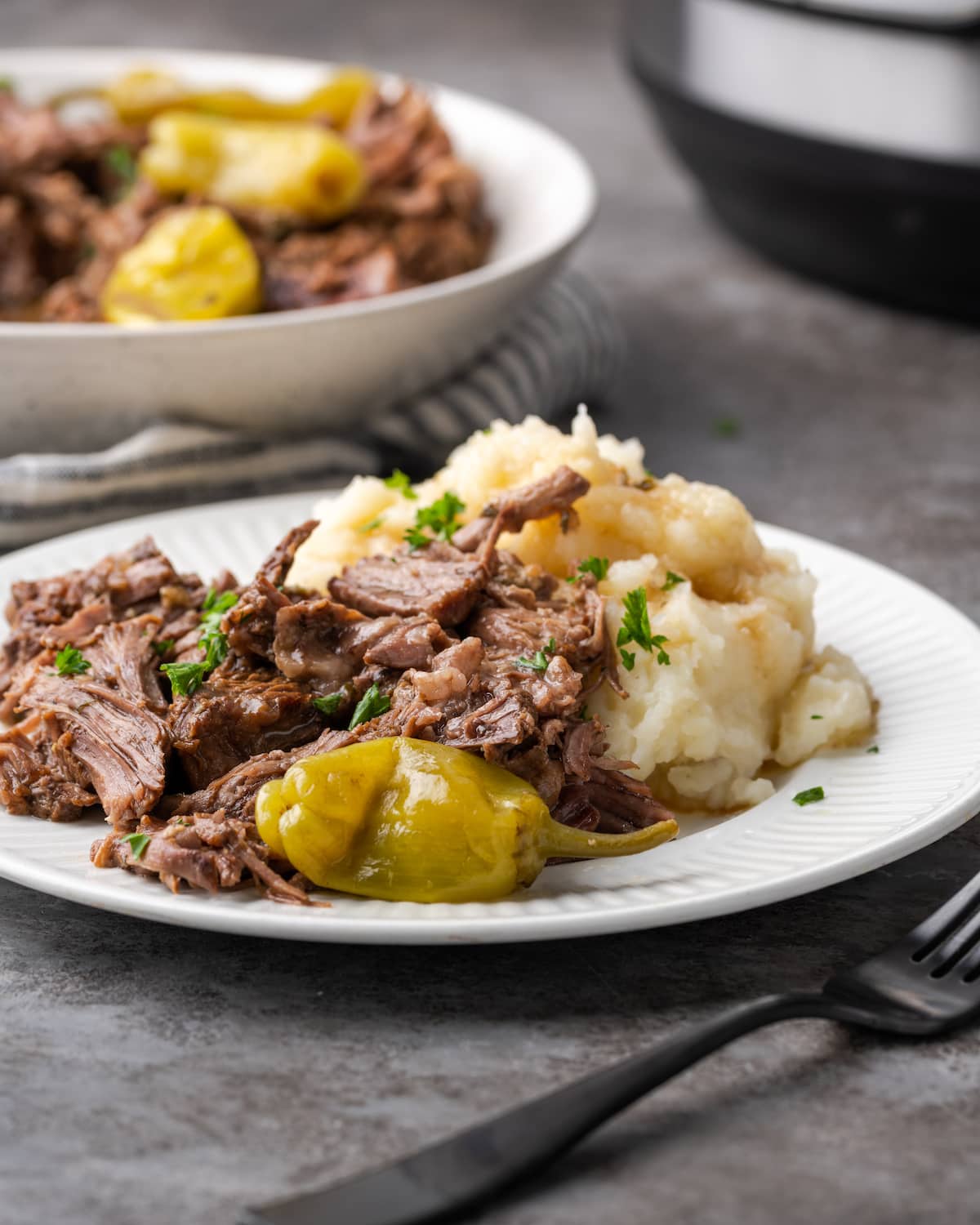 A Perfect Pot Roast with Zesty Ranch and Pepperoncini
I just love a good pot roast. There's something so tasty about meat that's perfectly seared to lock in the flavor, then slow roasted until soft and tender. Today we're making the juiciest, sauciest, and possibly easiest beef roast in blogosphere history: the Mississippi roast. And we're speeding things up with one of my favorite methods: the Instant Pot.
I've come to realize that anything a slow cooker can do, an Instant Pot can do just as hands-free, and quicker! Without sacrificing tenderness or flavor, which is key. This Instant Pot pot roast is just one of many go-to beef recipes that literally comes apart after a stint in the pressure cooker.
My Mississippi pot roast is deliciously saucy, perfect to make as an easy beef dinner any night of the week. It's smothered in the flavors of zesty ranch mix and savory gravy, plus the sweet, mild heat of pepperoncini chili peppers. If you find yourself craving something comforting, you need to try this recipe!
Why Is It Called Mississippi Pot Roast?
The Mississippi Pot Roast was invented in – sure enough – Mississippi, where it gets its name. Robin Chaplin, a home cook, created the original recipe that would eventually take the internet by storm. The story goes that it was sort of by accident. She was riffing on her aunt's roast recipe at the time!
To Chaplin, who lived in MS, the Mississippi Roast was just called, well… roast. It's a slow cooker pot roast recipe that's full of flavor and super versatile. It's no wonder it exploded in popularity. Today I'm sharing my crazy-tender, ultra-juicy Instant Pot version!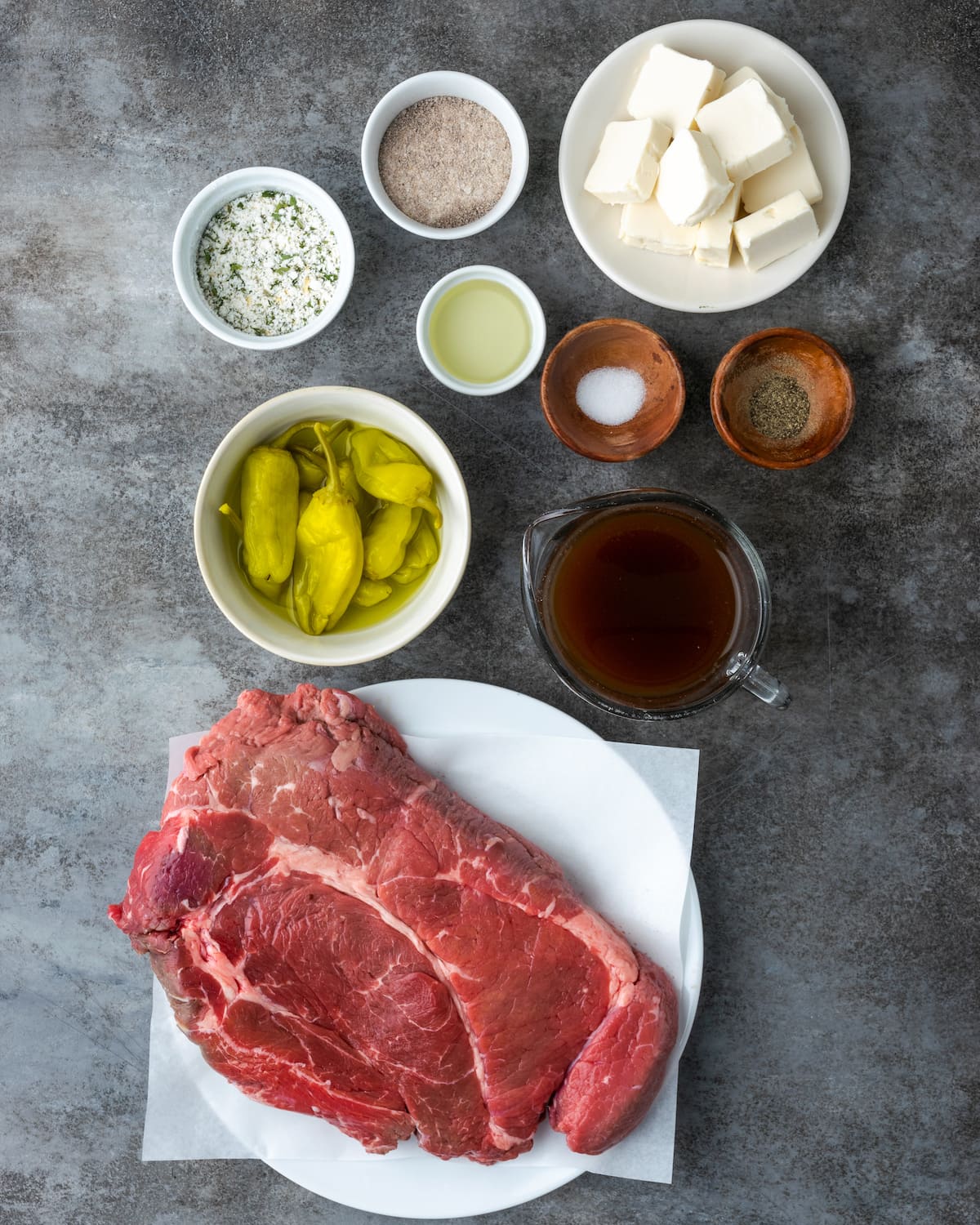 The Ingredients You'll Need
Below you'll find everything you'll need to make this internet darling of a pot roast! Don't forget to scroll to the recipe card for the full deets.
Boneless Chuck Roast: You'll find chuck roast in the meat section of most major grocery stores. You can also ask your local butcher for help selecting a good cut. 
Olive Oil: Use high-quality, extra virgin olive oil.
Salt & Pepper
Ranch Dressing Mix: Your choice of ranch seasoning mix that comes in a packet, like Hidden Valley.
Brown Gravy Mix: You'll usually find this in the same grocery store aisle as the other sauce bases. You can also look for au jus gravy mix.
Butter: Salted or unsalted butter, cut into "pats" or slices. This gives richness and added flavor to the sauce.
Pepperoncinis: These are sweet and mild, golden chili peppers. They're also sometimes called sweet Italian peppers or Tuscan peppers. For this recipe, I use jarred, pickled pepperoncini peppers, and save the juice!
Beef Broth: Low-sodium beef broth or stock.
How to Make It
To start, cut your chuck roast into pieces. Usually, 3 to 4 equal-sized pieces will fit easily in the Instant Pot. Next, you'll get the beef browned and ready for pressure cooking: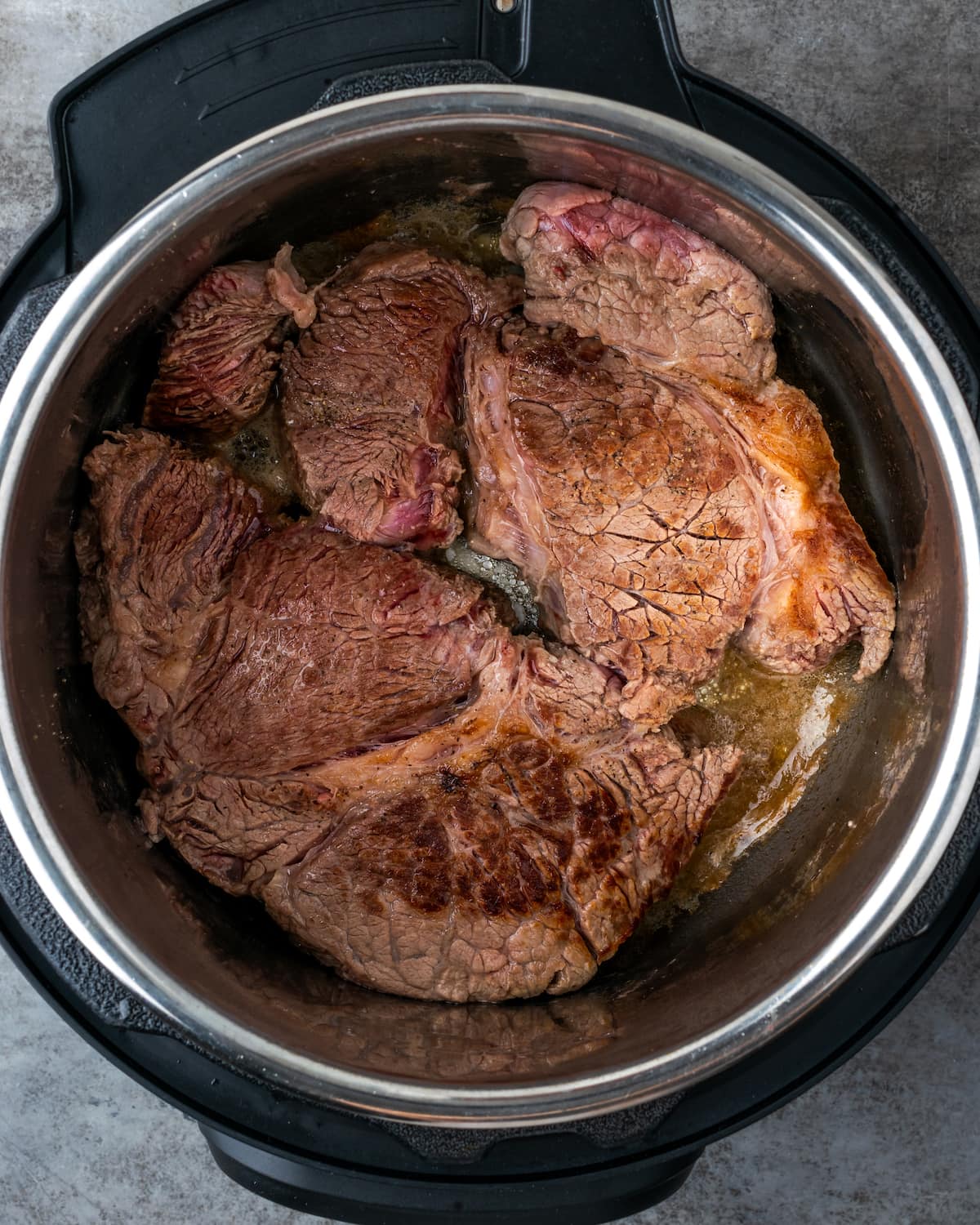 Prepare the Beef: With the Instant Pot set to saute, brown the beef pieces. This should take about 5 minutes per side to get a nice, even sear. Once browned, remove the meat and set it aside.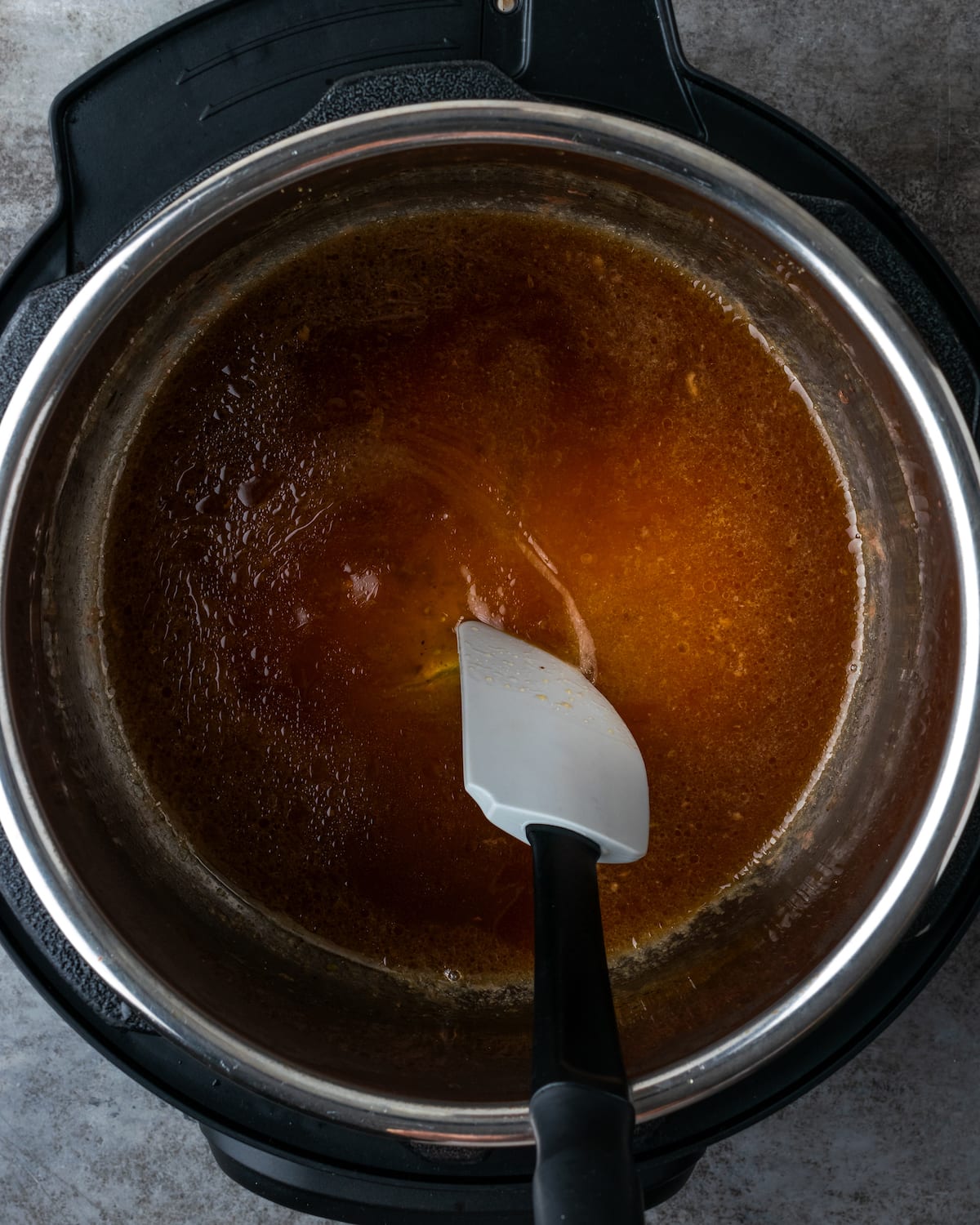 Assemble the Roast: Pour in the beef broth to deglaze the pot. Use a (plastic or wooden) spatula to scrape the bottom, lifting all those flavorful stuck-on bits. Next, turn off the pot and place the meat back in. Add the dressing and gravy mixes, butter, and pepperoncini. Now, for even more flavor, pour in the pepper juice, too!
Cook: Seal the lid and set the Instant Pot to cook on high pressure for 55 minutes. Afterward, you'll need to leave the pot to release naturally for 15 minutes before venting the remaining pressure.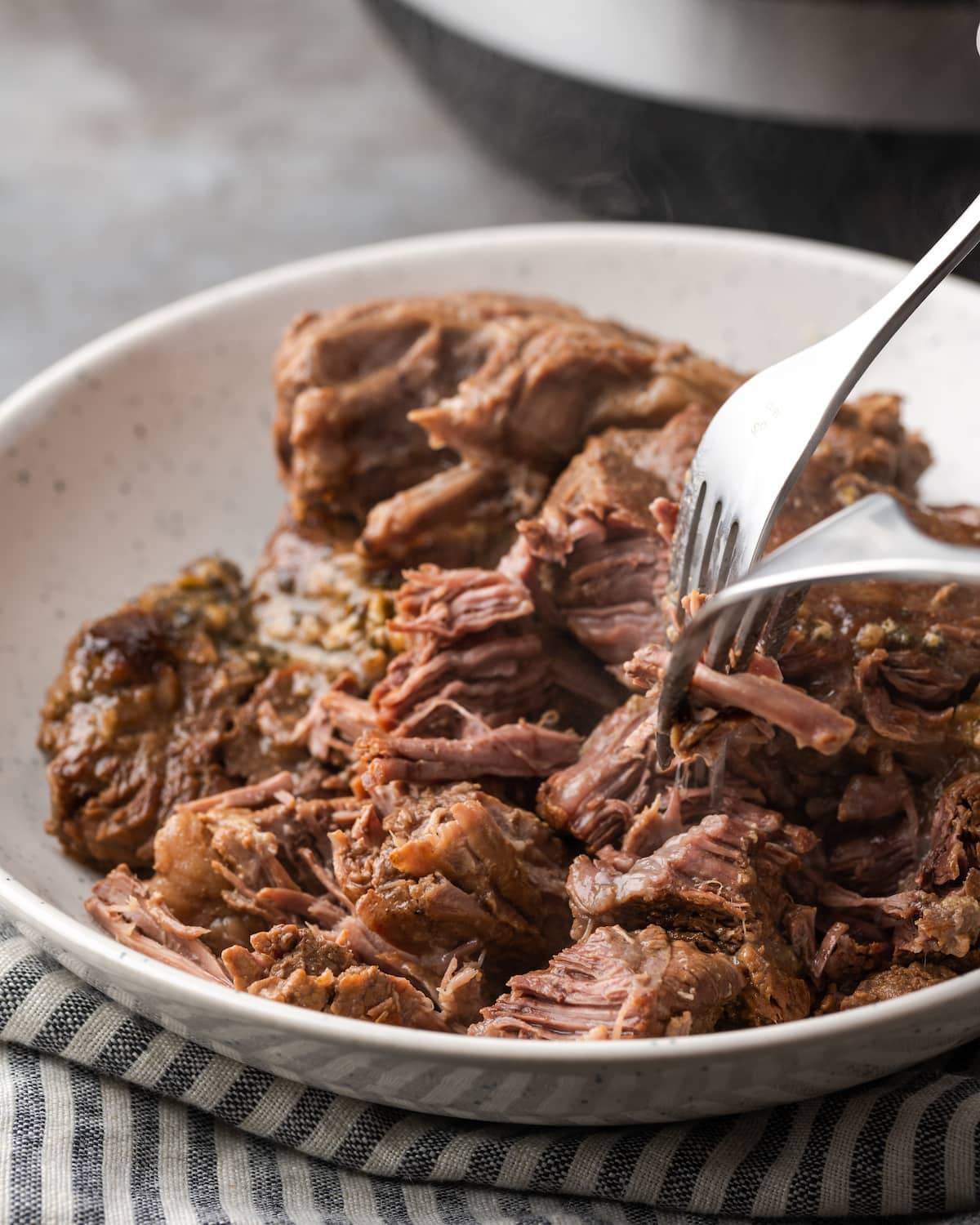 Finish and Serve: Once again, take the meat out of the pot, this time to shred. I like to use two forks to do this. Transfer the shredded beef back to the Instant Pot and stir it into the sauce. Now, it's ready to serve!
Slow Cooker Instructions:
This recipe can easily be made in your Crock Pot if you don't have an Instant Pot! Here's how:
Place all ingredients in your slow cooker, as the recipe it written.
Cook on high for 4 hours, or low for 6 hours.
Shred the meat in slow cooker, or remove the meat, shred and return back to the juices.
Serve!
Why Is My Mississippi Pot Roast Tough?
This is almost always because the roast was not cooked long enough to become tender. An overcooked roast won't be tough – it will still be fall-apart tender, only the texture will be dry and stringy. 
See the next section for more tips on achieving the perfect pot roast.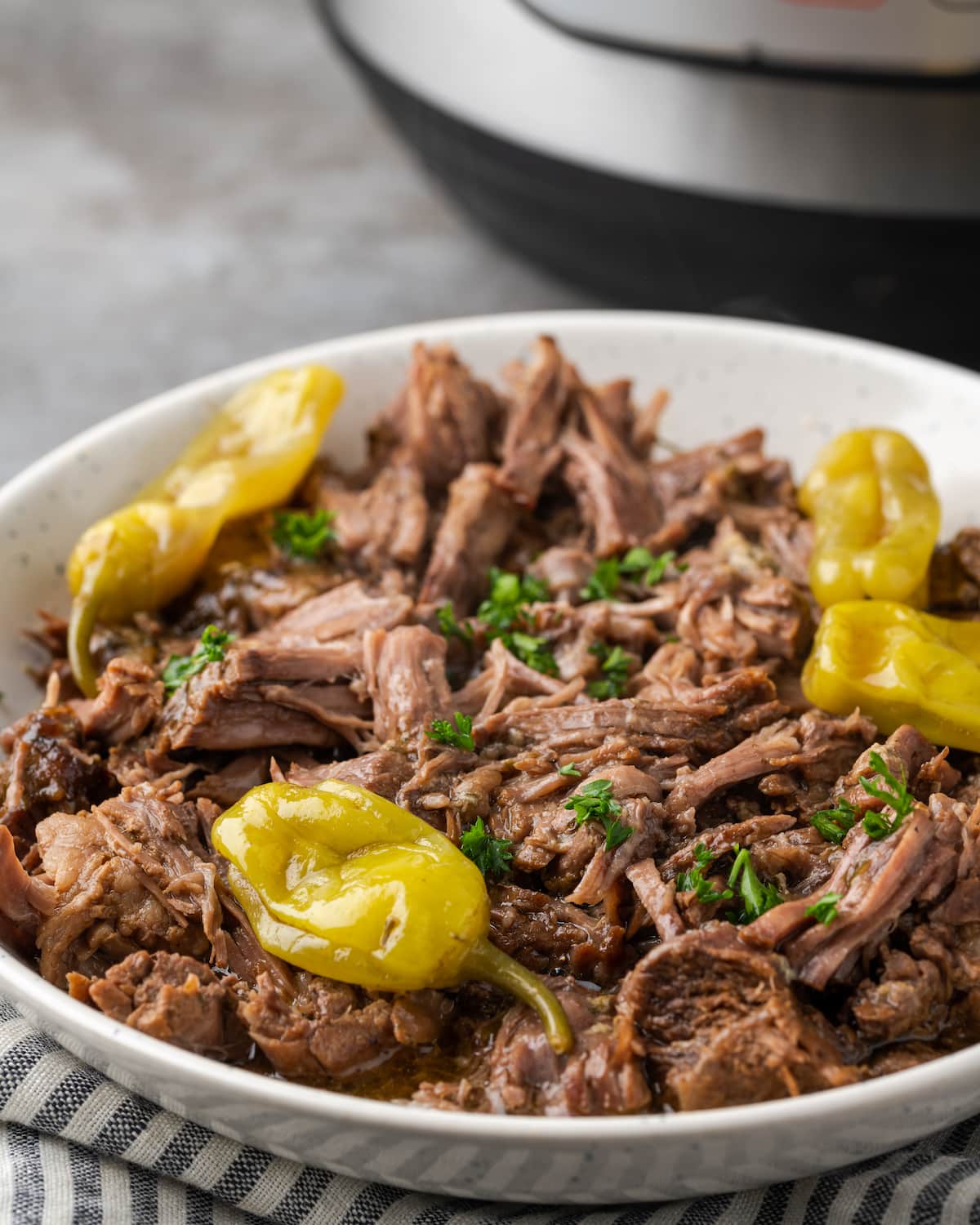 Tips and Tricks
This easy Instant Pot recipe is almost guaranteed to be a success. Here are some pointers:
Using Frozen Chuck Roast: This recipe will work with frozen chuck roast, however, make sure that it's already cut into smaller pieces. A large frozen chuck roast won't cook through.
Fat Is Your Friend (In This Case): It's tempting to use a leaner cut of meat if you're looking for a meal that's lower in fat. I urge you to resist! The fat in the chuck roast is what makes this recipe turn out irresistibly tender, in a way that can't be achieved with a less-fatty cut of meat.
Save the Sauce: All that sauce that's leftover in the pot is the perfect flavor-filled base for gravy! You can always add a slurry of cornstarch and warm water to help it thicken.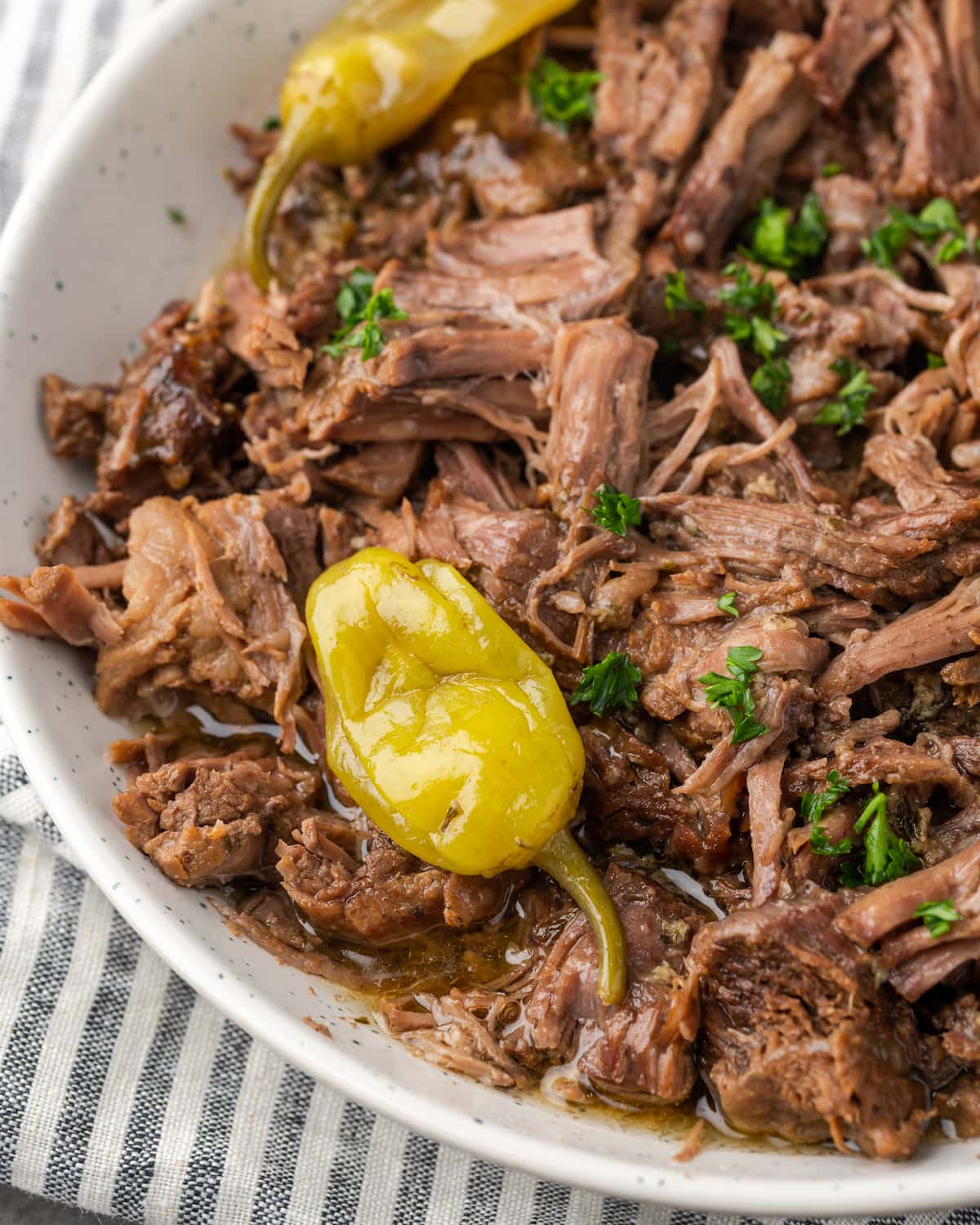 Side Dish Inspiration
This Mississippi Pot Roast with Crockpot Mashed Potatoes is a classic, easy dinner combo that never fails to satisfy our family. Here are more side dish ideas to try: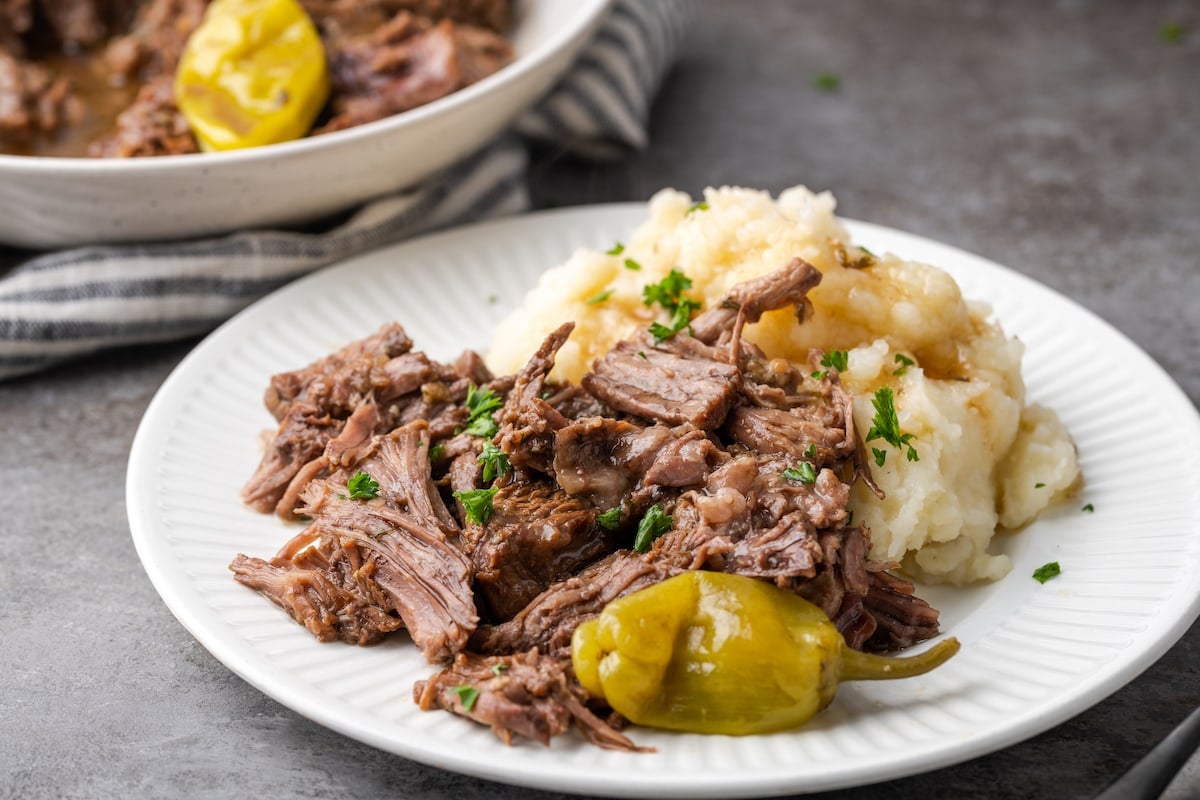 How to Store and Reheat Leftovers
Once your pot roast has cooled completely, transfer any leftovers to an airtight container to keep in the fridge for up to 4 days. I recommend reheating Mississippi roast covered in the oven or in a skillet on the stovetop, with a bit of sauce or liquid added to maintain moisture.
Can I Freeze Instant Pot Mississippi Pot Roast?
Yes, this recipe is also great to freeze! Store the roast in a freezer bag with a bit of sauce, then press out the air before sealing. Frozen pot roast will keep for up to 3 months, ready to thaw in the fridge and reheat anytime! 
---
Description
This juicy Instant Pot Mississippi Pot Roast is a delicious one-pot beef recipe! Made from fall-apart, pressure-cooked chuck roast smothered in a sauce of zesty ranch, buttery gravy, and sweet, mild chili peppers.
---
3

pounds Boneless Chuck Roast

2 tablespoons

Olive Oil

1/2 teaspoon

Salt

1/2 teaspoon

Black Pepper

1

package Ranch Dressing Mix

1

package Brown Gravy Mix

1/2 Cup

Butter, cut into slices

8

–

10

Pepperoncinis with juice

3/4 Cup

Beef Broth
---
Cut chuck roast into 3-4 equal size pieces to fit easily into the instant pot. Season with salt and pepper.
Turn the instant pot to saute mode and add the oil.
Place the roast pieces in the instant pot to sear the meat. Cook for 5 minutes on each side.
Remove seared meat from the instant pot and set aside.
Add the beef broth and deglaze the bottom of the pot with a spatula, scraping away any stuck on bits.
Turn the instant pot off.
Add the meat back to the instant pot. Top with the ranch dressing mix, gravy mix, slices of butter, and pepperoncini. Pour the beef broth and the juice from the peppers into the instant pot.
Place the lid on the instant pot and turn the valve to the sealing position. Cook on high pressure for 55 minutes. Let the instant pot rest (naturally release the steam) for 15 minutes afterwards, then release the remaining pressure using the valve.
Remove the beef from the pot and use two forks to shred the meat. Then add the shredded meat back into the sauce. Serve immediately.
---
Notes
Only use frozen pieces of chuck roast if it has already been cut into smaller pieces. A large frozen chuck roast will not cook through.
Don't be tempted to use another less fatty cut of meat. The fat from the chuck roast is what makes this cooked roast so tender.
The sauce that is leftover after cooking makes a great base for gravy.
Storage: Allow the roast to cool. Place in an airtight container and store in the refrigerator for 3-4 days.
To freeze the pot roast, transfer the meat and a little of the juice to a freezer bag. Remove the excess air. Store in the freezer for up to 3 months. Thaw in the refrigerator overnight and reheat before serving.
Keywords: instant pot pot roast, instant pot chuck roast, mississippi roast
Want To Save This Recipe?
Find more recipes like this:
More Great Instant Pot Recipes
Source link
Originally posted 2022-09-13 14:08:52.