Weeknights just got a whole lot more delicious, with this cozy and comforting Sour Cream Noodle Bake! Prepared with layers of savory meat sauce, sharp cheddar cheese, and tender egg noodles tossed in a creamy sour cream mixture.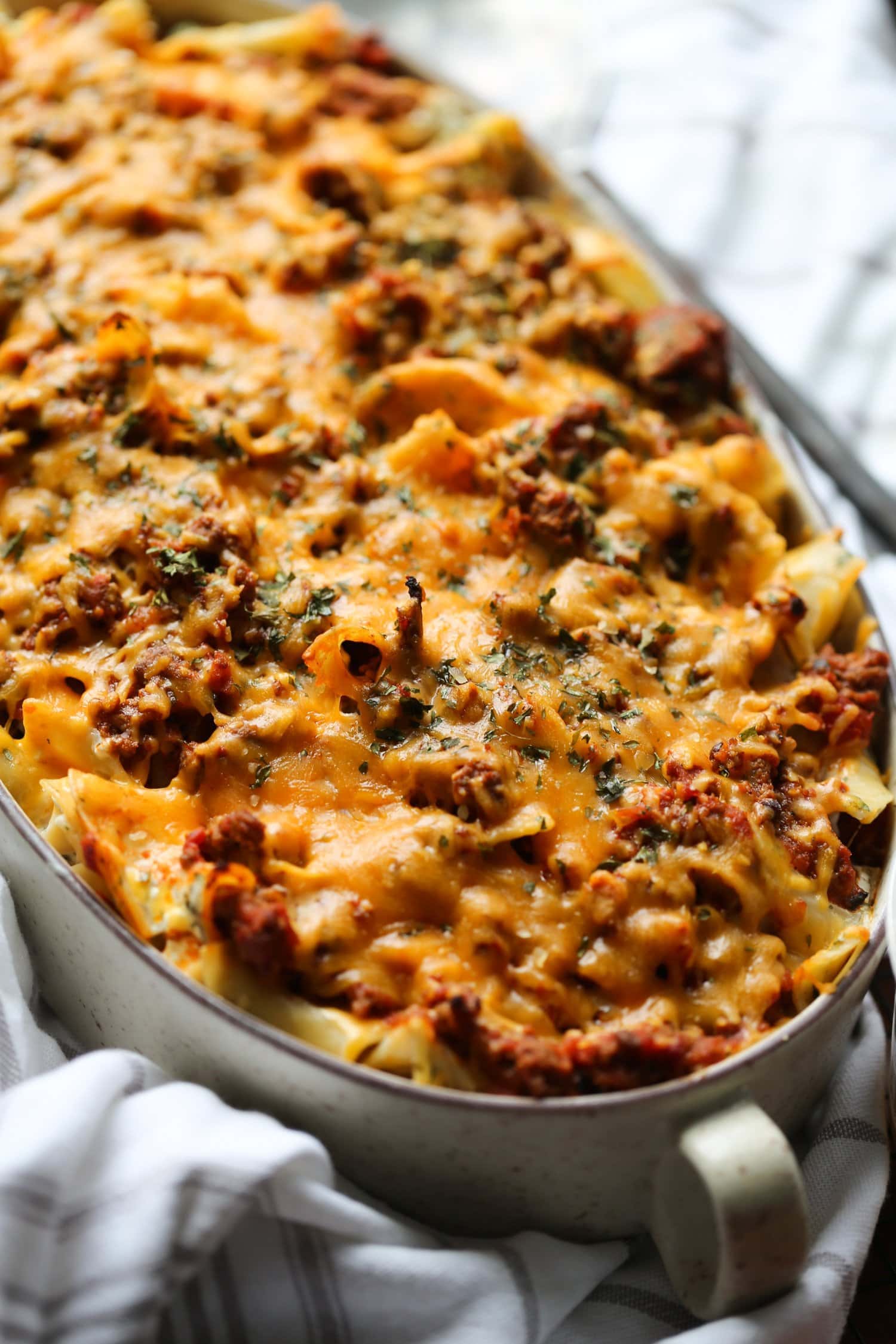 Creamy Noodle Casserole With Beef
Rev your ovens, because we're about to bake up something that's all kinds of delicious. This creamy, savory sour cream noodle bake is loaded with rich beefy meat sauce and ready to satisfy!
I'm a fan of easy weeknight dinners (who isn't?), and this recipe ticks all the boxes. Kid-friendly? Check. Full of flavor? Check. Easy to make ahead? Check! I could go on, but you just need to try this dreamy pasta casserole for yourself! This easy dinner idea is a a perfect family friendly dish!
What To Expect:
A make ahead casserole that is a lot like a "sloppy" lasagna!
Similar to baked ziti (but better), or any baked pasta dish, with something a with the addition of cheddar cheese and egg noodles.
A make ahead dinner idea perfect for weeknights as well as entertaining.
A filling, savory pasta casserole that everyone loves. Pure comfort food!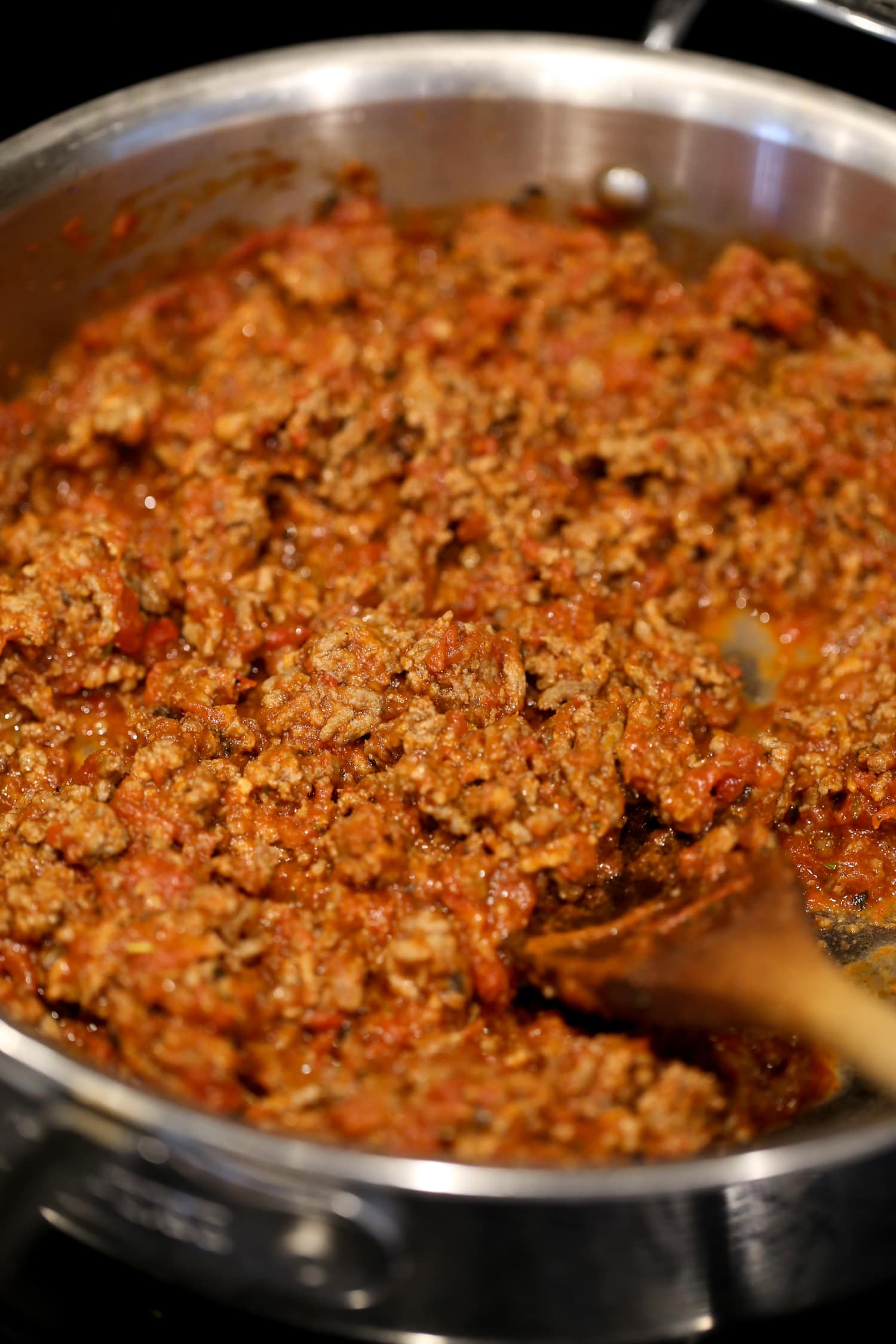 What You'll Need
Here's a quick rundown of what you'll need to make this casserole! Be sure to scroll down to the recipe card for specific amounts.
Ground Beef: Lean ground beef is easy to brown and drain of any excess grease.
Garlic: Fresh cloves, minced.
Seasoning: I season the beef with a good pinch or two of Italian seasoning, as well as salt and pepper.
Tomato Sauce: Tomato brings all sorts of tangy, juicy flavor to this casserole. You can use more or less tomato sauce depending on how saucy you prefer your pasta.
Sour Cream: Adds creaminess and tang to the casserole.
Cottage Cheese: For even more creaminess. Other good alternatives are ricotta or cream cheese.
Parsley: Lends a nice green pop of color, and also extra flavor to the cheese layer. I use dried parsley, but you can use fresh chopped parsley if you prefer.
Pasta: I use wide egg noodles for this recipe, but you can also use other pastas like shells or macaroni
Shredded Cheese: Sharp cheddar is my fave for flavor. Alternatively, you could make this recipe with Monterey Jack or Pepper Jack, too.
Garnish: If you'd like, keep green onions, parmesan, or additional parsley handy to add as an optional garnish.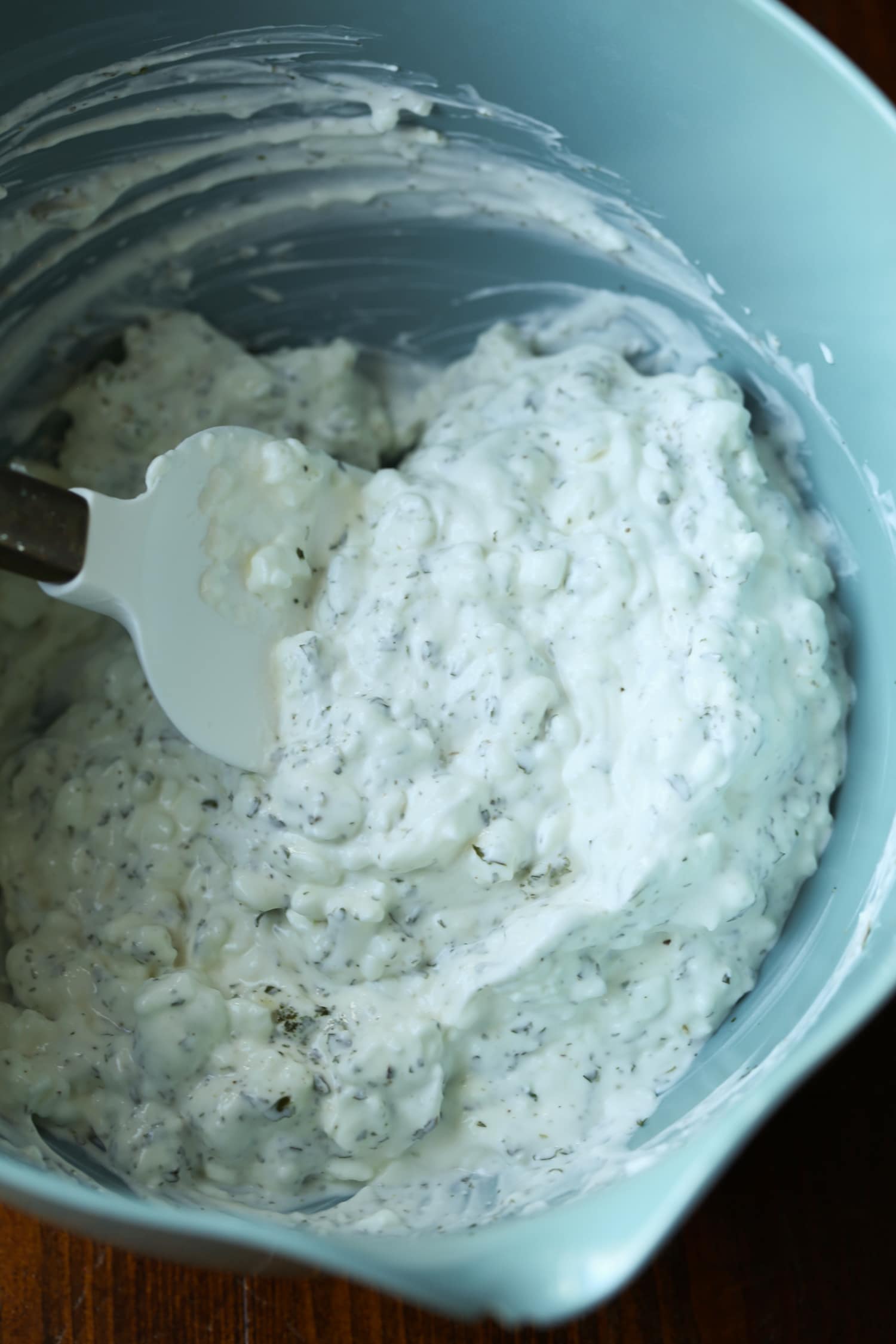 How to Make a Sour Cream Noodle Bake with Beef
This is an easy recipe to make ahead, but it also comes together quickly enough to make the same day or evening! Here's how to prep and assemble your noodle bake:
Make the Meat Sauce: Break apart and brown the ground beef in a skillet, then add in the garlic and seasonings. Pour in the tomato sauce and then leave the meat sauce to simmer on low.
Prep the Cheese Mixture: Stir together the cottage cheese and sour cream along with the parsley. Give the mixture an extra pinch of salt and pepper.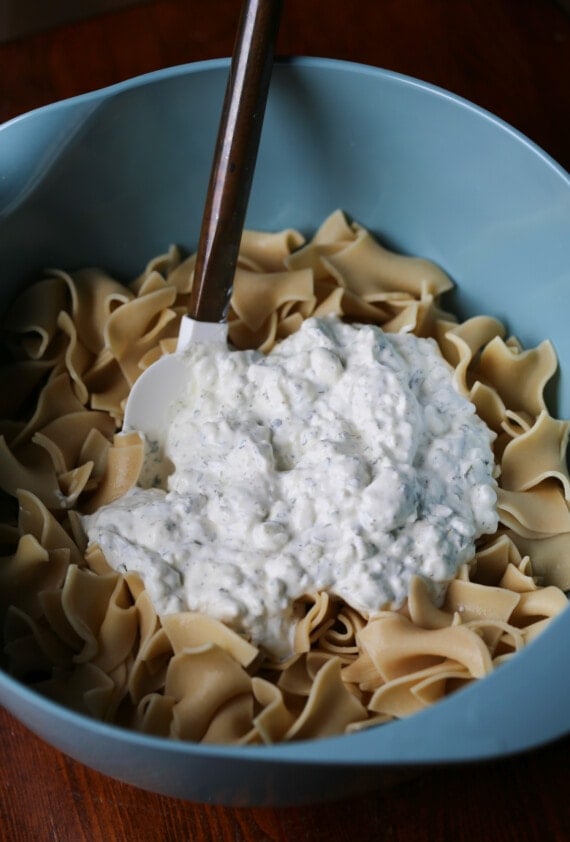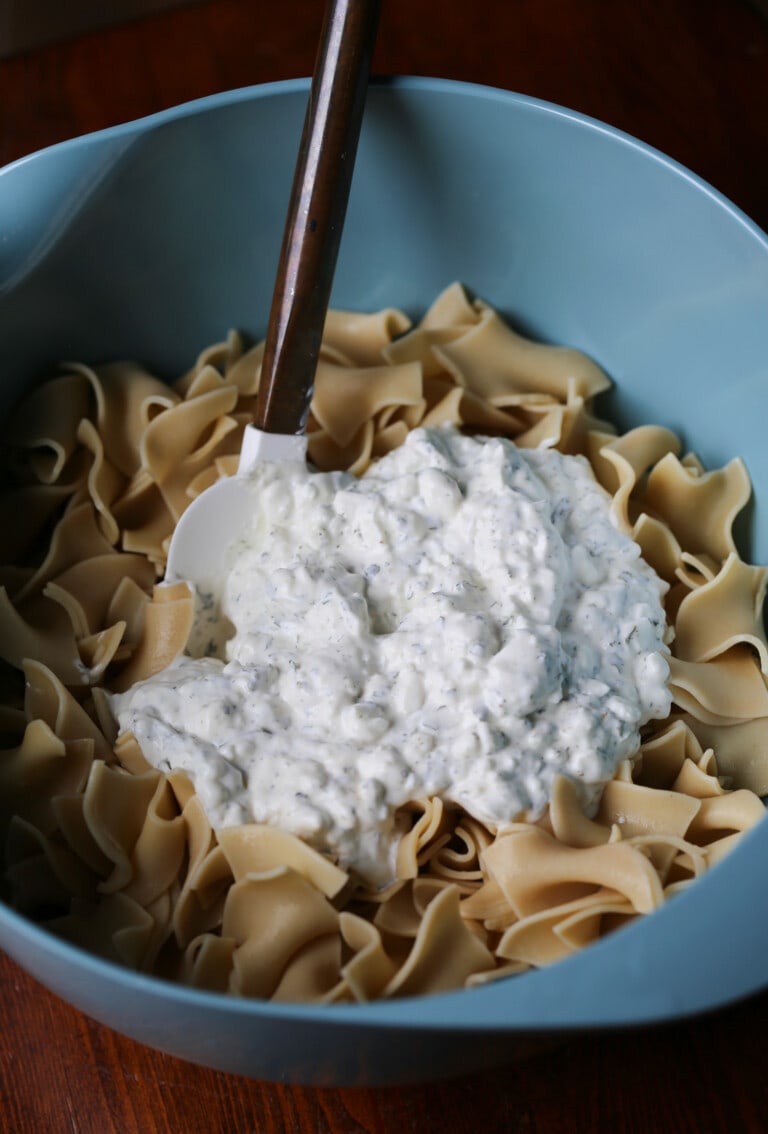 Prepare the Noodles: Boil the egg noodles according to the package directions. Drain the noodles before adding them into the cottage cheese mixture.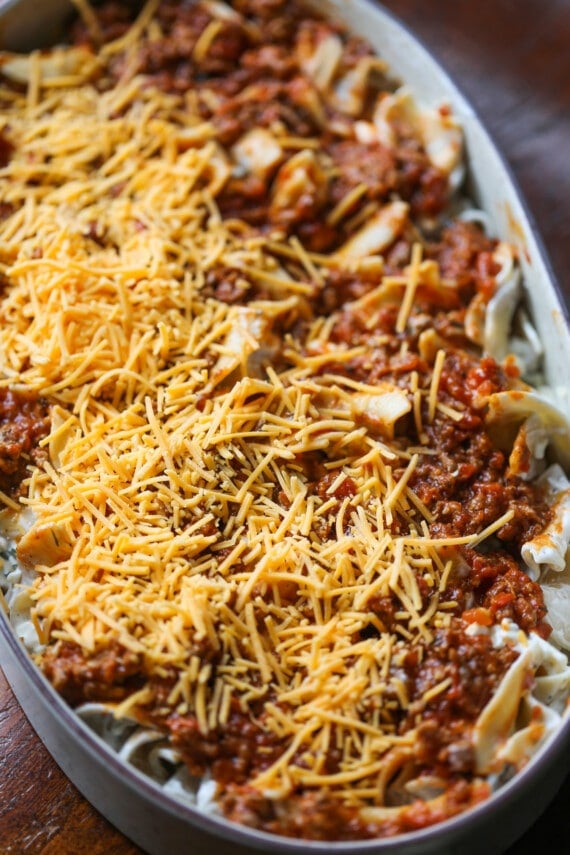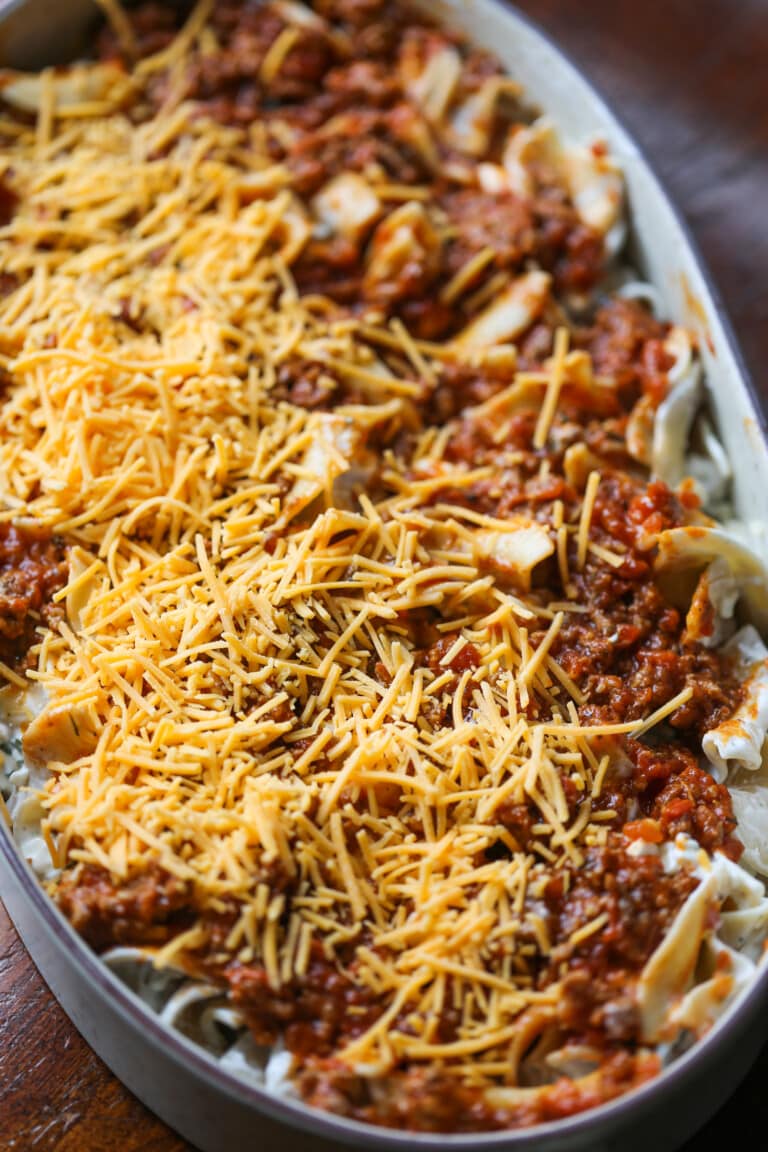 Assemble: Add half of the noodles into a greased baking pan, followed by half of the meat sauce and a layer of shredded cheese. Repeat with the remaining noodles, sauce, and cheese.
Bake: Place your pasta bake in the oven to cook until the cheese is nice and bubbly, about half an hour. Once your noodle bake is out of the oven, garnish if desired and serve while the cheese is warm and melty!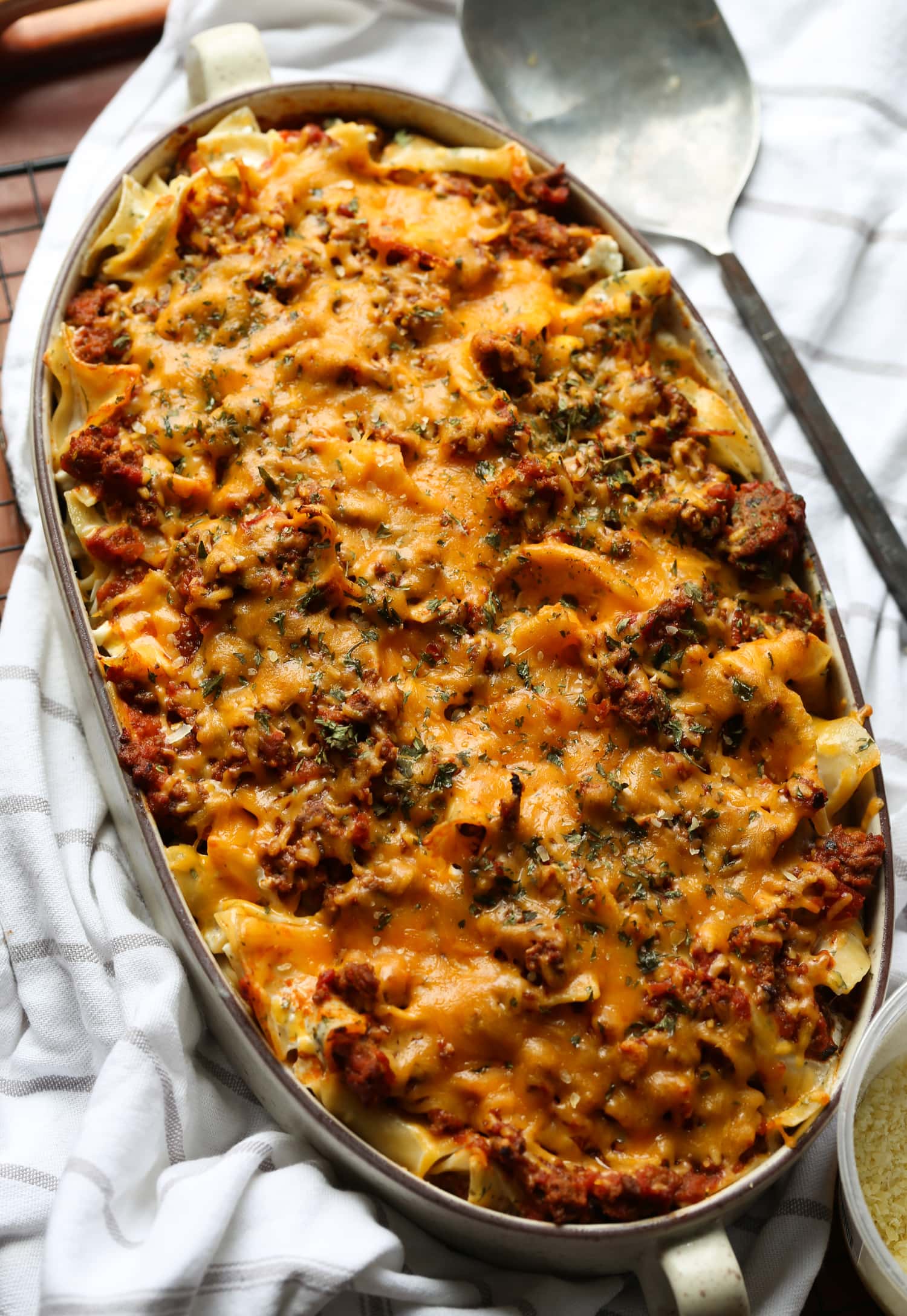 Can I Make It In Advance?
You can most definitely prepare your hamburger noodle casserole a day in advance, and keep it covered in the fridge until you're ready to bake it. Just remember that if you're baking this casserole straight from the cold, you'll likely need to up the baking time by 10-15 minutes.
Tips for the Best Results
Here are some tips to keep in mind when making your beef and noodle casserole:
Use More or Less Sauce: This recipe calls for anywhere between 16 to 24 ounces of tomato sauce. My family likes a particularly saucy casserole, so I always max out that quota. I also find that the added moisture is better for reheating! However, it's totally up to preference and you can use less if you prefer.
Cook the Pasta Al Dente: When boiling your egg noodles, aim for al dente or just shy of al dente. The pasta should be tender to bite, but not too soft. This way, the noodles don't become overcooked and mushy when baked.
If the Cheese is Browning: If you notice that the top of your casserole is browning too quickly while in the oven, lightly tent it with aluminum foil as it continues to bake.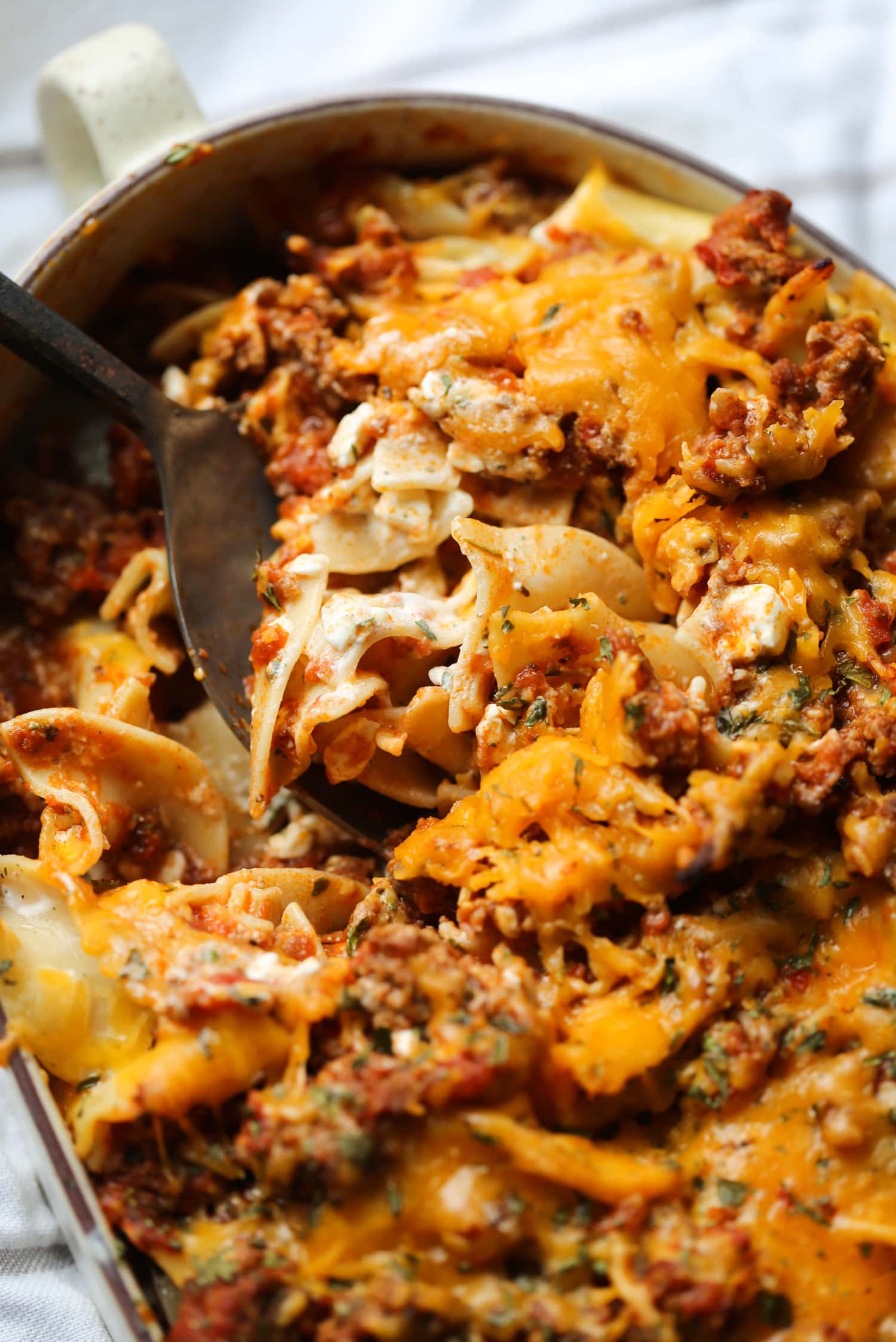 Variation Ideas 
I just love a good casserole recipe. This one is delicious as it is, but you can easily change up the ingredients to your liking:
Different Noodles: Make your noodle bake with any kind of pasta you like. Regular egg noodles, elbow macaroni, penne, or ziti are more great options.
Different Protein: This recipe uses lean ground beef, but it would be just as delicious with ground chicken or ground turkey, too. 
Other Cheeses: Swap out the cottage cheese for other creamy cheeses like ricotta, or cream cheese. You can also trade out the shredded cheddar cheese layer for grated mozzarella.
Add Veggies: Vegetables make a nutritious addition to this easy pasta bake! Try adding diced carrots, onions, broccoli, bell peppers, butternut squash, or zucchini, and greens like spinach and kale. I recommend sauteing any veggie add-ins beforehand to soften them a bit.
Herbs and Spices: Amp up the flavors of this recipe with extra herbs like dried or fresh thyme, basil, and rosemary. Or toss in a pinch of cayenne or crushed red pepper flakes for added kick.
Serving Suggestions
Casseroles are one of my favorite dishes to build a meal around. Serve this sour cream noodle bake with a side of bread. Try Easy Homemade French Bread or my amazingly flavorful Stuffed Garlic Bread. Or lead into the meal with a batch of my best-ever Bruschetta!
For a lighter option, dish up with a nutritious Quinoa Salad, or a fresh green salad tossed with Homemade Dressing.
Pair your casserole with roasted veggies, or a side of Garlic Ranch Mushrooms.
You could always double up on the convenience an serve this noodle bake alongside an equally easy veggie casserole, like this Loaded Cheesy Cauliflower Casserole!
And last but not least, we can't forget dessert! Follow up a hearty and delicious dinner with a slice of my Best-Ever Easy Cheesecake, or maybe a cozy Apple Pie Bar.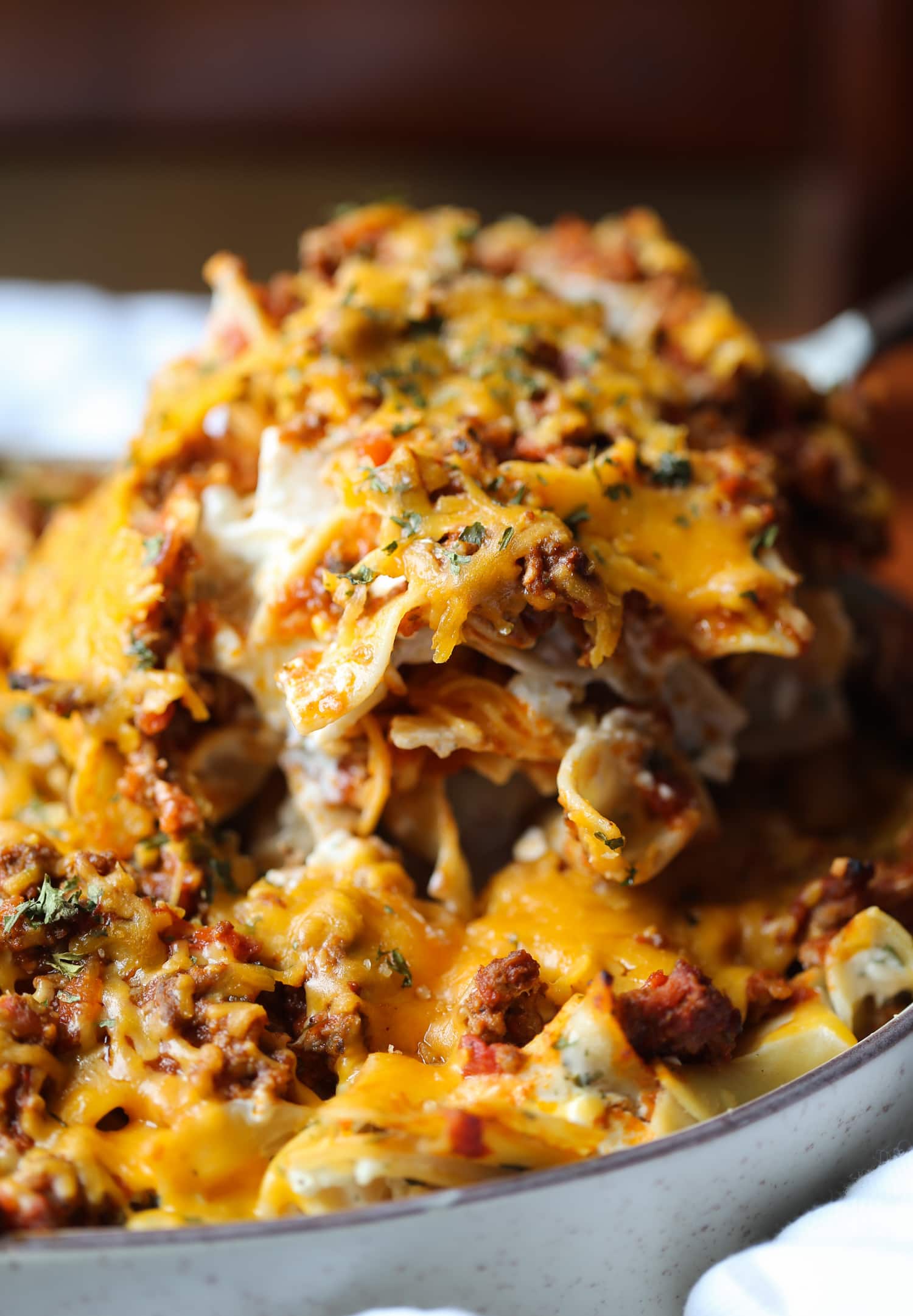 Storing and Reheating Leftovers
This noodle casserole can be stored airtight in the fridge for up to 5 days. Either transfer the leftovers to a container, or wrap the baking dish tightly with foil or plastic wrap.
Reheat leftover pasta bake either in the microwave covered with a paper towel (to protect from splatters!) or in the oven until warmed through. If you find that the noodles have dried out in the fridge, reheat with a little sauce or water to return the moisture to the noodles.
Does This Freeze Well?
Yes! I love casseroles, as you can make them ahead and they're so easy to freeze. This noodle bake can be kept frozen in an airtight container for up to 3-4 months. Just thaw in the fridge overnight and then bake or reheat as usual.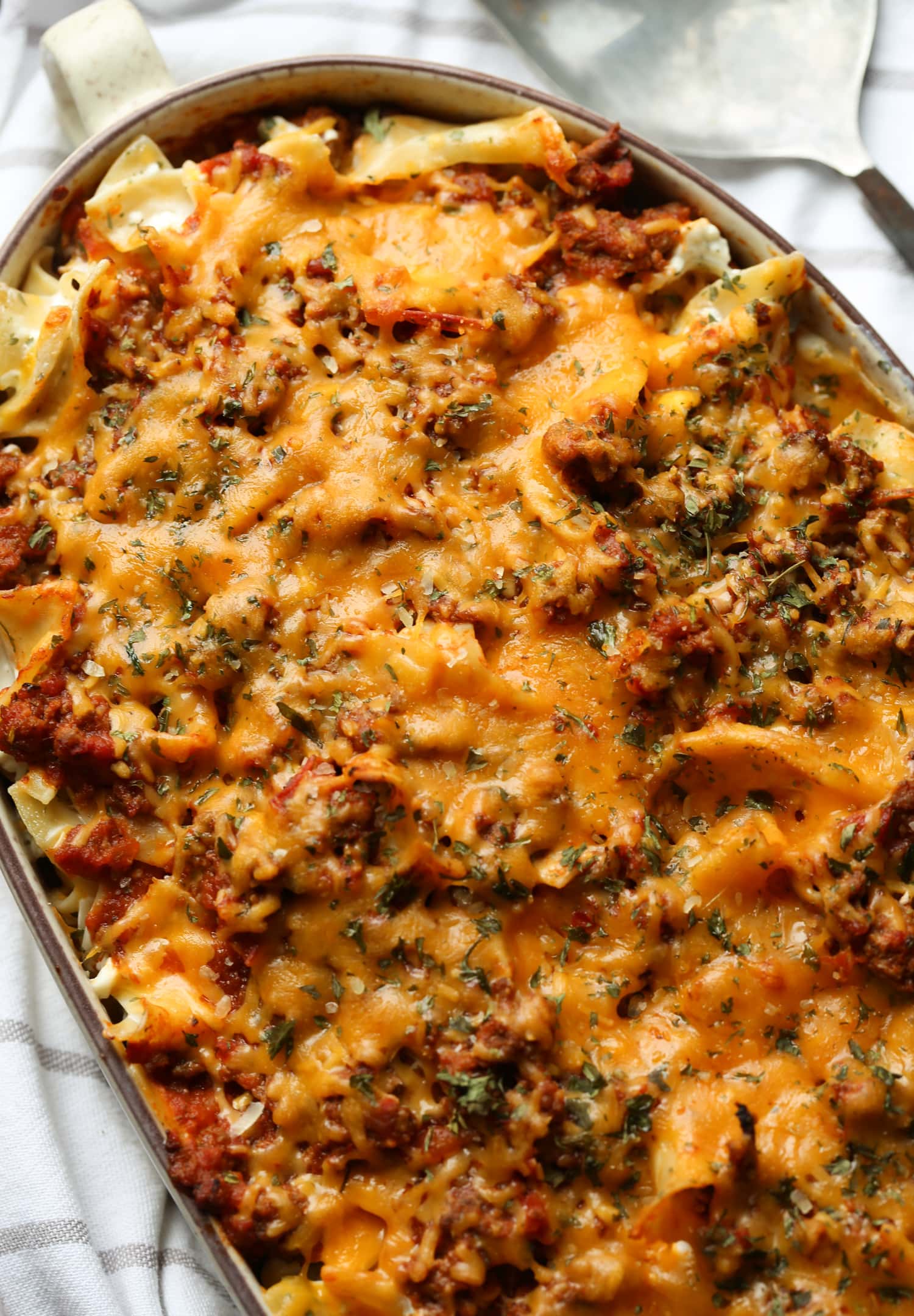 More Cheesy Casserole Recipes
---
Description
Weeknights just got a whole lot more delicious, with this cozy and comforting Sour Cream Noodle Bake! Prepared with layers of tangy meat sauce, sharp cheddar cheese, and tender egg noodles tossed in a creamy sour cream mixture.
---
1 1/2

pounds lean ground beef

3

cloves garlic, minced

1 teaspoon

kosher salt, divided

1 teaspoon

black pepper, divided

1 teaspoon

Italian seasoning

24 ounces

tomato sauce* see note

1/2 cup

sour cream

1 1/4 cup

cottage cheese

1 tablespoon

dried parsley 

12 ounces

wide egg noodles

1 1/2 cups

grated sharp cheddar cheese

Optional – garnish with parsley, green onions, or Parmesan Cheese.
---
Preheat oven to 350°F. Lightly coat a 9×13 baking dish with nonstick spray. Set aside.

Make the Meat Sauce

: In a large skillet over medium heat, cook the ground beef. Drain any excess fat. Add in the garlic, 1/2 teaspoon salt, 1/2 teaspoon pepper, and Italian seasoning. Cook for 2 minutes. Stir in the tomato sauce. Reduce the heat to low and simmer while you prepare the rest of the ingredients.

Prep the Cheese Mixture

: In a large bowl stir together the sour cream, cottage cheese, parsley, and remaining salt and pepper. Set aside. 

Bring a large pot of water to a boil and cook the egg noodles according to the package directions. Drain the noodles and add them into the cottage cheese mixture, stirring to coat.

Assemble

: Place half the noodles into your prepared pan. Top with half of the meat sauce and half of the cheddar cheese. Repeat with the noodles, meat sauce, and cheddar. 

Bake for 25 – 30 minutes, until bubbly. If you notice the top browning too quickly, lightly tent with aluminum foil.

Garnish if desired and serve warm
---
Notes
*you can use anywhere from 16 – 24 ounces of sauce for this dish, depending on how saucy you prefer your casserole. My family likes more sauce, and we find it's better for reheating with extra, but you can absolutely use less if you prefer!
Store airtight in the refrigerator for up to 5 days.
Keywords: pasta bake recipes, pasta casserole, beef noodle casserole
Want To Save This Recipe?
Find more recipes like this:
PIN for later: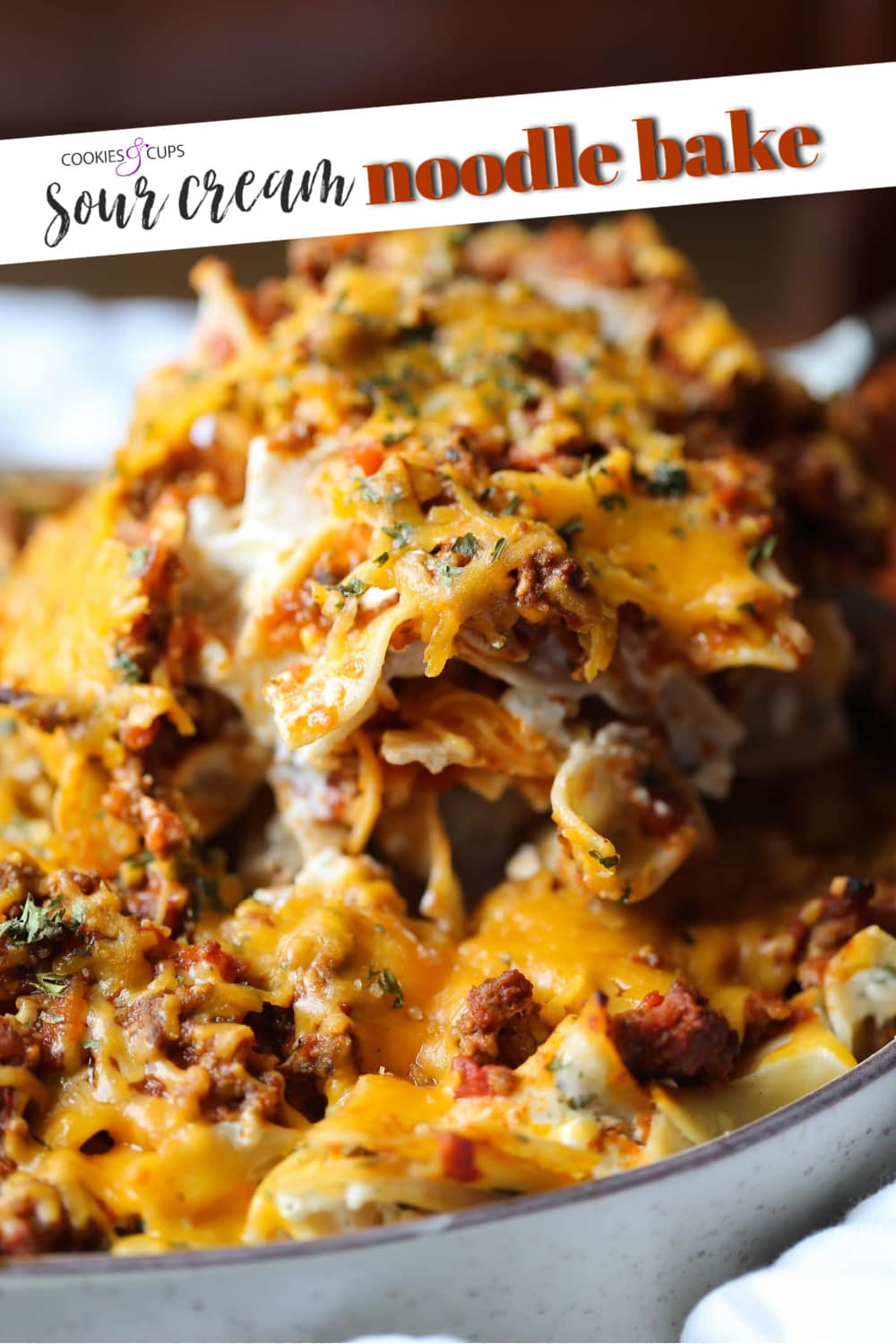 Source link
Originally posted 2022-10-22 15:51:23.