This cozy, creamy Pumpkin and Bacon Pasta recipe is ready in 30 minutes and filled with the warming flavors of fall! It's an easy one-pot dinner made with tender pasta tossed in a rich pumpkin cream sauce, spiced with nutmeg and a touch of chili.
Serve this with my Southern Pecan Bread and you have a truly epic fall dinner idea!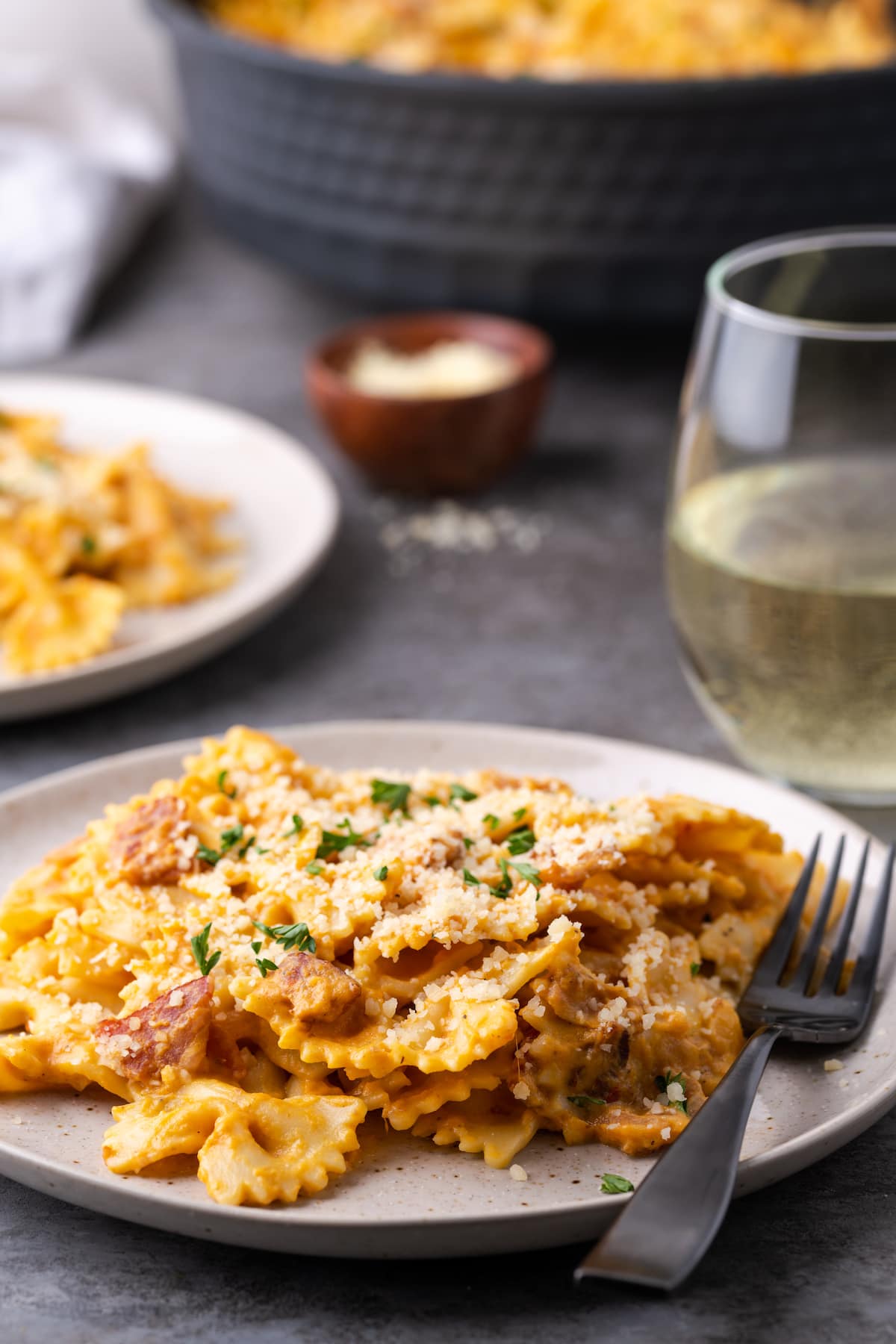 Creamy Pumpkin Pasta with Bacon
Every so often, I craft up a recipe that I already know is destined for the weeknight dinner Hall of Fame. Take this easy pumpkin and bacon pasta recipe. It ticks every single box for an easy meal (more on that below), and without a doubt, the flavors are the stuff of legends!
This pasta dinner is made in one pot, with tender cooked pasta tossed in an irresistibly creamy, salty-spicy-savory pumpkin pasta sauce. Oh! Did I mention there's bacon? Also, it's ready in under 30 minutes. It doesn't get much better.
I don't know about you, but I can't wait to cozy up with platefuls of this bacon and pumpkin pasta this fall!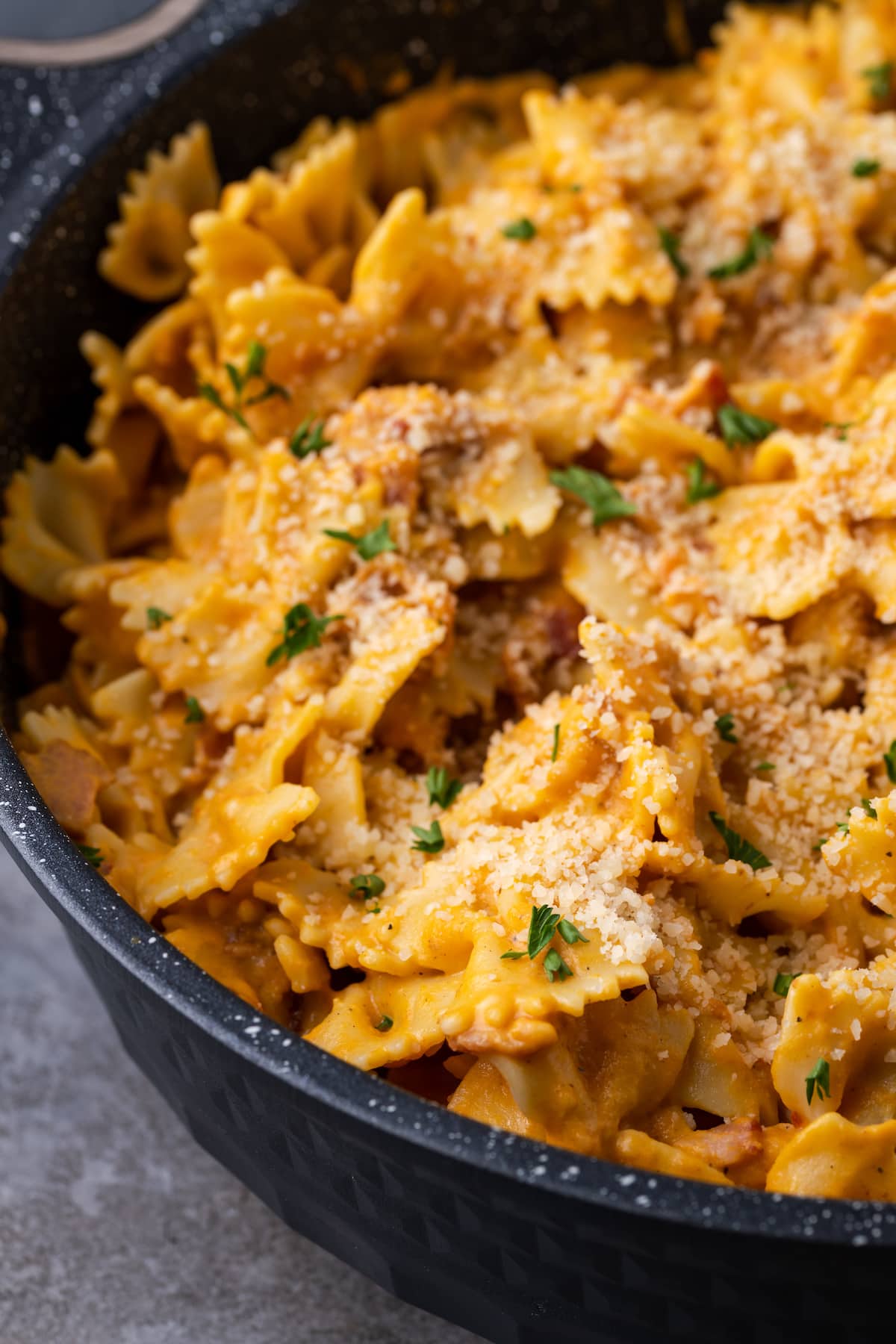 Why You'll Love This Recipe
There are SO many reasons to fall in love with this pumpkin pasta recipe (pun intended). Here are my top three:
Major fall vibes. This is the ultimate fall pasta recipe. It's creamy, it's cozy, and it's filled with warm autumn flavors of pumpkin, plus hints of chili and nutmeg. This pumpkin pasta sauce will make you want to lick the skillet it's cooked in!
Ready in one pot, in 30 minutes! I mean, does an easy dinner recipe get any better?! In case it needs repeating, this quick pasta is made for busy, chilly weeknights.
Great for leftovers. Like many pasta recipes, this pumpkin pasta with bacon is even better when reheated the following day. Storing the leftovers means extra time for the farfalle pasta to soak up all that decadent cream sauce.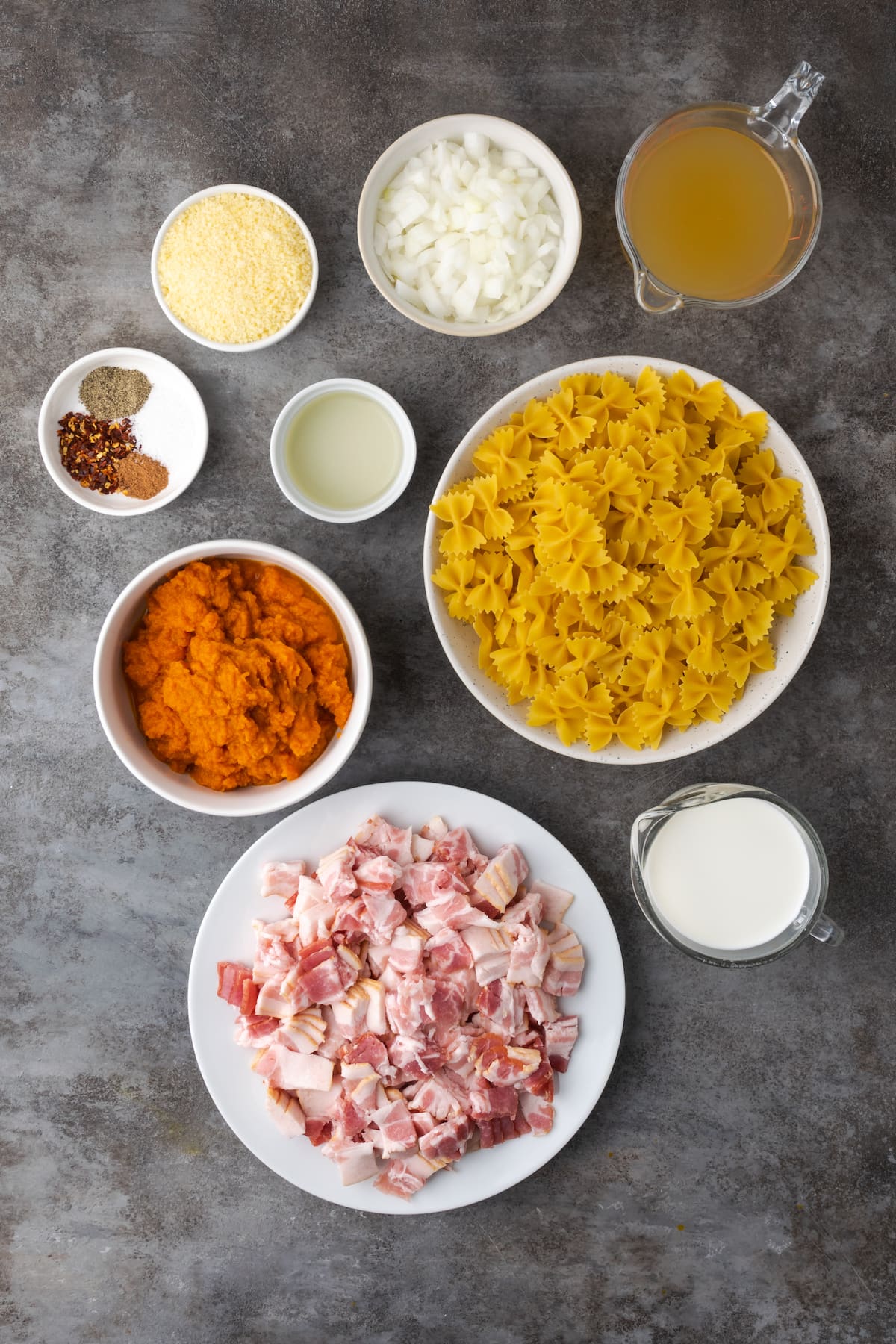 What You'll Need
Below is what you'll need to make this spicy and savory pumpkin pasta with bacon. Don't forget to refer to the recipe card further down for the full ingredient details:
Bacon and Onion: Diced bacon and onion make up the (delicious) flavor base for the sauce. I can't describe how amazing my kitchen smelled as they were sauteeing together in the skillet. You can use pancetta in place of bacon if you prefer.
White Wine: You'll want to use a dry white wine for this pasta sauce. Think sauvignon blanc, pinot grigio, chardonnay, or a dry Madeira or marsala wine.
Chicken Stock: Use low-sodium chicken stock or broth. If you're cooking without wine, you can substitute the wine with additional stock.
Spices: I season this pumpkin sauce with a warming combination of crushed red pepper flakes and nutmeg. These spices pair beautifully with the pumpkin, and you can adjust the heat levels to taste. You'll also need salt and pepper.
Pumpkin Puree: The star ingredient. If you've never made a pasta sauce with pumpkin before, you're in for a treat! Make sure you're buying real canned pumpkin puree, and not pumpkin pie filling. They're not the same!
Cream: I use light cream, however you can use an alternative like heavy cream or whole milk if you prefer.
Parmesan Cheese: Do yourself and your dish a huge favor and use freshly grated parmesan!
Fresh Parsley: Optional, for garnish. 
Pasta: You'll need your choice of pasta noodles, cooked according to the directions on the package. I opted for farfalle, as they look pretty and, more importantly, the sauce coats the shape well.
How to Make Pumpkin and Bacon Pasta
Here's how to prepare this marvelous pumpkin pasta sauce quickly and easily on the stovetop: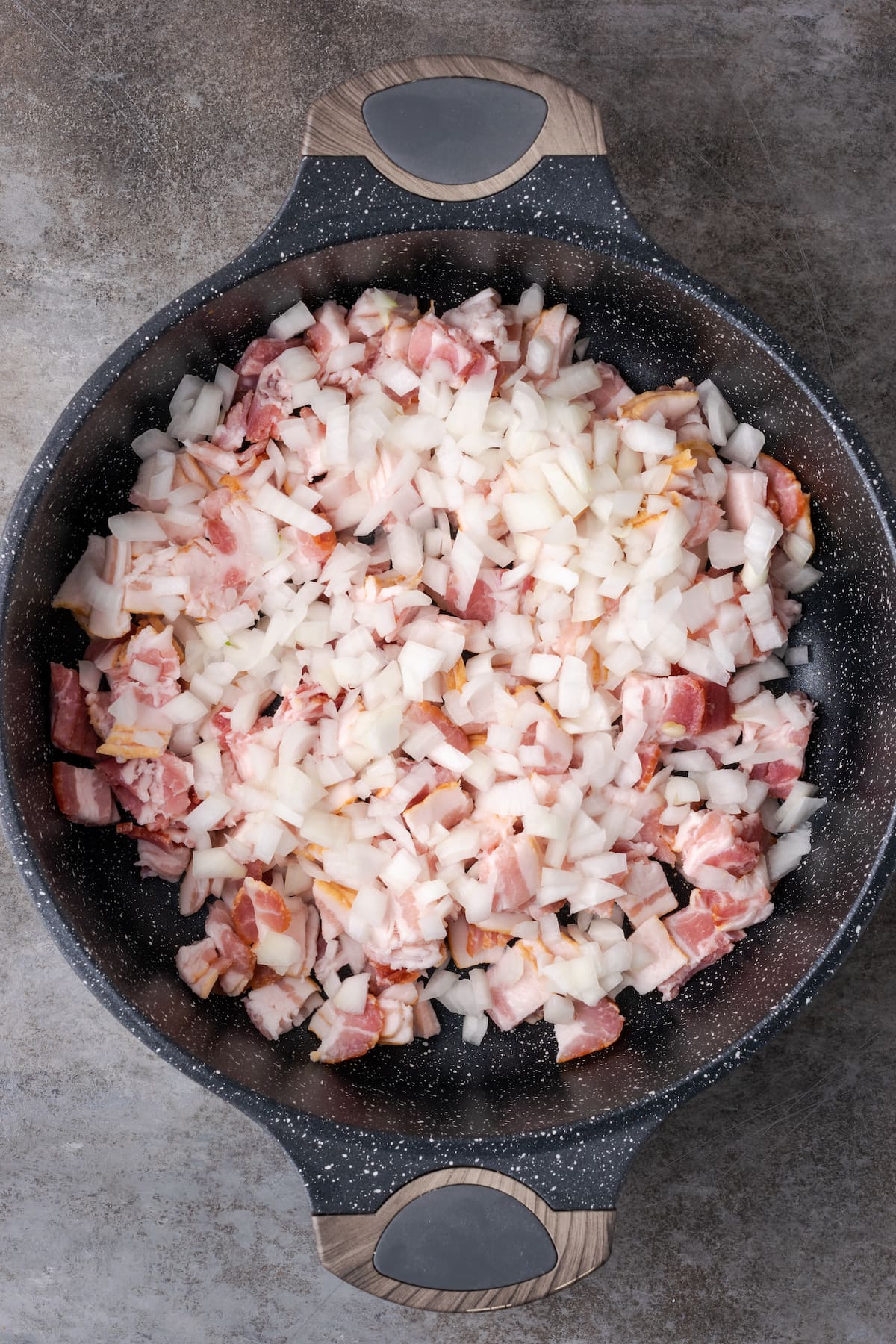 Sauté the Bacon and Onion: In a large skillet, sauté the chopped bacon with the onion. After about 15 minutes, the bacon should be crisp and the onions caramelized. Don't forget to drain any excess grease.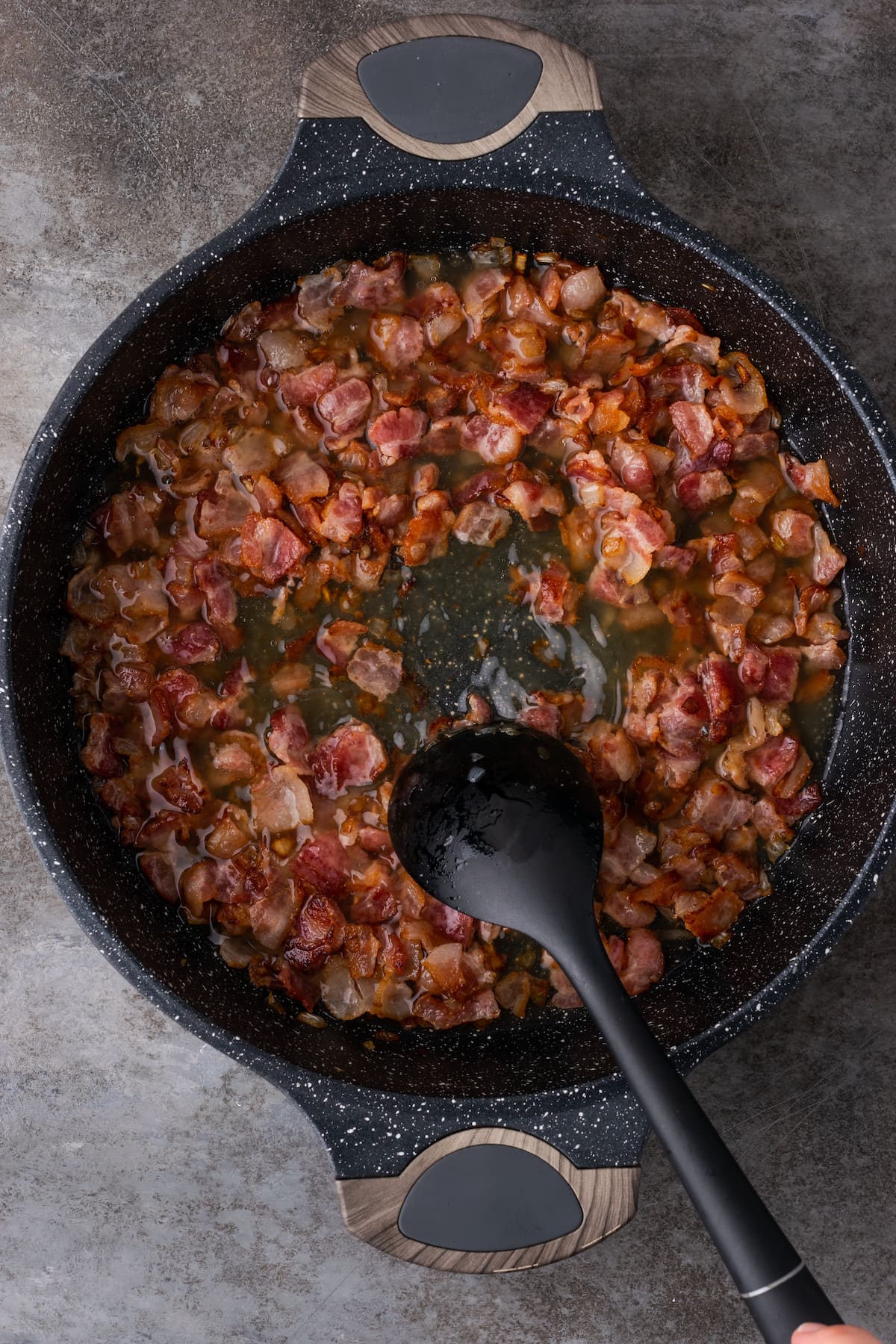 Deglaze the Pan: Next, pour in the white wine and chicken stock. Use a plastic or wooden spoon to scrape and lift those browned, flavorful bits from the bottom of the skillet. Add the pumpkin, cream, and seasonings to the skillet.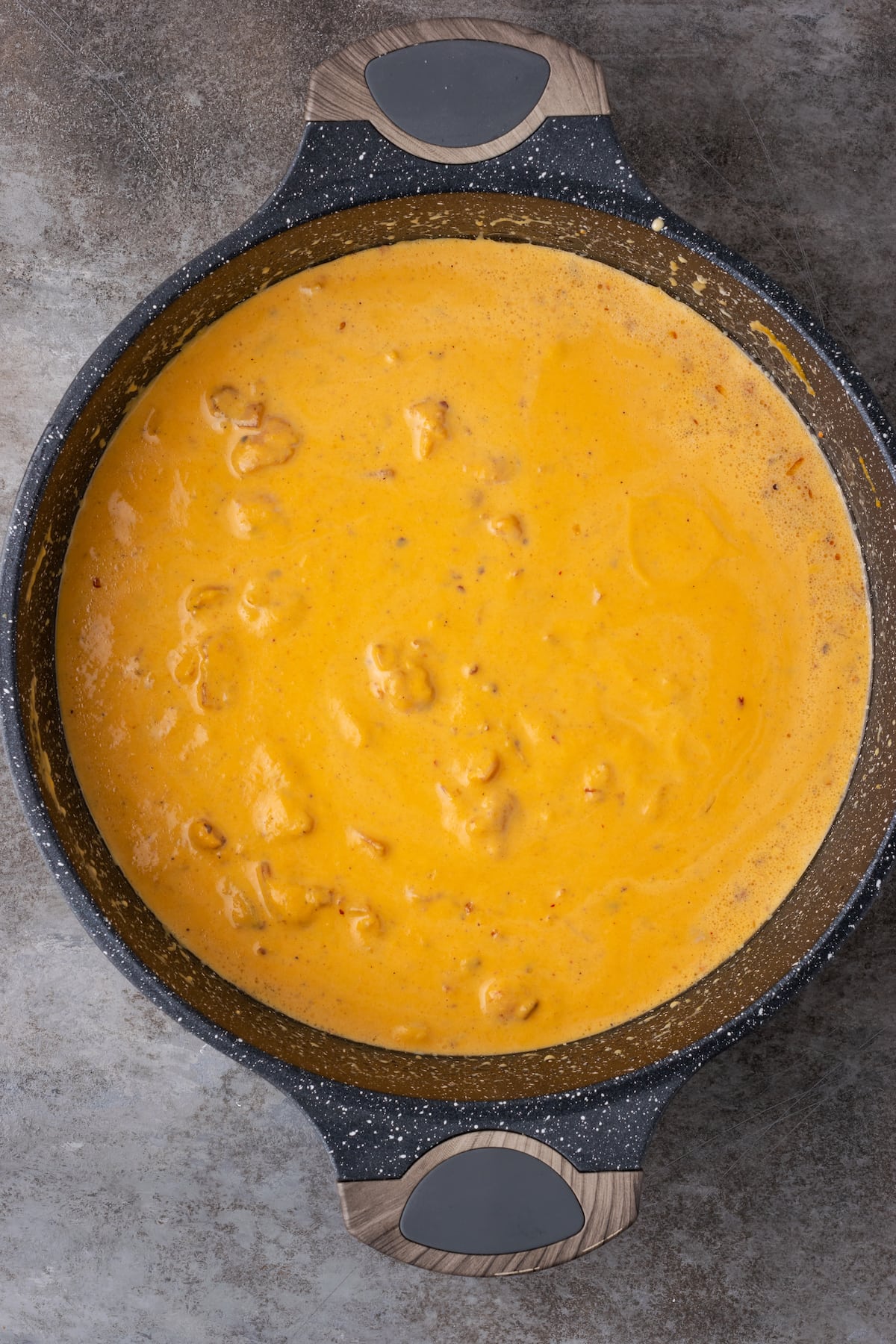 Finish the Sauce: Allow your pumpkin sauce to simmer, giving it a stir now and then. After 5 minutes, you'll take the skillet off the heat and, lastly, stir in the grated parmesan.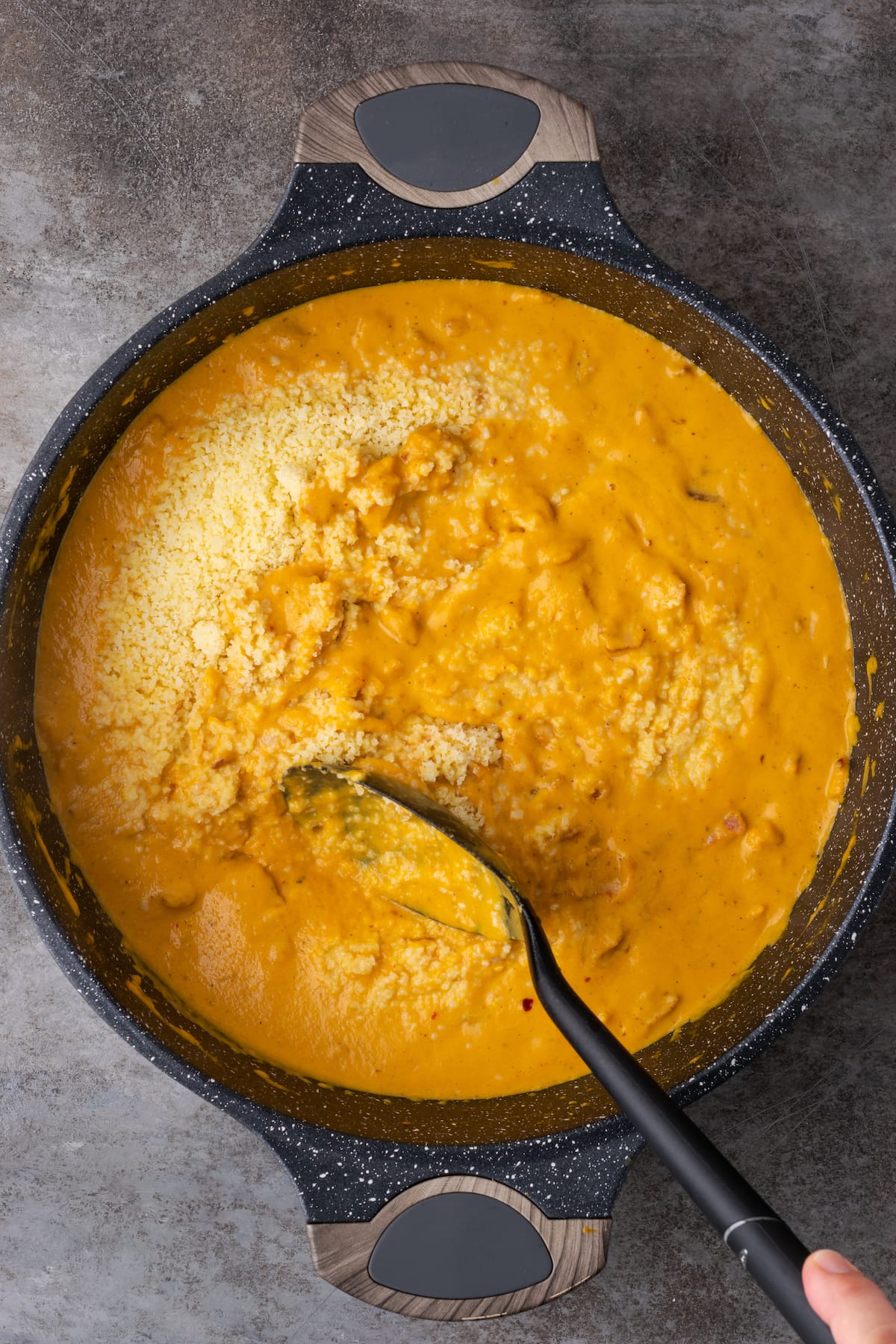 Add Pasta and Serve: Finally, add the pasta to the sauce and toss to coat. Sprinkle over some fresh chopped parsley and additional parm if you'd like, then serve!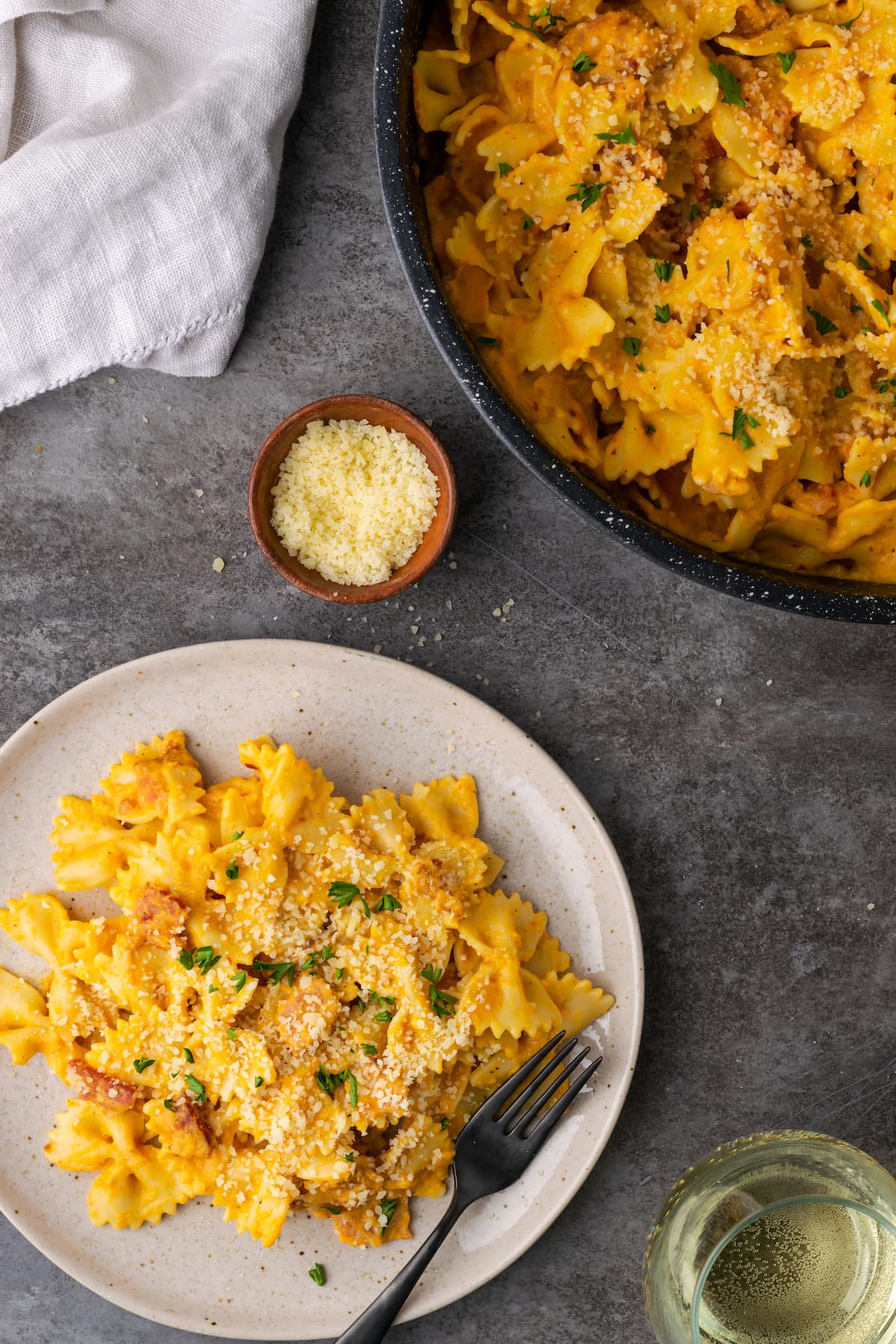 Tips and Variations
This recipe is so simple while packing in loads of flavor! It doesn't take much for it to turn out perfect. Still, here are some helpful notes and possible recipe variations:
Don't forget to salt your pasta water. Add a hefty spoonful of salt to the water you'll use to boil the pasta. This is key to well-seasoned, flavorful noodles! Also, if you need to thin out the sauce at all, adding a spoonful of starchy pasta water is a great way to do it.
Take the pot off the heat before adding the parmesan cheese, to avoid clumping.
Use sausage instead of bacon. This recipe turns out great when made with ground sausage, too (you can also check out my recipe for Creamy Pumpkin Sausage Pasta!).
For a vegetarian version, leave the bacon out altogether and use vegetable stock in place of the chicken stock.
Make your own pasta. Dry pasta makes this recipe super convenient. However, feel free to use your favorite homemade pasta recipe if you have one! Or, try it with my easy Homemade Egg Noodles.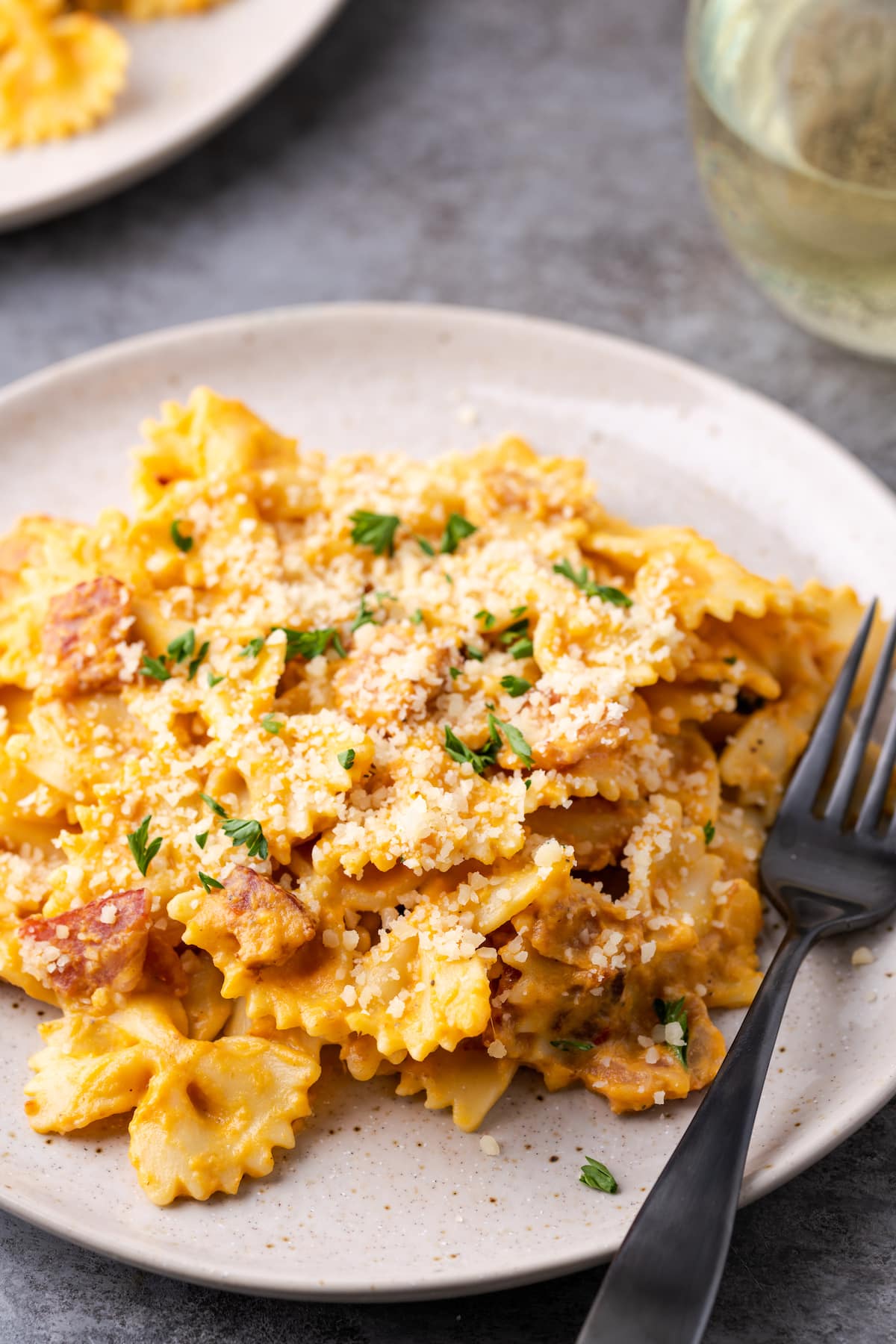 What to Serve With Pumpkin Pasta
This pumpkin pasta makes a wonderful and quick fall dinner. Here are some of our favorite side ideas to round out a meal: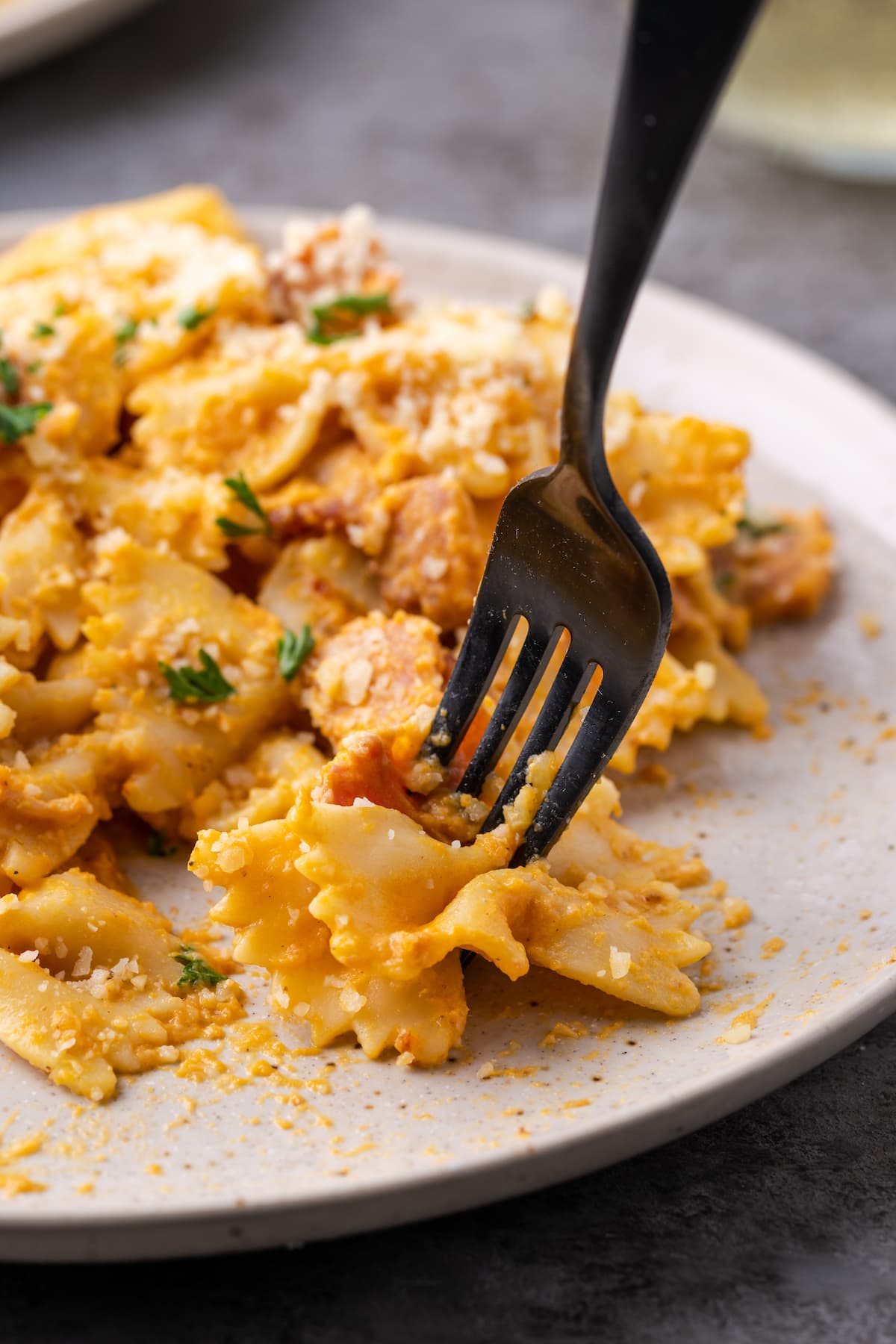 How to Store and Reheat Leftovers
Store leftover pumpkin pasta refrigerated airtight for up to 3 days. The flavors actually develop even more with time! Reheat the pasta on the stovetop or in the microwave with a splash of water or stock to revive the sauce.
Can I Freeze This?
While I don't recommend freezing the pasta, the pumpkin pasta sauce can be stored in a freezer-safe container and kept frozen for up to 3 months. Defrost the sauce in the fridge overnight before reheating, then cook up a fresh batch of pasta to serve it with.
---
Description
This creamy Pumpkin and Bacon Pasta is ready in 30 minutes and filled with the flavors of fall! Made with tender pasta tossed in a velvety pumpkin cream sauce, spiced with nutmeg and a touch of crushed red pepper.
---
1

pound bacon, chopped

1 cup

diced onion

1/4 cup

dry white wine

1 cup

chicken stock

1 teaspoon

crushed red pepper flakes

1/4 teaspoon

nutmeg

1

(15- ounce) can of pumpkin puree

1 cup

light cream

1/2 teaspoon

kosher salt

1/2 teaspoon

fresh ground black pepper

1/2 cup

fresh grated parmesan cheese
Optional garnish – fresh parsley

1

pound pasta cooked according to package directions, make sure to salt your water when it comes to a boil.
---
In a large skillet or Dutch oven over medium heat, cook the bacon and onion together until the bacon is crisp and the onions are soft and lightly caramelized, about 15 minutes.
Drain excess bacon grease from the skillet and add in the wine and stock, scraping up the brown bits in the bottom of the pan. Add in the crushed red pepper, nutmeg, pumpkin, cream, salt, and pepper. Stir to combine and bring the mixture to a low boil. Reduce heat to low and simmer for 5 minutes, stirring frequently. Remove the pan from the heat and stir in the parmesan cheese.
Add the cooked pasta to the sauce and stir to coat. Garnish with fresh parsley and more parmesan cheese, if desired.
Serve immediately
---
Notes
If you don't have wine, you can omit it and increase the stock
Store airtight in the refrigerator for up to 3 days.
Can also be made with ground sausage instead of bacon.
Keywords: pumpkin pasta sauce, pasta in pumpkin sauce, fall dinner ideas
Want To Save This Recipe?
Find more recipes like this:
More Cozy Pasta Recipes
PIN for later: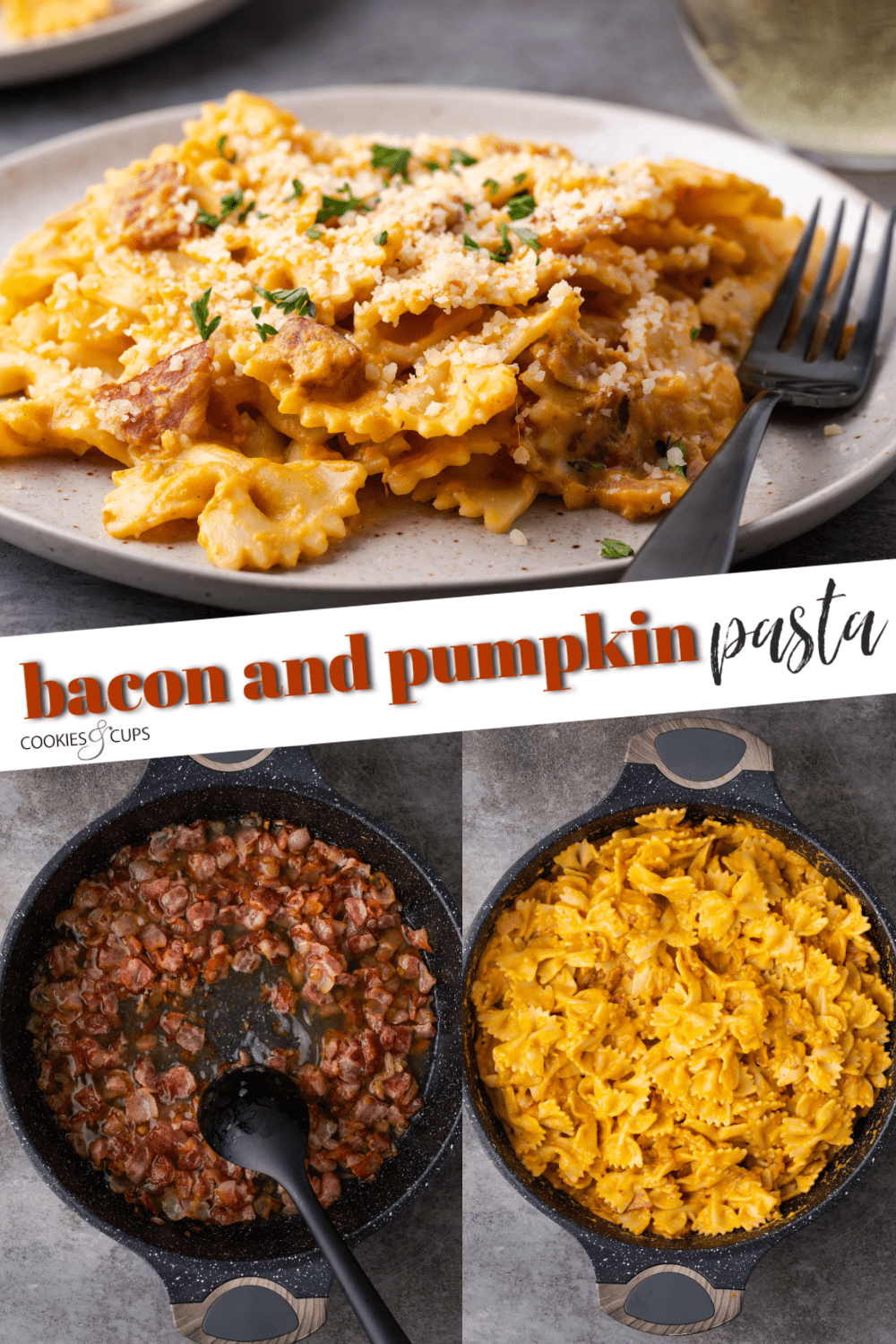 Source link
Originally posted 2022-10-18 15:43:10.