Juicy Instant Pot Short Ribs are made quick and easy in the pressure cooker! These flavorful beef short ribs are smothered in a mouthwatering red wine sauce. They are easy on the effort but BIG on flavor! You're going to wow everyone with this recipe.
Serve these with my favorite Baked Mashed Potatoes for the perfect cozy night dinner!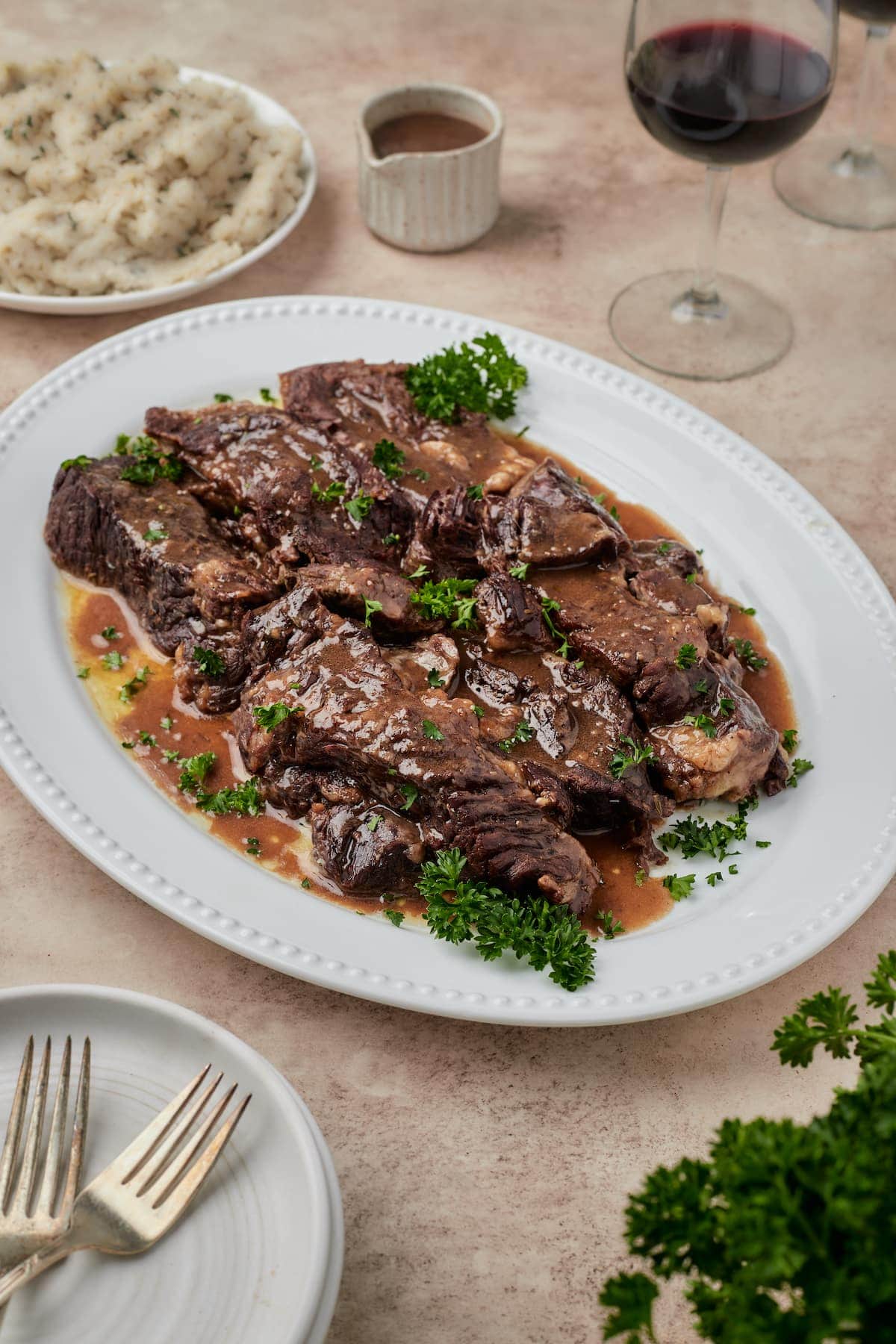 Juicy & Flavorful Instant Pot Short Ribs
Today I'm sharing one of my favorite recipes to make when entertaining. It's made super easy thanks to my Instant Pot but 100% feels super fancy too! What is it? Beef short ribs!
The cozy levels are through the roof with this recipe. I can't think of many other things in life that are as comforting, as juicy, and flavorful as these short ribs served over a bed of fluffy mashed potatoes, smothered in wine sauce. Braised short ribs this tender always carry a little air of luxury, too, making this quick Instant Pot version my go-to for dinner parties.
I, for one, love a one-pot recipe that gives off the "I slaved away in the kitchen" vibe, without having to actually slave away in the kitchen!
What You'll Need
Boneless Short Ribs: Fun fact: short ribs aren't actually rib meat at all! Boneless short ribs are cut from the chuck or shoulder, while bone-in short ribs are cut from the belly. If using the latter, you can ask your butcher to remove the bones if you prefer. Either type of beef short rib will work for this recipe. 
Olive Oil: It's worth investing in a decent extra virgin olive oil. Quality is king! 
Aromatics: Finely diced shallots and freshly minced garlic enhance the flavor of the dish.
Beef Broth: Choose a low sodium, good quality beef broth or stock for this recipe.
Balsamic Vinegar: I love the hints of tartness and sweetness that comes from including balsamic vinegar in the wine sauce. You could also sub in apple cider vinegar.
Worcestershire Sauce: Yes to that umami goodness!
Brown Sugar: Brown sugar lends just the right amount of caramelized flavor to the sauce.
Herbs: Bay leaves and fresh thyme. Also freshly chopped parsley for an optional garnish.
Red Wine: Short ribs call for a slightly sweet and mild, dry red wine like pinot noir, merlot, or cabernet sauvignon. If you prefer to cook without alcohol, there's also the option to leave the wine out – see the next section for details!
Butter: Butter is added to the wine sauce after all is said and done, giving it extra richness and flavor.
Salt & Pepper
Can I Omit the Wine?
Yes, you can leave the wine out and create a gravy instead. After removing the short ribs from the Instant Pot, turn on saute mode and let the liquid come to a boil. Create a slurry of equal parts cornstarch and warm water (1 1⁄2 tablespoons each) and add this into the Instant Pot. Then use a whisk to stir until the sauce has thickened.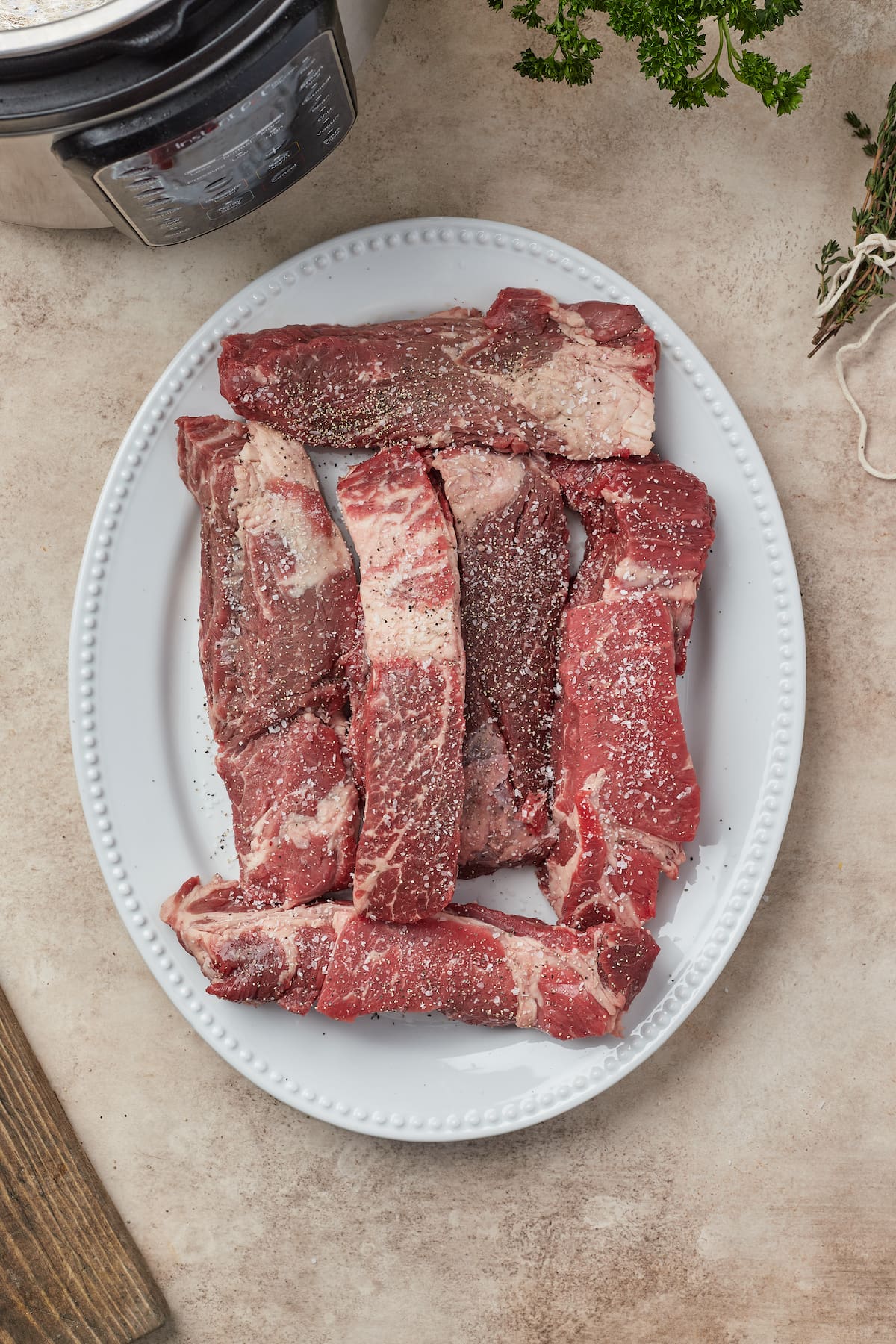 How to Make Beef Short Ribs in the Instant Pot
Making boneless short ribs in the pressure cooker skips over the hours of braising time that's normally needed to achieve beef that's ultimately cuttable with a fork. This Instant Pot version is so tender, it would literally fall off the bones – if it had them.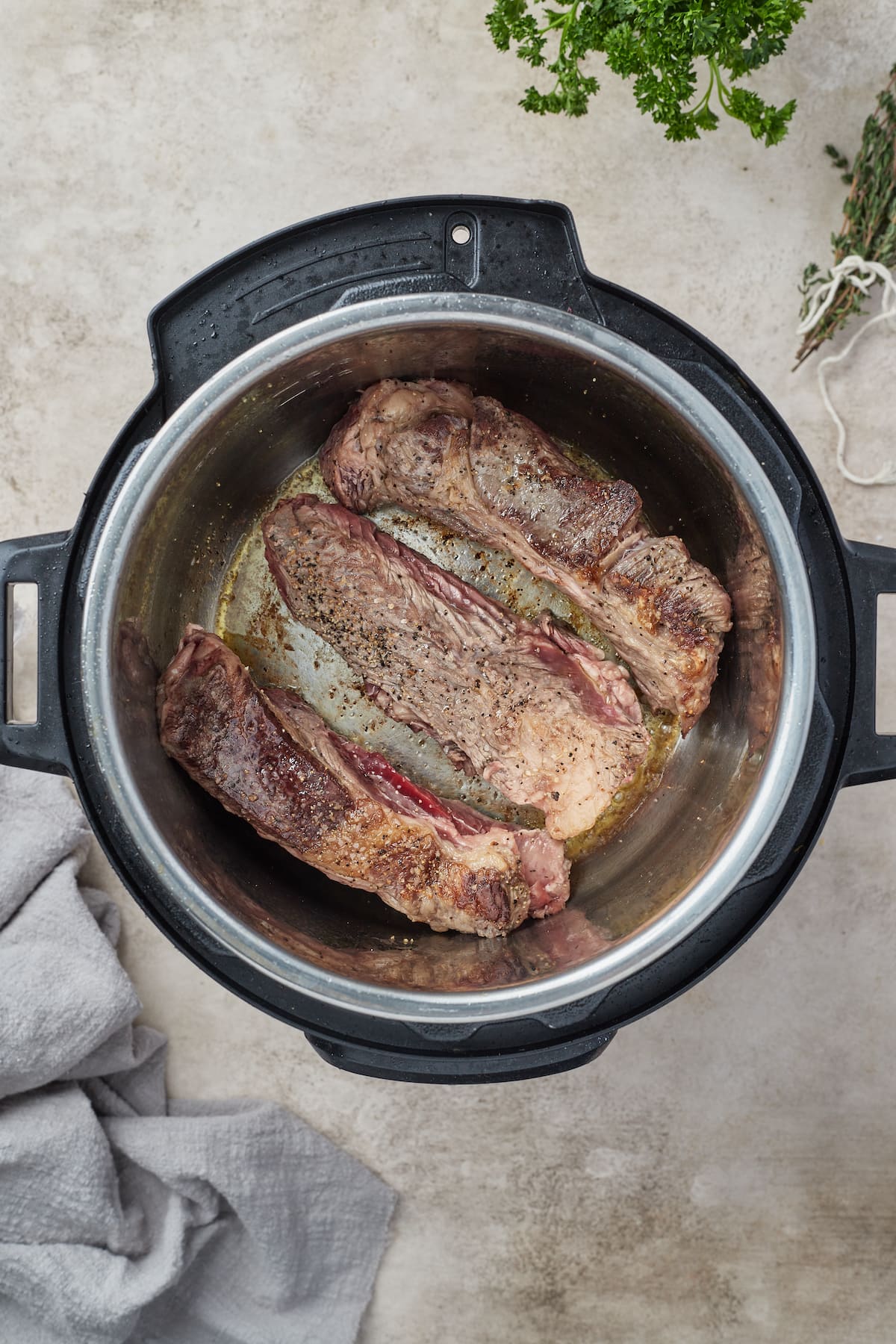 Brown the Meat: Give your short ribs a generous sprinkle with salt and pepper. Brown the beef in a bit of oil using the saute setting on the Instant Pot. I find it's helpful to do this in batches, to avoid overcrowding the pot.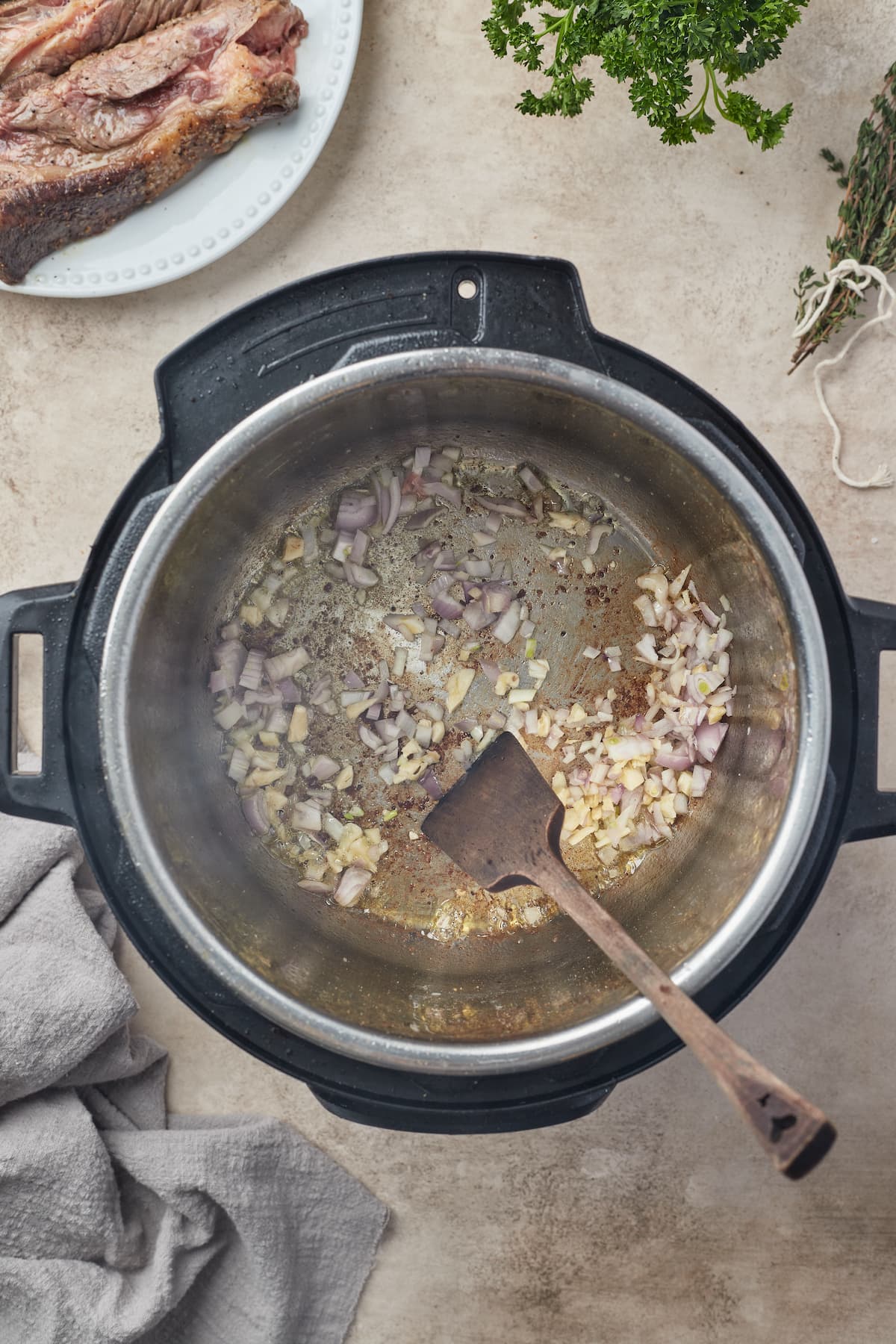 Saute the Onions: Remove the short ribs from the pot and set them aside. Add in the shallots and garlic and cook until fragrant. This usually only takes a minute – be careful not to burn the garlic!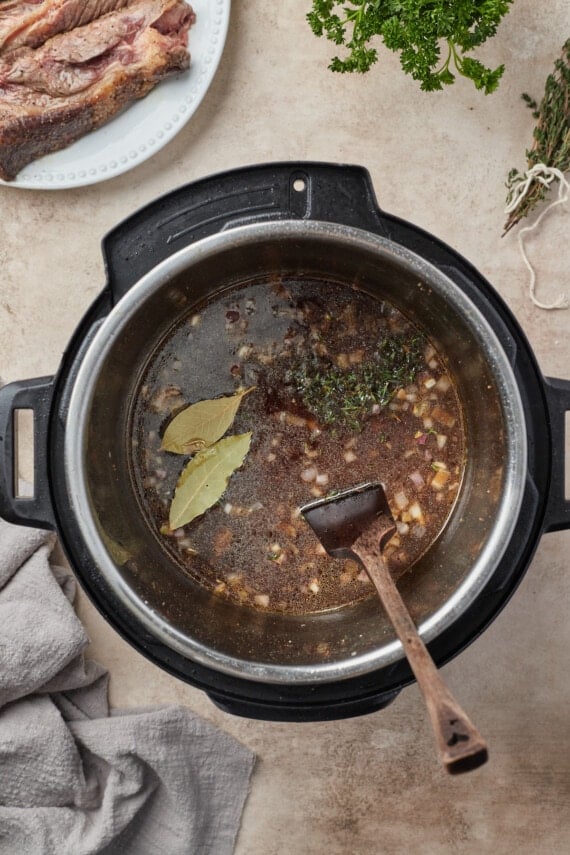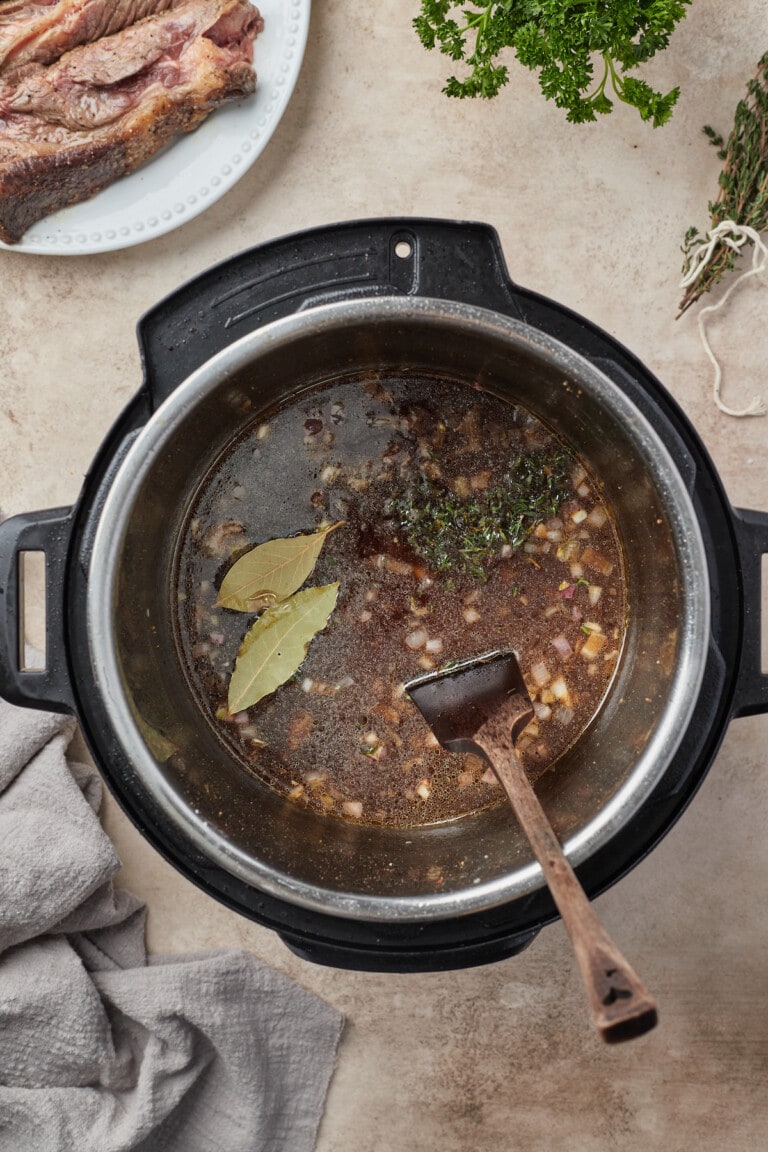 Deglaze & Combine the Ingredients: Next, pour in the beef broth and scrape the bottom of the pot, releasing all that delicious caramelized goodness into the broth. Switch the Instant Pot off of saute mode. Add the balsamic, worcestershire sauce, brown sugar and herbs into the pot and give things a stir. Place the trivet into the pot and place the seared short ribs on top.
Cook: Close the lid and set the Instant Pot to pressure cook for 45 minutes. The pot will need to naturally release first before the remaining pressure is vented manually.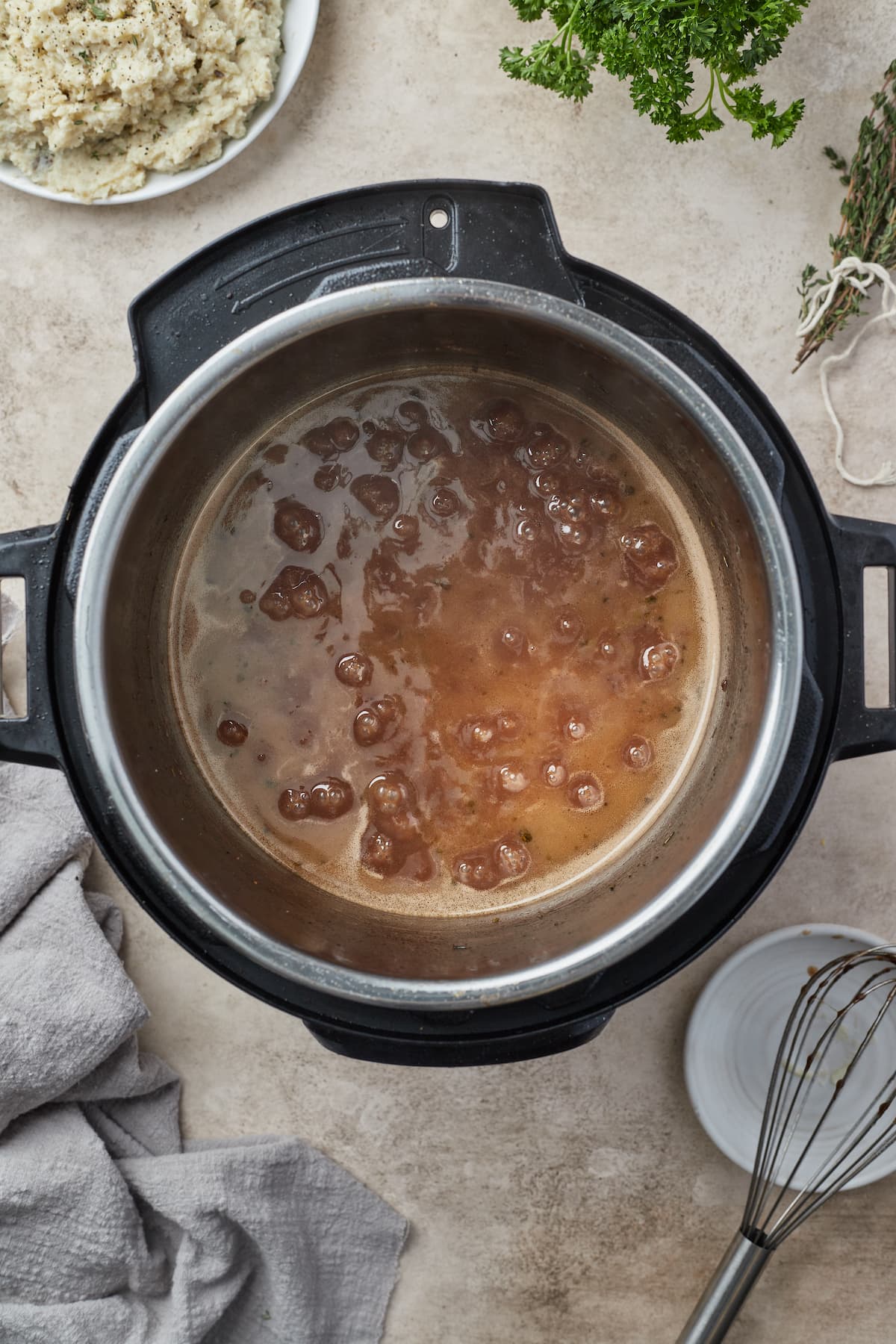 Finish the Wine Sauce & Serve: Take out the short ribs and remove the trivet as well as the bay leaves. Switching back to saute mode, pour in the red wine and simmer, whisking frequently until the sauce is reduced by half. Stir in the butter and whisk until smooth. 
Dish up your short ribs, pour the wine sauce over top, and serve immediately. I like to give mine a garnish of fresh chopped parsley for a nice pop of color.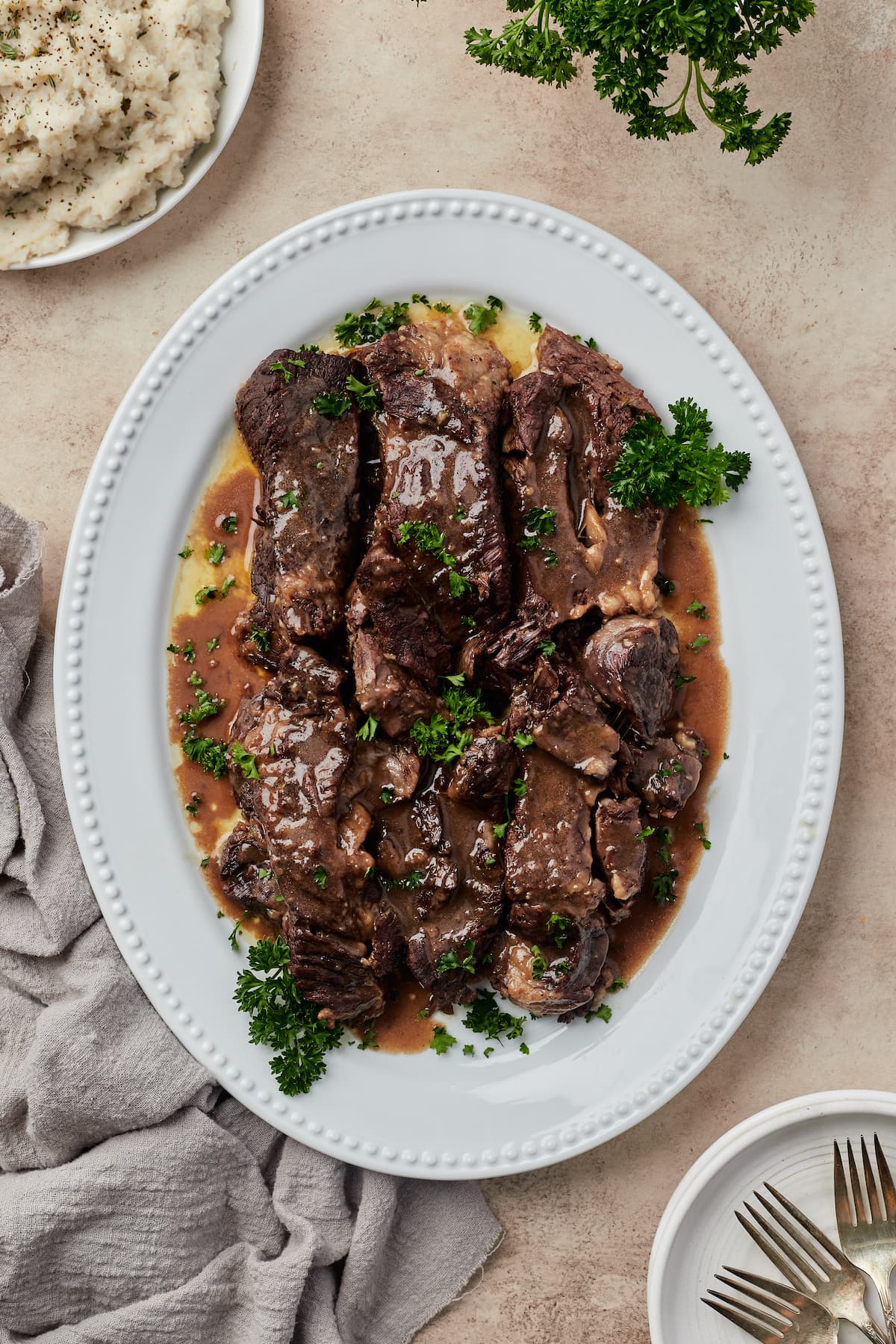 Can I Use a Slow Cooker Instead?
Yes, this pressure cooker short ribs recipe easily translates to the slow cooker! Though there's a bit more cleanup involved as you'll need to brown the short ribs on the stove top first. And, of course, the cooking will take longer in the slow cooker. They'll come out just as juicy, but plan to leave your short ribs in there for roughly 8 hours on low, or 4 hours on high.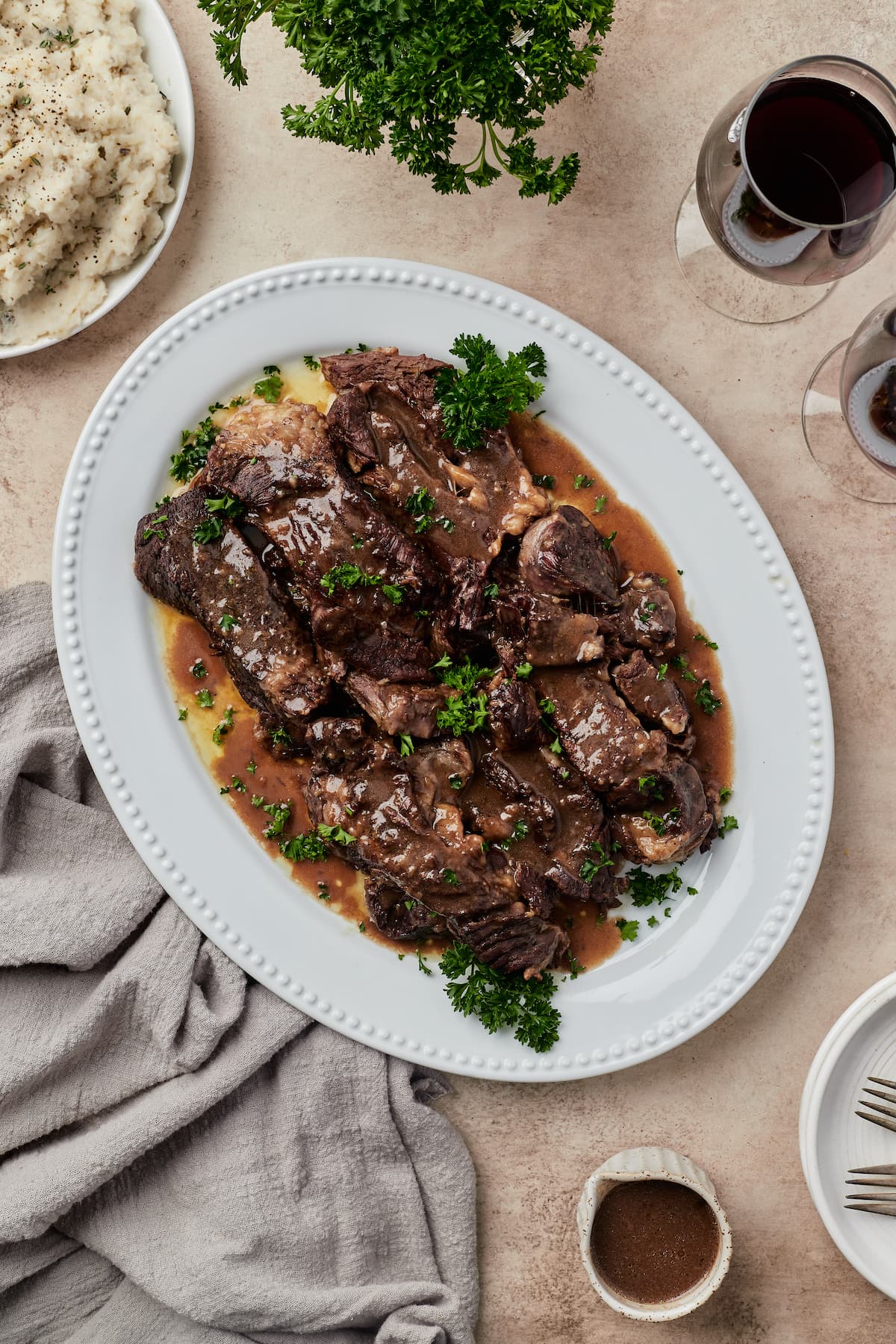 Tips for Success
Can I Use Bone-In Short Ribs?: Yes, bone-in short ribs can also be used for this Instant Pot recipe without changing the cooking time.
Choose the Right Wine: Choose a red wine that's not overly dry. My favorite for this recipe is a light Pinot Noir. 
Thicken the Wine Sauce: If you prefer a thicker sauce, or notice that yours is still a bit runny after reducing, there are ways to thicken it. One quick fix is to whisk in a slurry of cornstarch and warm water (much like you would do if you'd omitted the wine), and stir until thickened.
Substitute Fresh Thyme: If you don't have fresh thyme sprigs handy, dried can be used instead. For every 1 tablespoon of fresh thyme, substitute 1 teaspoon of dried thyme.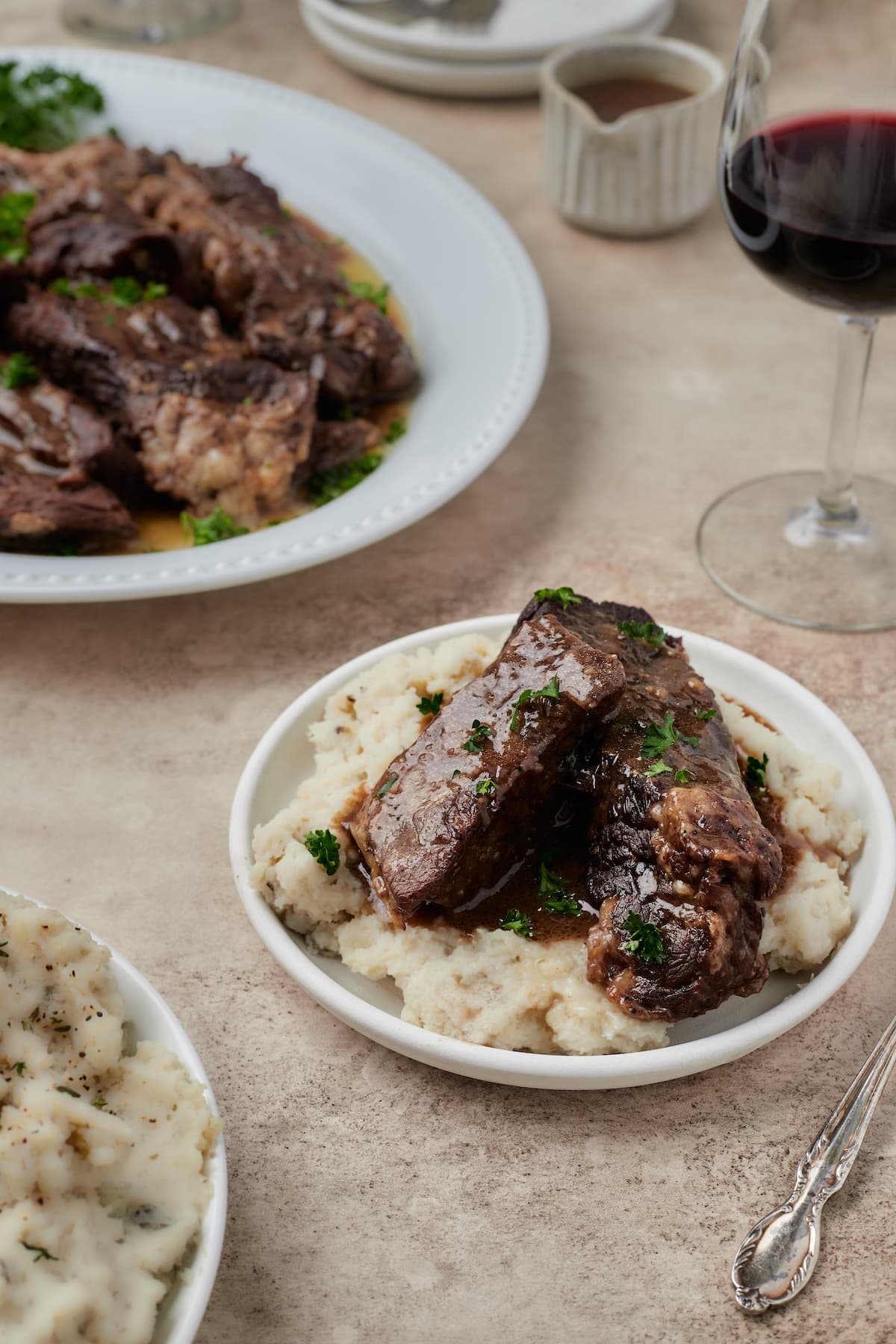 Serving Suggestions
Juicy and tender beef short ribs are a cozy, meaty main to pair with tons of delicious side dishes! Here are some suggestions and ways to serve your Instant Pot short ribs:
My favorite way to enjoy short ribs is over a bed of creamy Mashed Potatoes. Literally comfort in a bowl!
Serve these saucy beef short ribs with a side of Parmesan Garlic Biscuit Rolls or Sweet Dinner Rolls, perfect for soaking up all the delicious flavors!
Pair short ribs next to a Sweet Potato Souffle or Cheesy Broccoli Rice Casserole. 
For an easy but impressive dinner when entertaining, serve short ribs over polenta with a side of mixed greens or roasted vegetables.
Wrap these tender short ribs up in a flour tortilla for an easy twist on beef short rib tacos!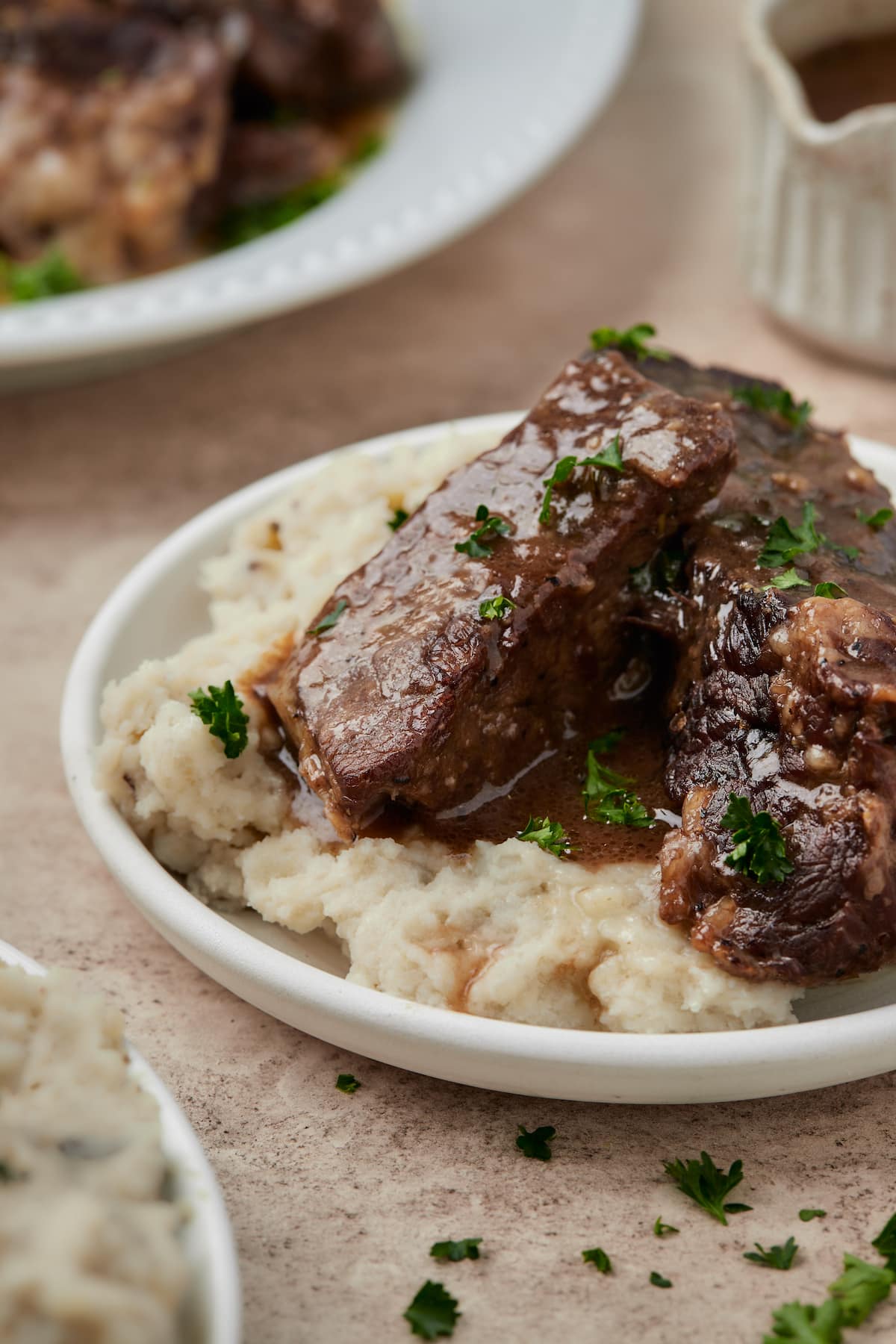 How to Store and Reheat Short Ribs
Store leftover short ribs and wine sauce airtight in the fridge for up to 4 days. Reheat short ribs slowly on the stove or in the microwave. 
Do These Freeze Well?
Short ribs and the wine sauce are great to make ahead and store in the freezer for a later time. Once the ribs have cooled completely, they can be stored in an airtight container along with the sauce and kept frozen for up to 3-4 months. Thaw the short ribs overnight in the fridge and then reheat as usual.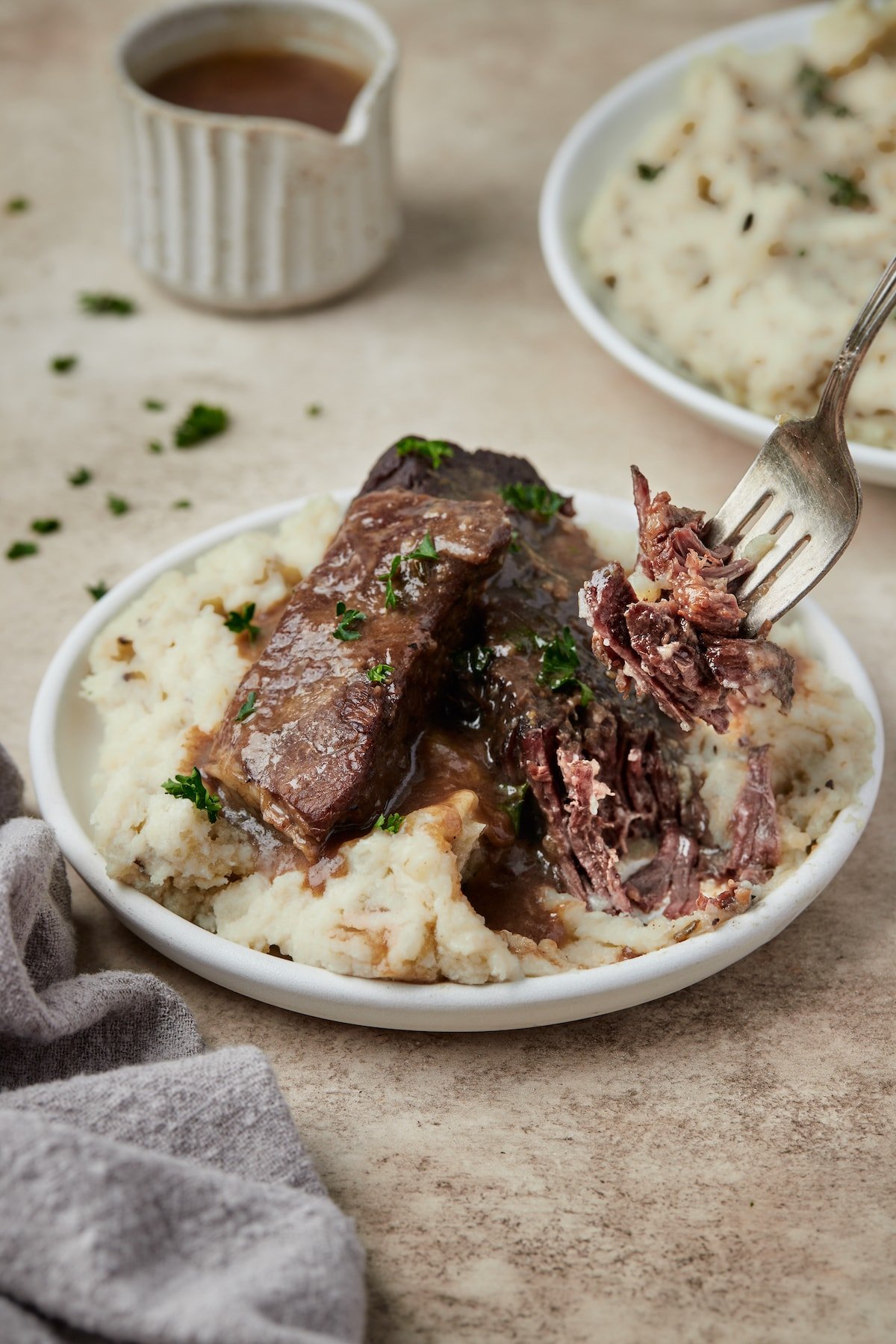 More Hearty Instant Pot Dinner Recipes
---
Description
Instant Pot Short Ribs are made quick and easy in the pressure cooker! These juicy beef short ribs smothered in a mouthwatering red wine sauce make the perfect cozy meal for any occasion. 
---
4

lbs boneless short ribs

2 tablespoons

olive oil

2 teaspoons

salt

1 teaspoon

ground black pepper

1

?2 cup finely diced shallots

4

cloves garlic, finely minced

1

1?4 cup beef broth

2 tablespoons

balsamic vinegar

1 tablespoon

worcestershire sauce

2 tablespoons

brown sugar

2

bay leaves

2 tablespoons

fresh thyme, stems removed

1 cup

red wine

2 tablespoons

butter
chopped fresh parsley, optional garnish
---
Season the ribs on both sides with salt and pepper.
Turn your Instant Pot on to saute mode and add oil. Once the oil is heated and shimmering, add the short ribs and brown on both sides, about 2-3 minutes per side. You may need to do this in batches to prevent overcrowding and "steaming" of the ribs rather than browning. Remove from the Instant Pot and set aside.
Add more oil if the Instant Pot has gone dry. Add shallots and garlic and cook until slightly softened and fragrant, about 1 minute.
Pour in beef broth and scrape the bottom with your cooking utensil to release any browned bits.
Turn off saute mode and add in balsamic vinegar, worcestershire sauce, brown sugar, bay leaf, and thyme. Stir, place the trivet into the Instant Pot, and then place the short ribs on top.
Close the Instant Pot lid and cook on high pressure for 45 minutes. Let naturally release for 10 minutes, and then open the vent to release any remaining pressure.
Remove the short ribs, trivet, and bay leaves from the Instant Pot and turn on saute mode.
Pour in red wine. Simmer on saute mode and whisk every few minutes until it has reduced by half, about 20-25 minutes. It won't be as thick as a gravy, but it should lightly coat the back of a spoon.
Add in butter and whisk in until melted and smooth. Pour the sauce over the short ribs, garnish with parsley, and serve immediately.
---
Notes
Bone-in short ribs can also be used. The cook time will remain the same with the Instant Pot.
The red wine shouldn't be peppery or overly dry. Try to aim for a slightly sweet, mild wine. Pinot noir was used for the testing of this recipe.
For a thicker wine sauce: After reducing by half for 20-25 minutes, whisk in a slurry of 2 teaspoons of cornstarch with equal parts warm water. Cook for 2-4 minutes until thickened.
To omit the wine and create a gravy: After removing the short ribs, trivet, and bay leaves from the Instant Pot, turn on saute mode and allow the liquid to come to a low boil. Create a cornstarch slurry by combining 1 1/2 tablespoons of cornstarch with equal parts warm water. Add to the Instant Pot and whisk until thickened, about 2-4 minutes.
For every tablespoon of fresh thyme, you can substitute a teaspoon of dried thyme.
Store short ribs in an airtight container in the refrigerator for up to 3-4 days.
Keywords: pressure cooker short ribs, beef short ribs, instant pot beef recipe
Want To Save This Recipe?
Find more recipes like this:
PIN for later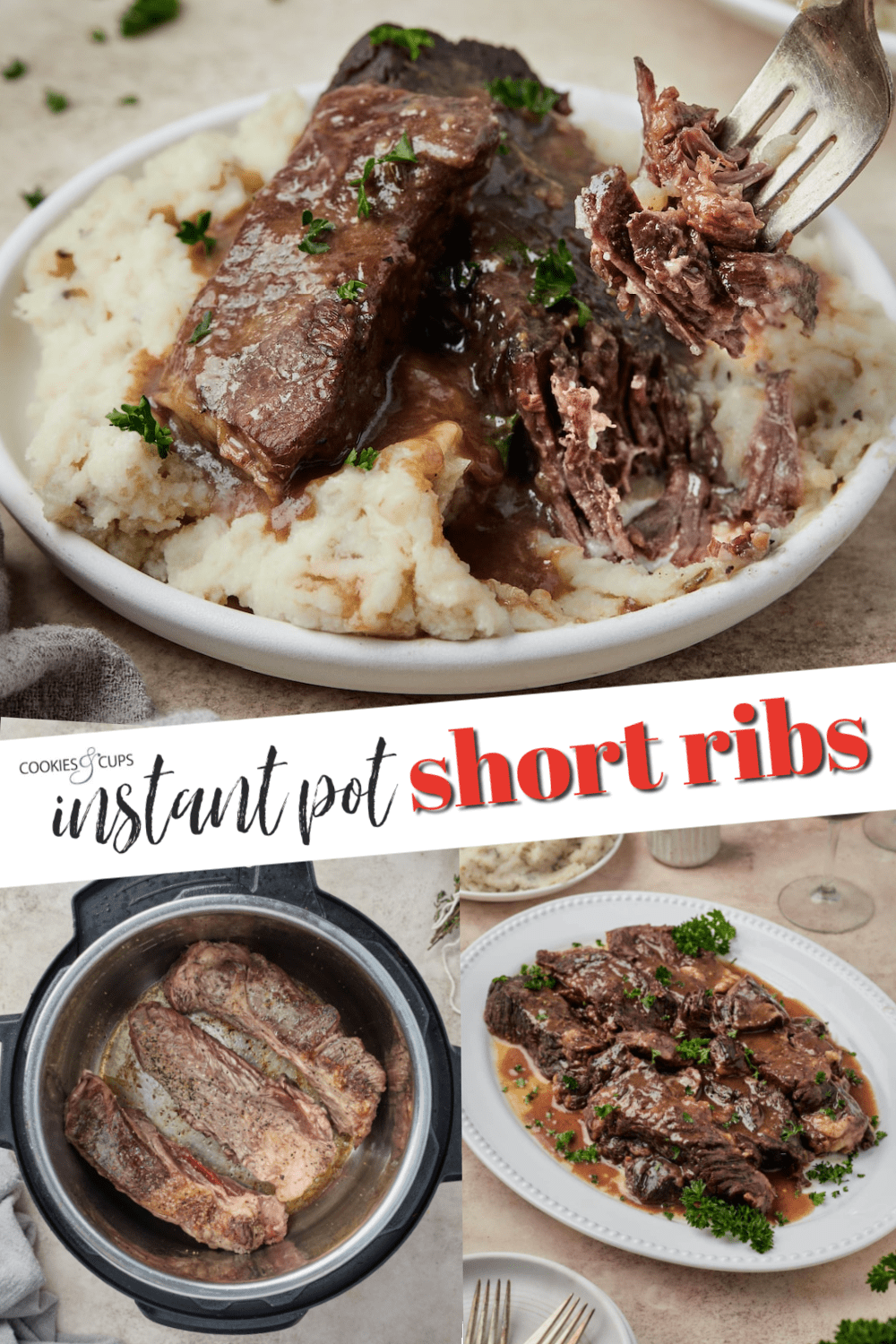 Source link
Originally posted 2022-08-12 12:30:31.