My Mediterranean Couscous Salad is made with a bevy of fresh ingredients tossed in a tantalizing Mediterranean-style homemade dressing. Perfect as a healthy meal or side dish!
Try this recipe with my Greek Dressing too if you have some on-hand!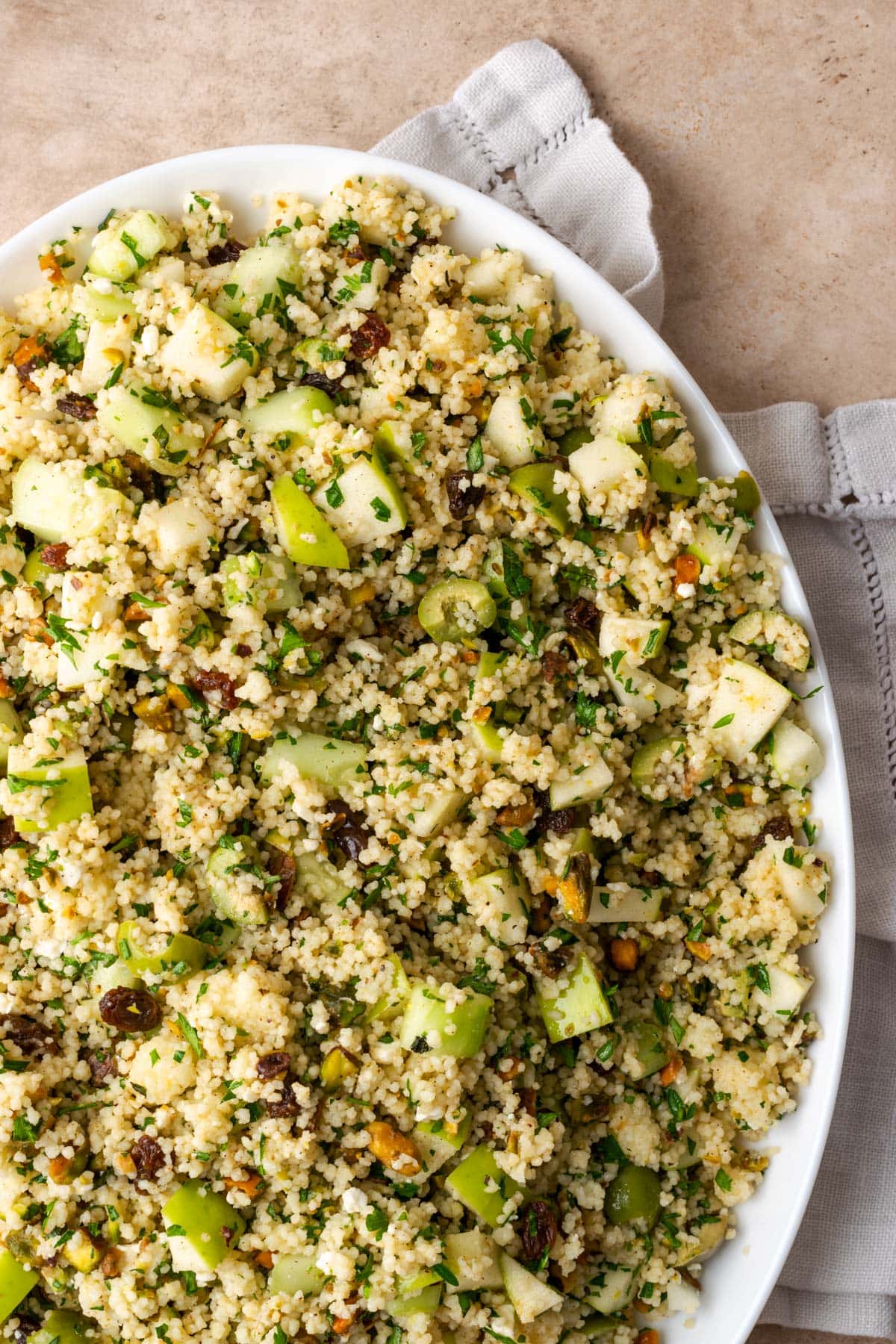 Fresh Mediterranean Salad With Lemon Dressing
Say it with me: Life's too short for boring salads. Ever since summer started, I've been on a kick with potato salad, quinoa salad, chicken salad. And now, I'm trying this amazing Mediterranean couscous salad on for size.
This salad is a fusion of fresh ingredients inspired by Greek, Italian, and Moroccan cuisine. I mean, why settle on just one, when you can have all the flavors of the Mediterranean in one bowl? Tender cooked couscous makes this summer salad just the right amount of filling, and the flavors are top notch.
Tossed in a flavor-packed homemade salad dressing of olive oil whisked with zesty lemon and spices, this recipe is a keeper. 
What is Couscous?
So, you've had it in restaurants. You've likely even cooked it at home. But what exactly is couscous? The answer might surprise you! While it may look a bit like rice or quinoa, couscous isn't actually a grain or a seed at all. It's actually a semolina pasta, made from granules of rolled durum wheat. 
Moroccan couscous is the style of manufactured couscous you'll find widely available in the States. Boxed couscous is pre-steamed and then dried before it's packaged. This pretreatment is what allows the granules to soften up again in minutes once you add boiling water!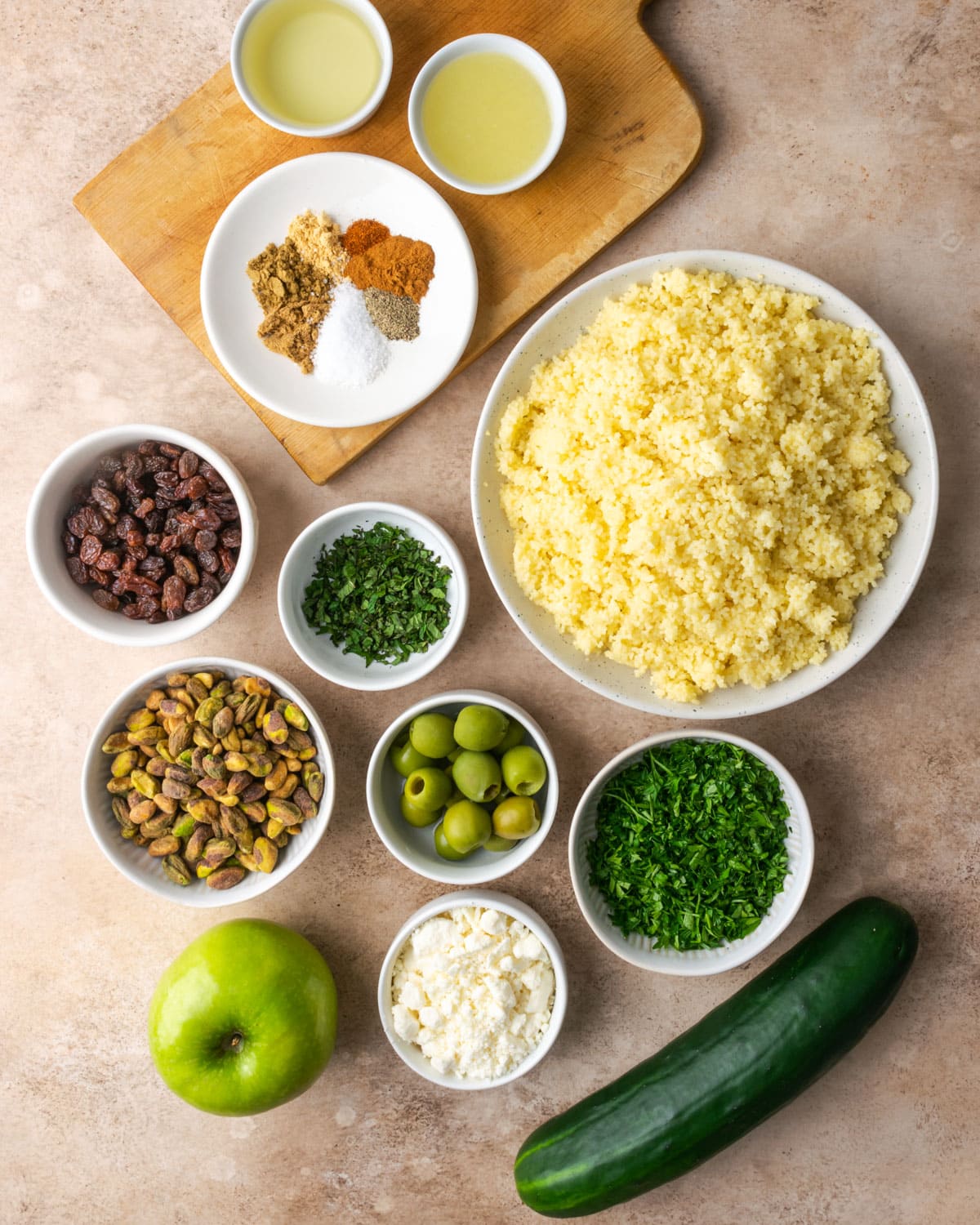 Recipe Ingredients
Below I've included a quick look at the ingredients for this salad. You'll find full amounts and details in the recipe card further down.
Olive Oil: This dressing is best when it's made with a good quality olive oil, or avocado oil.
Lemon Juice: Freshly squeezed.
Seasoning: I use a blend of cumin, ground ginger, ground cinnamon, ground coriander, cayenne, and salt and pepper in my dressing. 
Couscous: Your choice of couscous, cooked according to the package directions and then cooled.
Apples: Chopped apples give the salad a little sweetness. Almost any kind of apple is fine here, but the crunchier, the better (think varieties like Honeycrisp, Pink Lady, Empire, and Fuji). You can peel them or leave them with the peel on, it's up to you!
Raisins: If you're not a fan, sub in craisins or leave the 'aisins out altogether!
Pistachios: Chopped salted pistachios bring a nice crunch to the party.
Olives: Would it be a Mediterranean salad without olives? I think not. I like to use Castelvetrano green olives for those authentic Sicilian vibes. 
Fresh Herbs: Chopped parsley and minced mint leaves.
Cucumber: Choose a firm, dark green cucumber that's free from blemishes and soft spots. 
Feta: Creamy crumbled feta is the cherry on top of this couscous salad.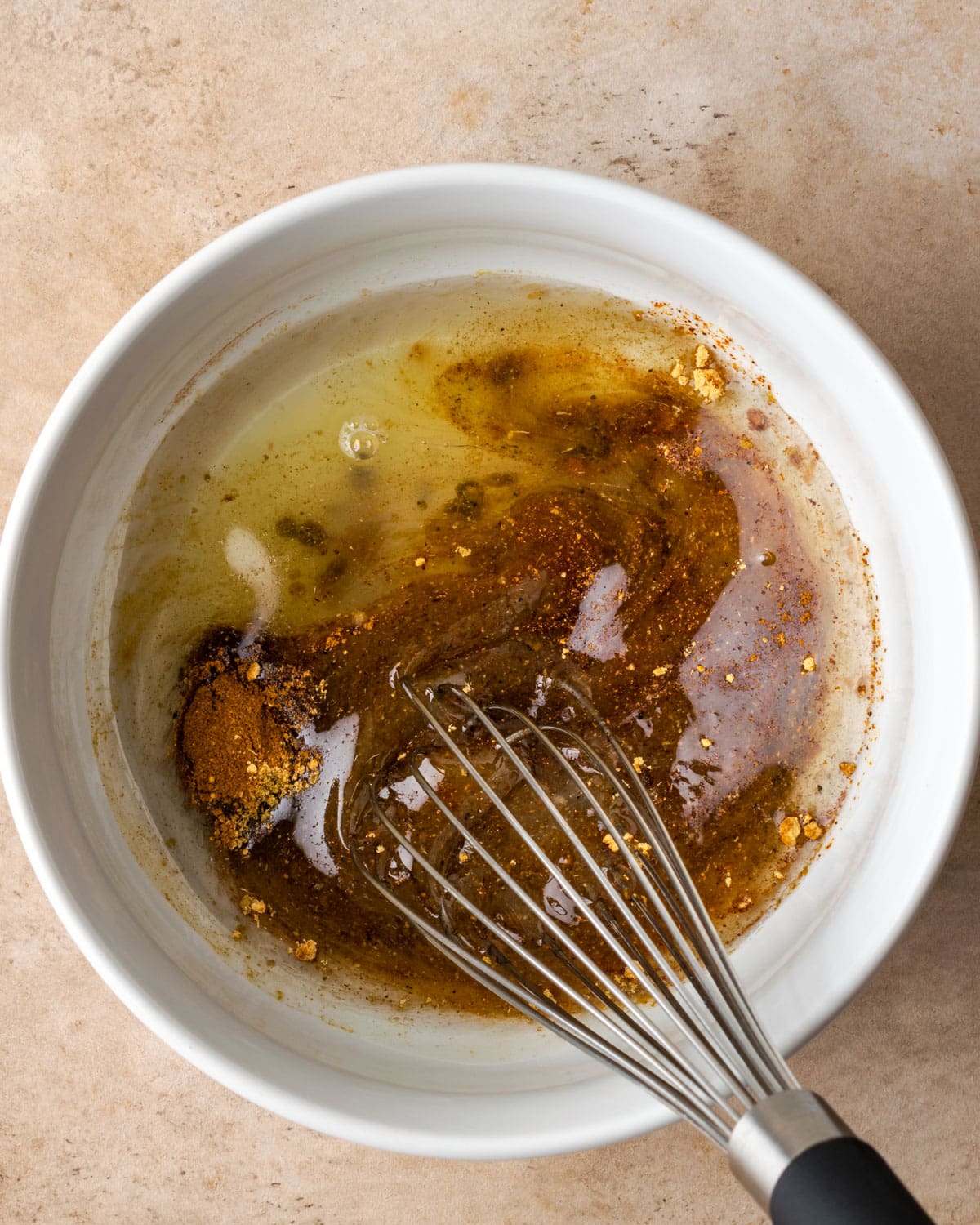 How to Make Mediterranean Couscous Salad
Making this salad is literally as easy as 1, 2, 3! 
Make the Dressing: First, whisk together the dressing ingredients to set aside for now. 
Cook the Couscous: Prepare your couscous according to the directions on the package. Transfer the couscous to a large bowl while it finishes cooling. 
Assemble the Salad: Combine the rest of the salad ingredients in the bowl with the couscous. Add the dressing over top and give everything a good stir to evenly coat, then pop the salad into the fridge to chill. After an hour, your couscous salad is ready to serve!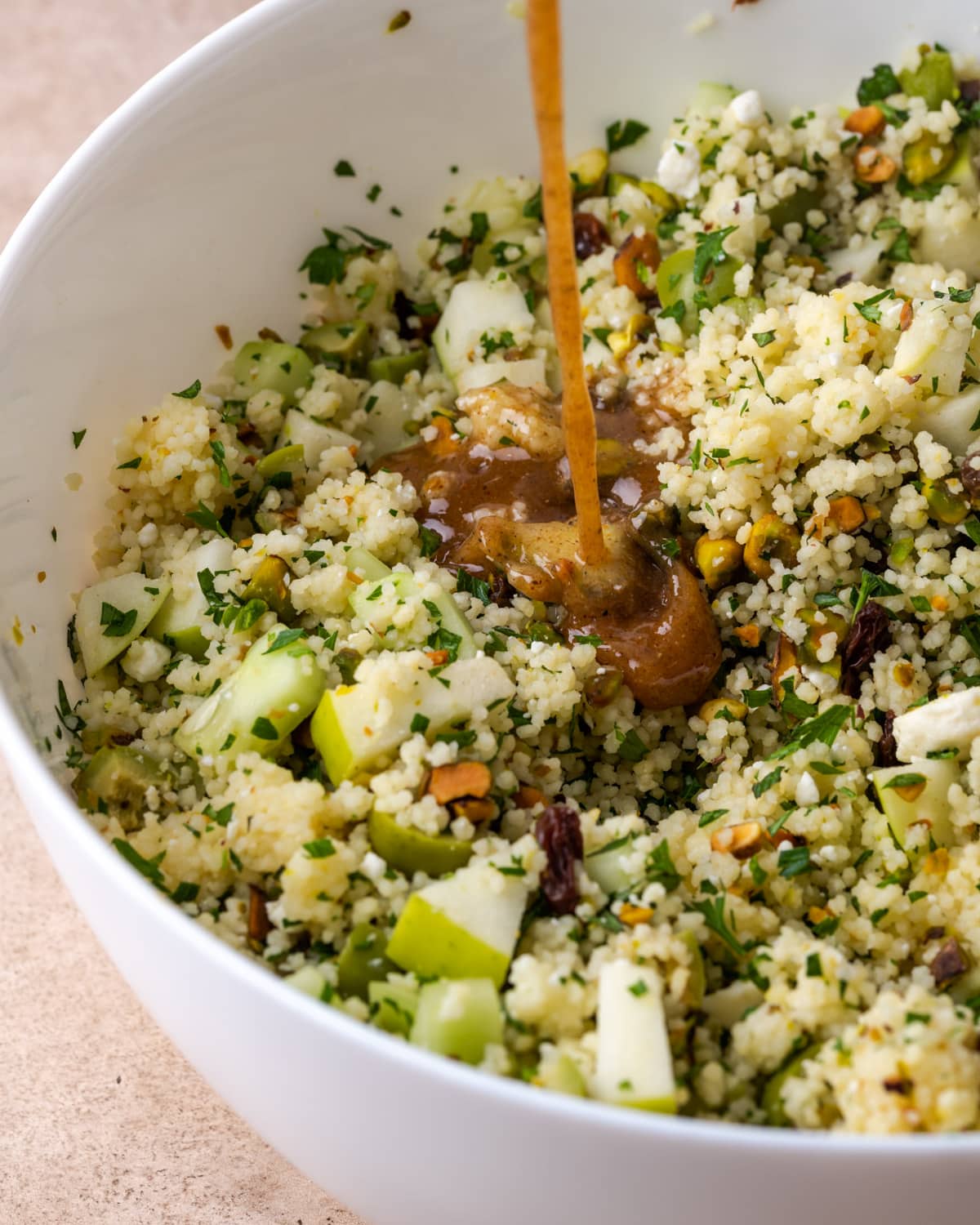 Tips for Success
I love this recipe because it's practically fail-proof, though here are some extra tips for making the perfect couscous salad:
If You Prefer More Dressing: If you like your salad extra saucy, feel free to up the portions in the dressing by 50%. 
Fluff the Couscous: After your couscous has been left to cool, and before adding in the rest of the ingredients, it's a good idea to give it a light fluff with a fork to break up any clumps. Give it another quick toss right before you serve it, too.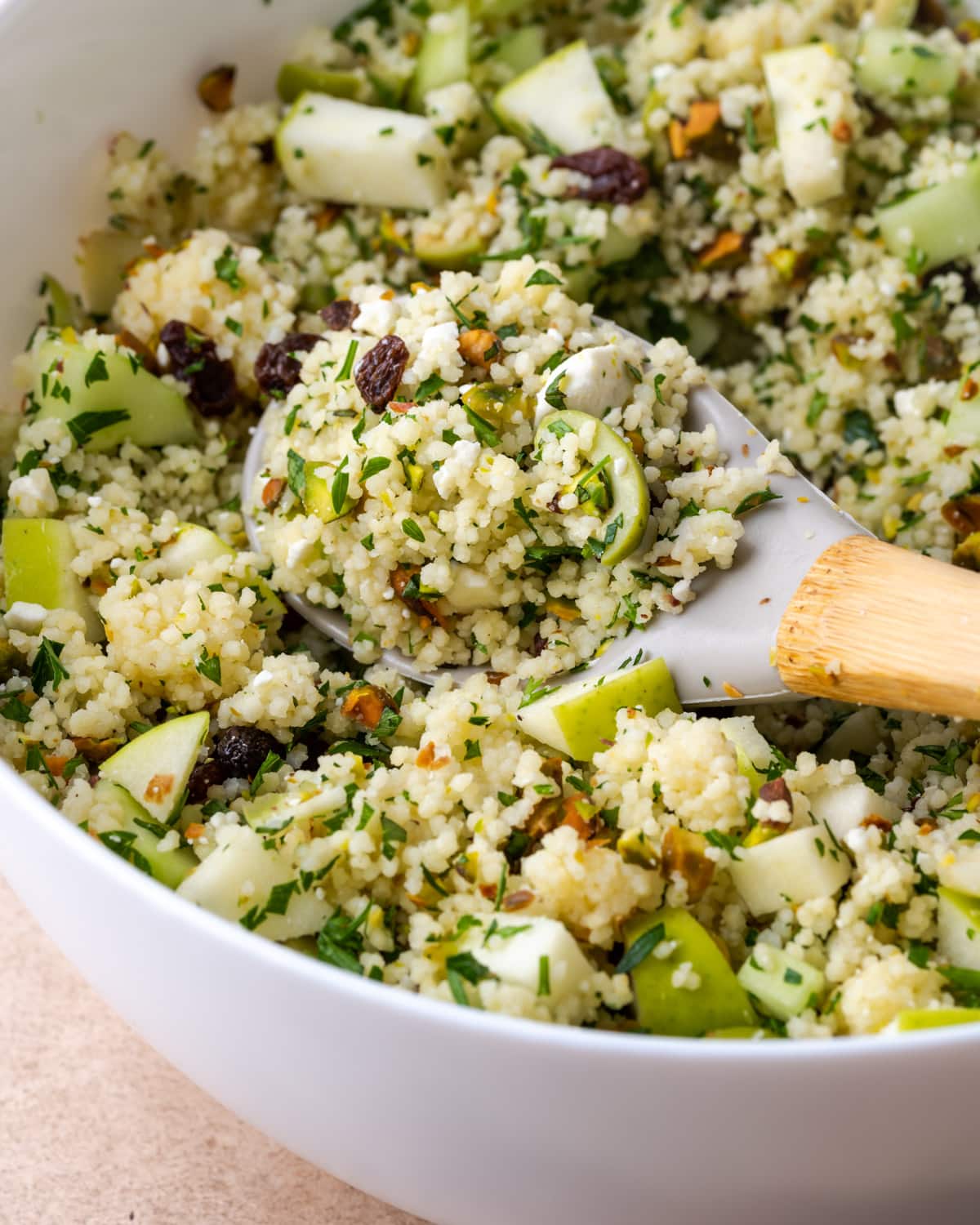 Variation Ideas 
Like any salad, this recipe leaves tons of room for customization. Here are just some of the many ways to adapt the ingredients:
Different Herbs: In place of mint, try other fresh herbs like basil, cilantro, or dill.
Different Cheese: Use another crumbly option like goat cheese or Cotija cheese.
Add Veggies: Toss in more veggies like chopped cherry tomatoes or Roma tomatoes, chopped celery, grilled zucchini, green beans, or hearty greens like spinach and kale.
Add Nuts: In place of or in addition to the pistachios, try other chopped nuts like pecans, walnuts, almonds, or pine nuts. Use sunflower seeds or pumpkin seeds if you prefer (or if you're catering to a nut allergy).
Try Different Couscous: This salad can be made with other varieties of couscous, such as Israeli couscous (a.k.a. Pearl couscous) or Lebanese (Moghrabieh) couscous. Just follow the preparation instructions on the package as usual.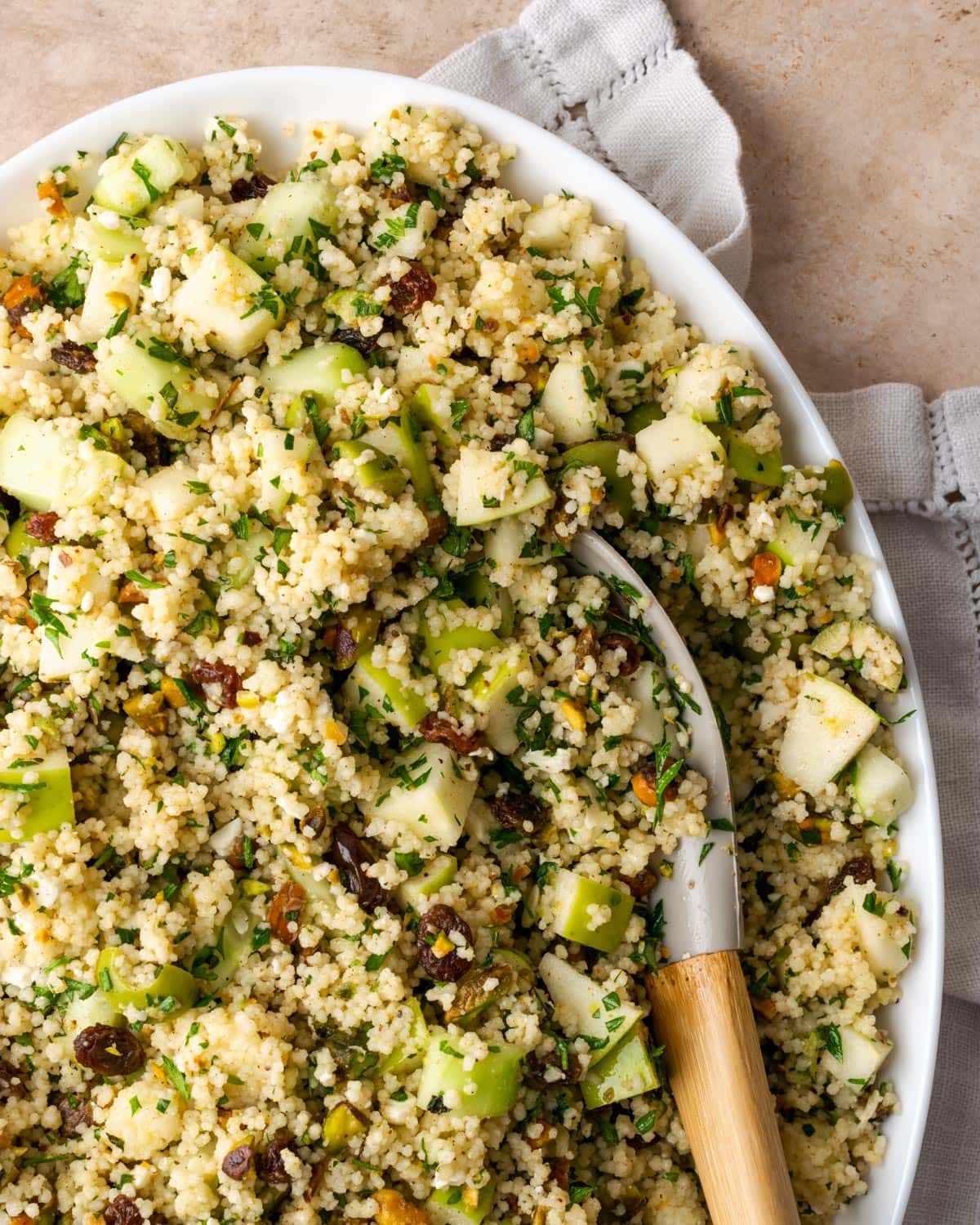 Serving Suggestions
This flavorful salad is as versatile as they come. It makes a great light dinner, healthy lunch, or side salad that's ready in minutes! Here are some ideas for serving this Mediterranean couscous salad: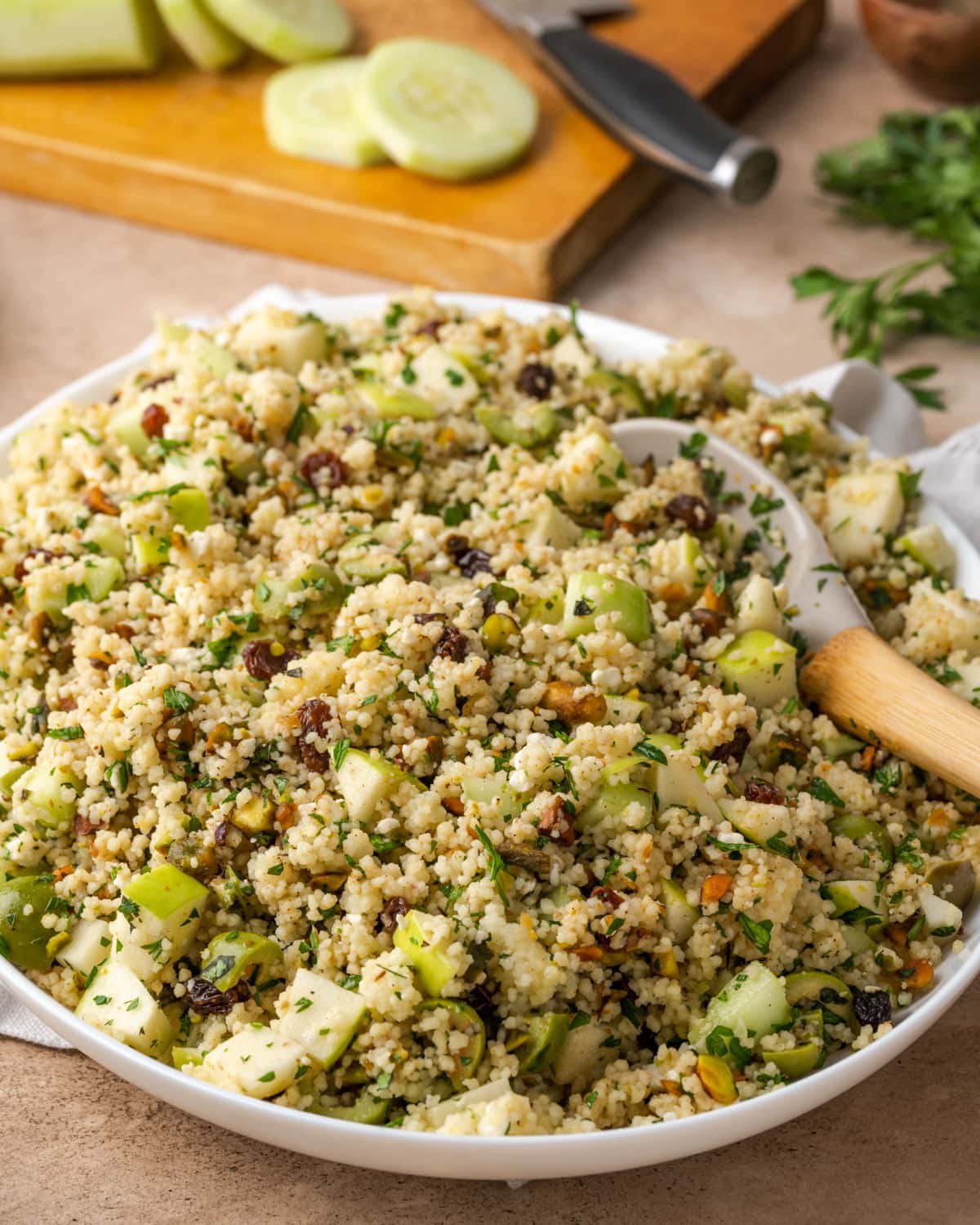 How to Store Leftovers
Couscous salad is wonderful to make ahead to keep in the fridge for up to 5 days (hello, easy lunches!). Store the salad airtight in a lidded container for easy dishing.
Can I Freeze This?
Since couscous is pasta, freezing couscous salad isn't recommended as most frozen pastas tend to thaw into mush. This salad also contains ingredients like apple and cucumber, and dairy like feta, which unfortunately won't hold up well in the freezer either. The good news is, this salad is so easy to make and keep in the fridge, a fresh batch is always in order!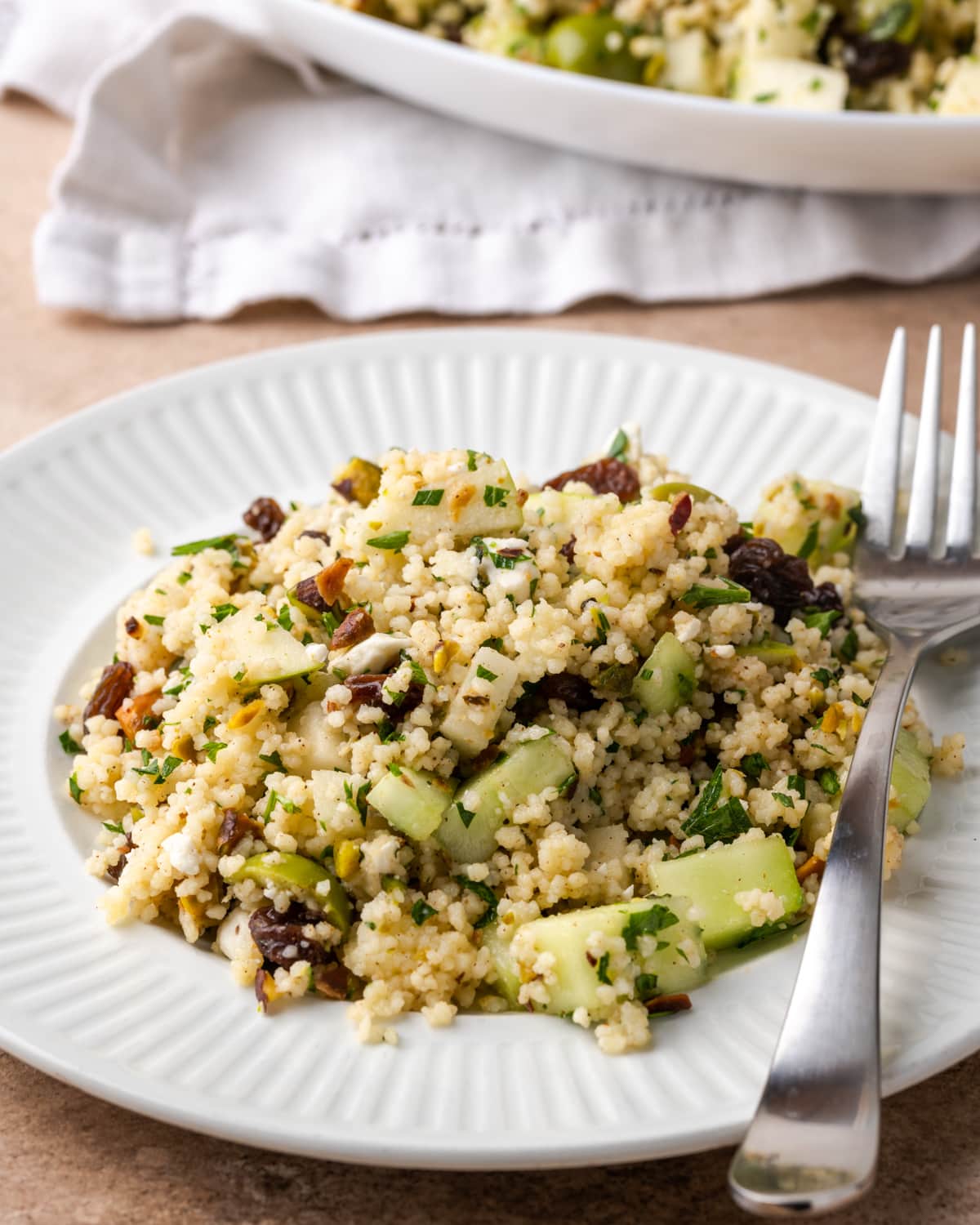 More Wholesome Salads to Try
---
Description
This Mediterranean couscous salad is made with a bevy of fresh ingredients tossed in a tantalizing Mediterranean-style homemade dressing. Perfect as a healthy meal or side dish!
---
For the Dressing:
1/3 cup

olive oil

1/3 cup

fresh lemon juice

1/2 teaspoon

cumin 

1/4 teaspoon

ground ginger

1 teaspoon

kosher salt

1/4 teaspoon

fresh ground black pepper

1/4 teaspoon

ground cinnamon

1/2 teaspoon

ground coriander

pinch of cayenne
For the Salad:
4 cups

cooked couscous, cooled

1 1/2 cups

chopped apples

1/2 cup

raisins

3/4 cup

chopped salted pistachios

1/2 cup

chopped olives (I like to use Castelvetrano green olives)

1 cup

chopped parsley

3 tablespoons

minced fresh mint

1 cup

chopped cucumber 

1/2 cup

crumbled feta
---
Dressing

: In a medium bowl whisk together all the dressing ingredients. Set aside.

Salad

: Cook couscous according to package directions. Transfer to a large bowl and allow to cool to room temperature. 

Add all the salad ingredients into the bowl with the couscous. Pour the dressing on top and stir to combine. 

Refrigerate for at least an hour before serving.
---
Notes
If you prefer a lot of dressing, increase portions by 50%.

Store airtight in the refrigerator for up to 5 days.
Keywords: easy salad recipes, mediterranean salad, couscous recipes
Want To Save This Recipe?
Find more recipes like this:
PIN for later: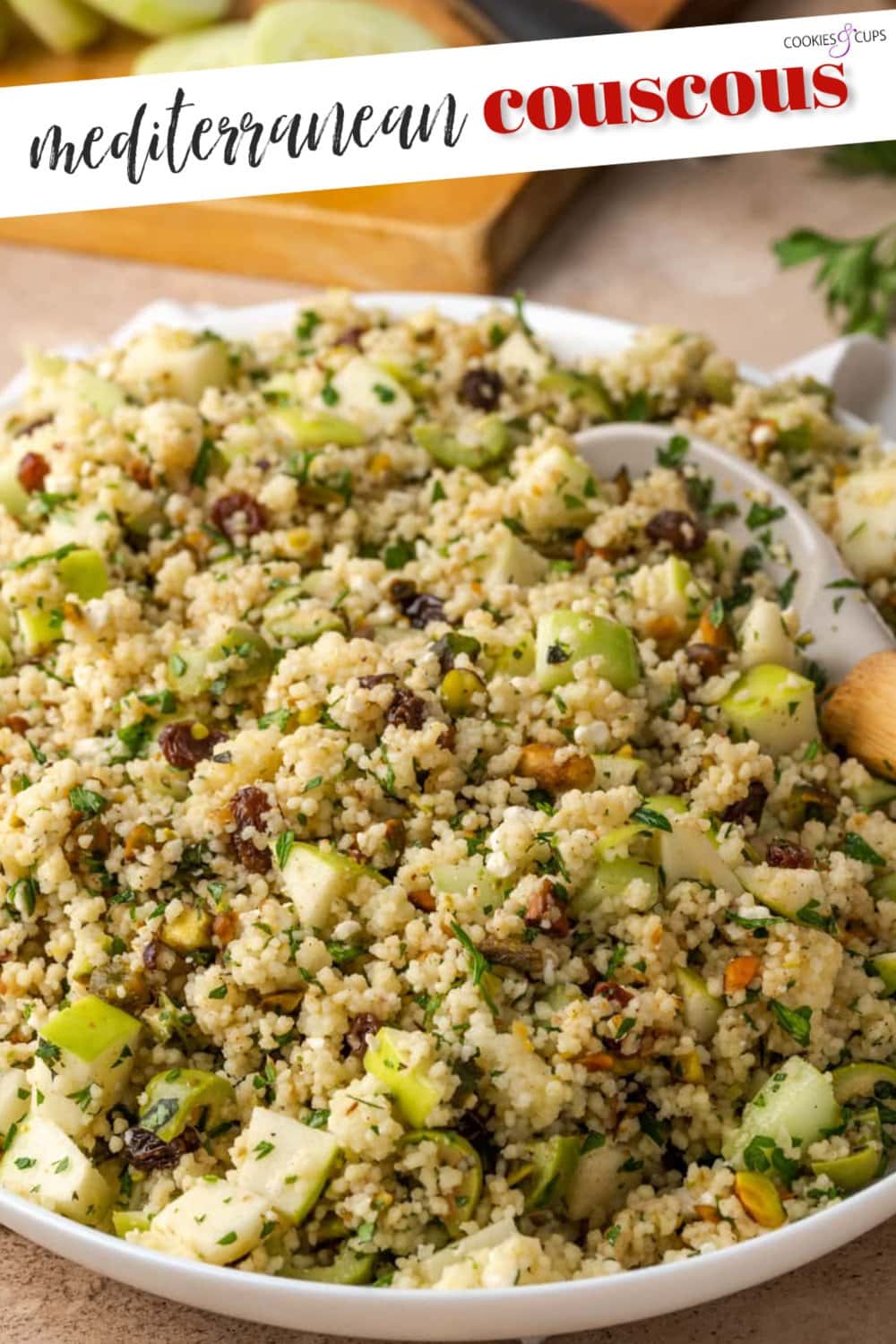 Source link
Originally posted 2022-08-15 12:39:22.