Eat the rainbow with this beautiful, Thai-style Rainbow Crunch Salad tossed in deliciously spicy peanut dressing! This healthy cabbage salad is an easy salad recipe to serve at summer cookouts, or as a hearty lunch idea!
If you love this flavor profile, try my Thai Quinoa Crunch Salad too! The crunchy quinoa is LIFE CHANGING!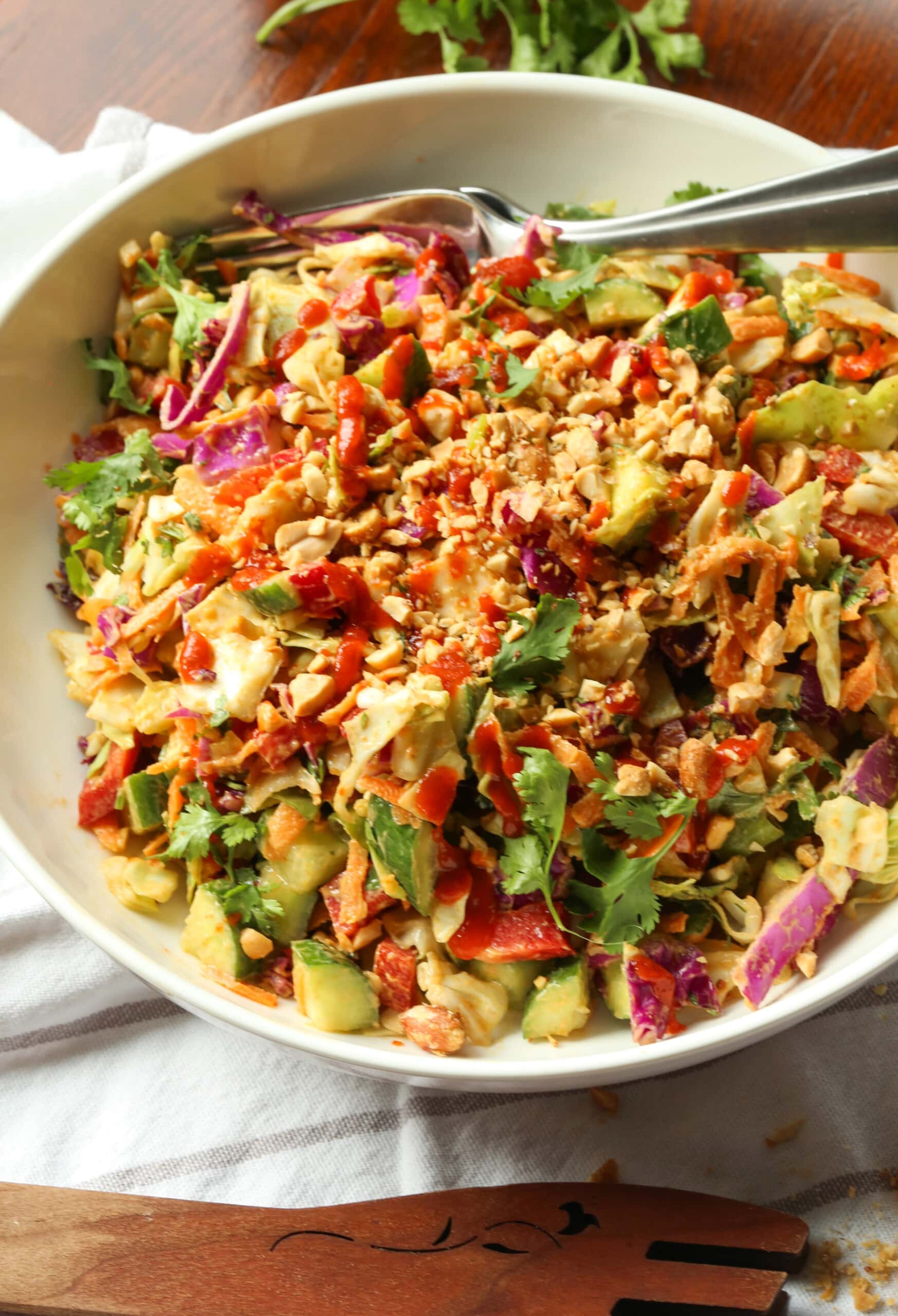 Crunchy Cabbage Salad With Spicy Peanut Dressing
I'll tell you right now, prepare to be obsessed with the flavors of this delicious Thai-style cabbage salad! It's a literal rainbow of deliciousness and color. This is my favorite recipe for cabbage salad made with a rainbow of crisp veggies, all tossed in a creamy peanut dressing. For easy weekday lunches to summer cookouts and Asian-inspired dinners – there aren't many occasions where this vibrant crunchy salad isn't just the best. AND I make this salad at the beginning of the week and eat it for lunch for the next few days! The hearty cabbage doesn't wilt in the dressing and stays crunchy for days!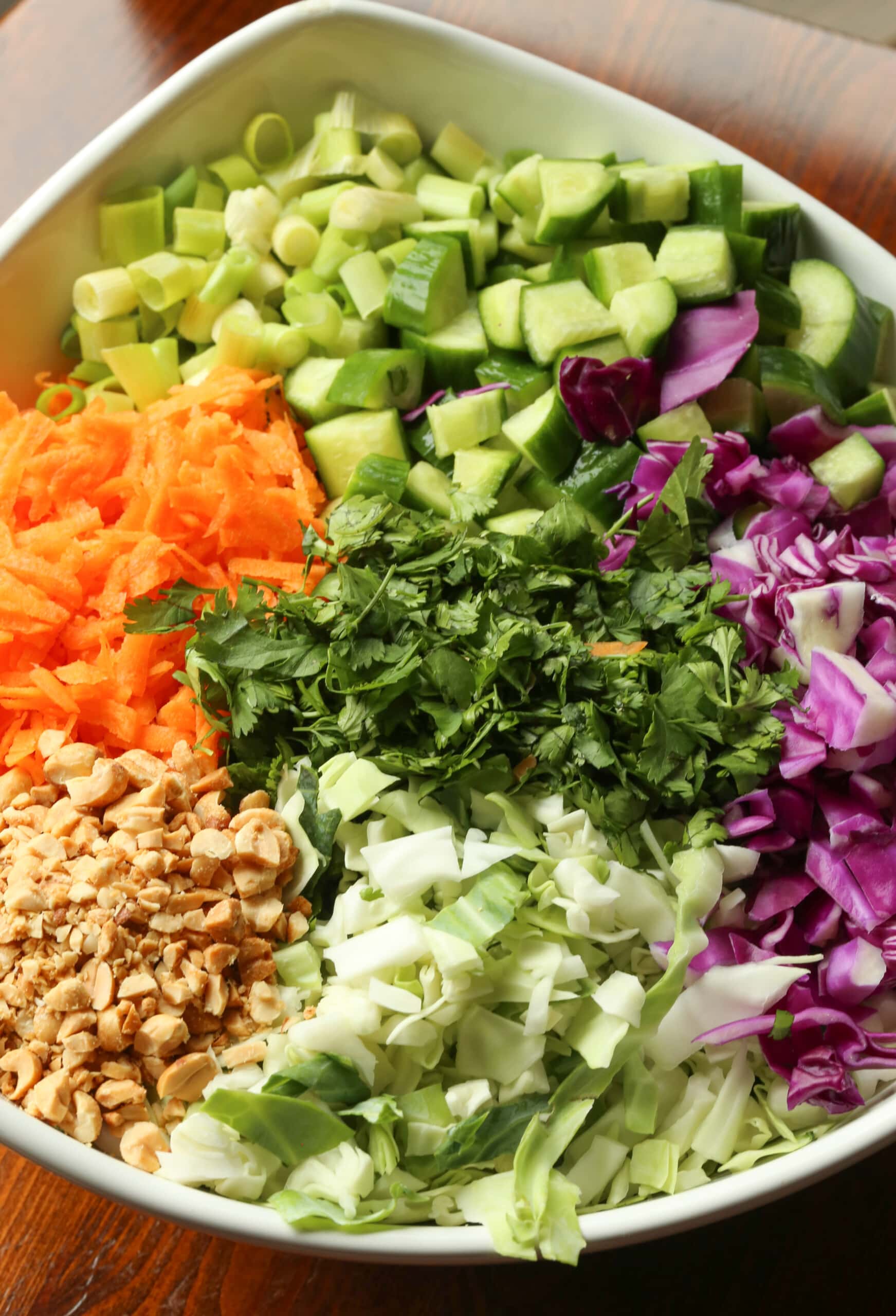 What You'll Need
Here's an overview of what you'll need for this crunchy salad as well as the creamy Thai-style dressing! Refer to the recipe card for the full amounts.
For the Salad
Cabbage: A combination of green and purple cabbage contribute to the "rainbow" in this rainbow crunch salad.
Carrots: Bringing a splash of orange to the mix.
Green Onion: You could also substitute another type of onion with mild flavor, like chives.
Cucumber: I chop up seedless cucumbers for my recipe.
Red Bell Pepper: Peppers add a pop of red to the rainbow and also lend a sweet crispiness. 
Cilantro
Peanuts: I love the toasted crunch of dry roasted peanuts. Salted or unsalted!
For the Peanut Dressing
Soy Sauce: I love the salty/umami flavor that comes with soy sauce. You can also use tamari. 
Peanut Butter: For best results, use creamy peanut butter and not the crunchy kind.
Sriracha: Or another hot chili sauce. 
Rice Vinegar: For that authentic Asian-style taste. If you don't have rice vinegar, substitute with white wine vinegar or apple cider vinegar.
Lime Juice: For the best flavor, use fresh squeezed lime.
Sesame Oil: There really aren't any substitutes for the distinctive earthy, nutty flavor of sesame oil in Asian-inspired recipes! You can find sesame oil alongside the other cooking oils in most grocery stores.
Honey: Honey works great as a natural sweetener in this recipe (it also pairs super well with the other flavors!). In a punch, you can use sugar instead.
Ginger: Freshly minced is best.
Garlic Powder: You can also use fresh garlic if you prefer.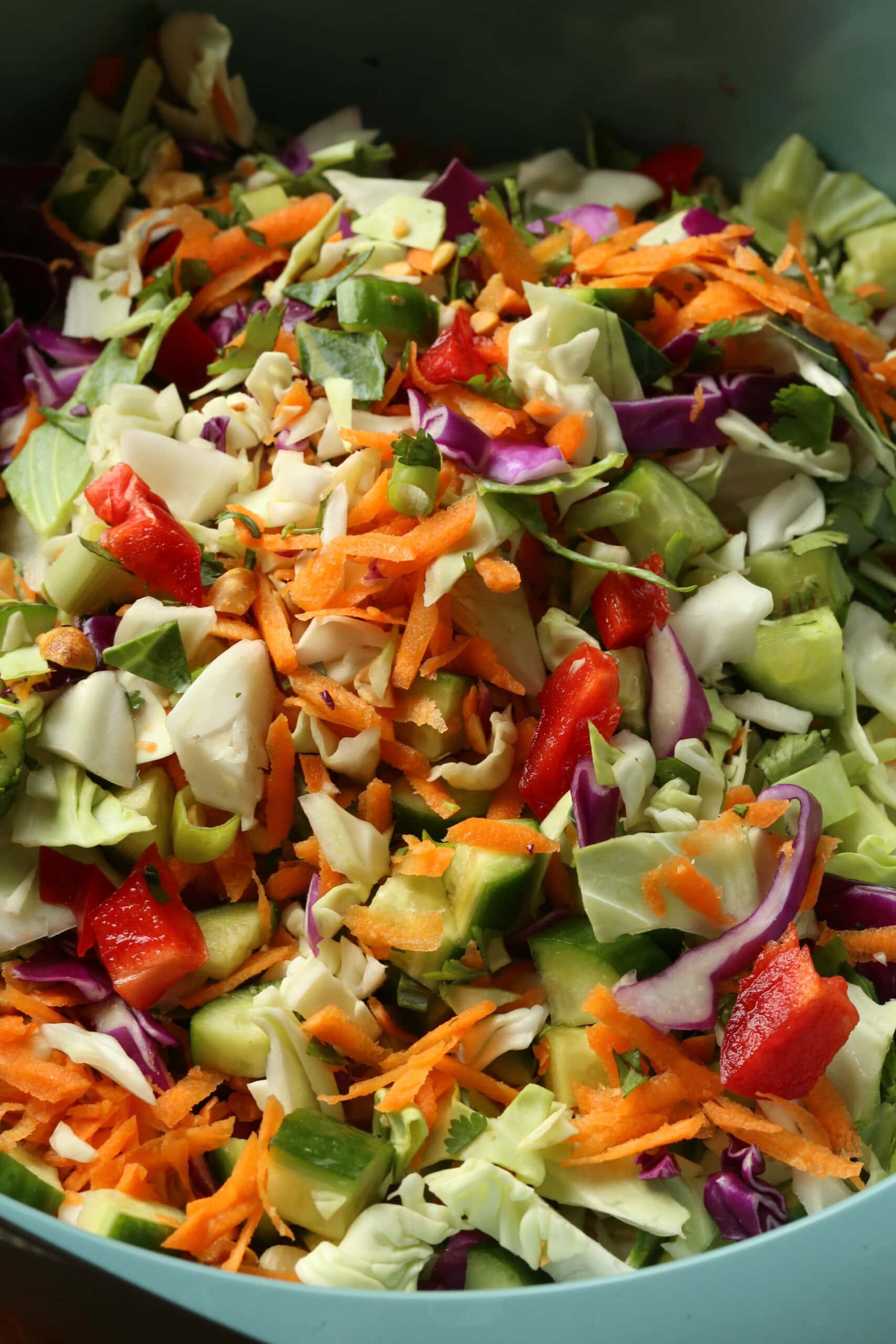 How to Make Rainbow Crunch Salad
There's only four simple steps to making the perfect crunchy cabbage salad with peanut dressing. Here they are:
Make the Salad: Combine all your salad ingredients in a large bowl. 
Make the Dressing: Whisk together the ingredients for the dressing until you have a smooth, thick consistency.
Toss: Pour the dressing over the salad, and give everything a good toss to coat.
Garnish and Enjoy: Sprinkle over more fresh chopped cilantro and crumbled peanuts. Give the salad an extra squeeze of sriracha if you desire, and then serve!
Can I Prep It Ahead of Time?
Absolutely! This crunchy rainbow salad is one of my favorites to make ahead. The cabbage and veggies stay crispy even after they're coated in the peanut dressing, and the dressing itself is thick enough to hold up in the fridge. I love to make a big batch to have on hand for easy lunches throughout the week.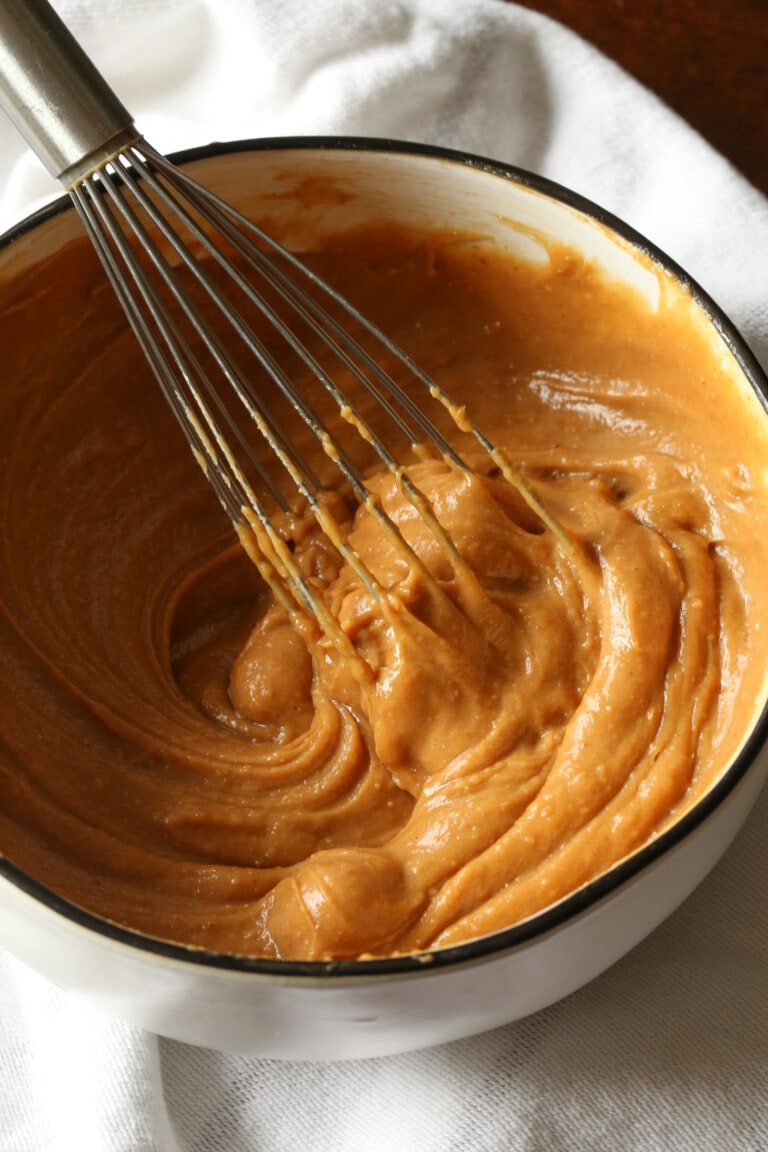 Tips for Success
Here are some pointers for making this delicious Thai-style rainbow salad from scratch:
Use Pre-Shredded Ingredients: I'm all for the convenience of pre-shredded cabbage and carrots in this recipe! Some stores even carry coleslaw mix or Asian slaw mix that comes ready to go with all of the above.
Use Creamy Peanut Butter: I recommend sticking with your regular shelf-stable, creamy peanut butter for this recipe (like Jif or Skippy). Natural peanut butters tend to separate and may make the dressing oily.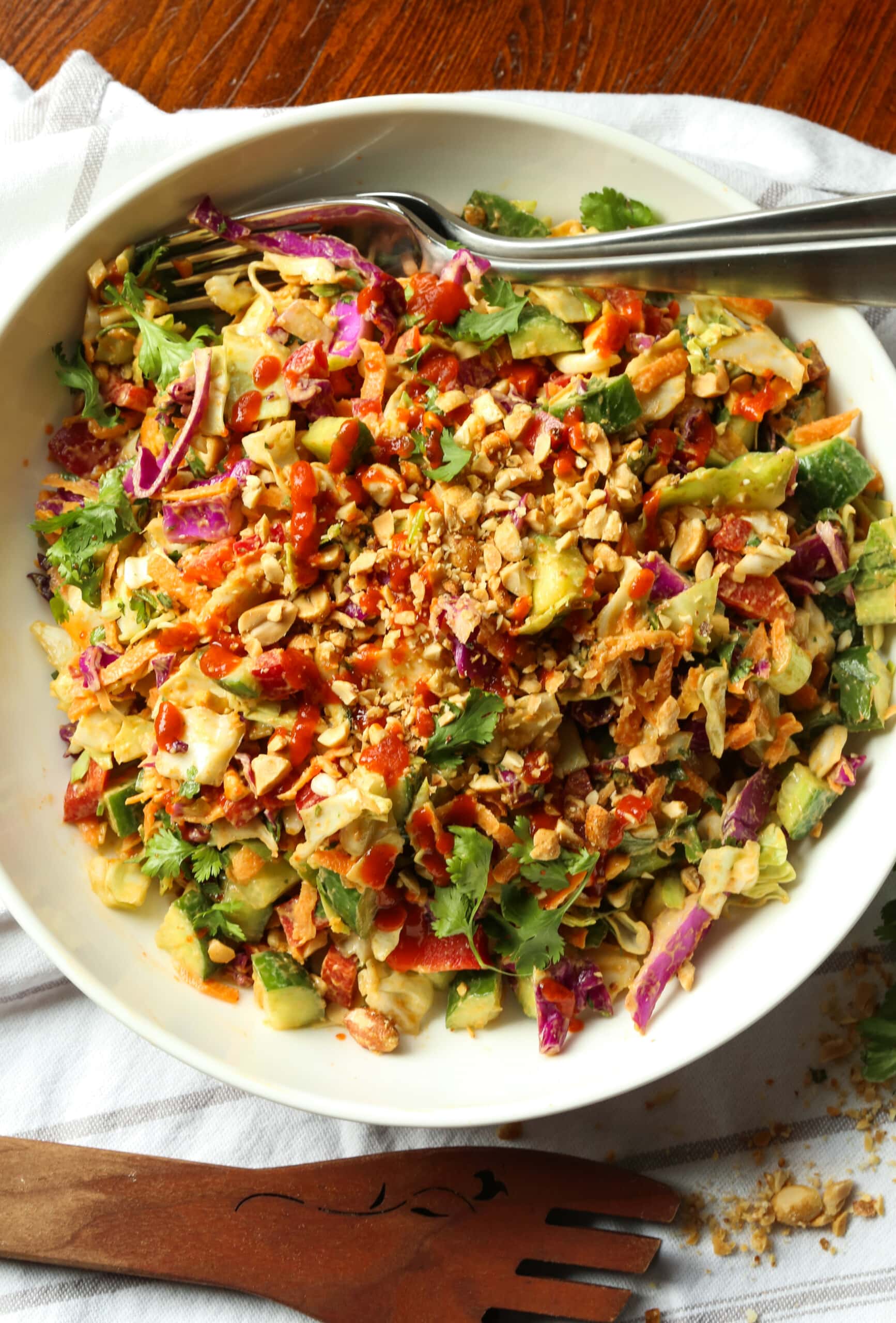 Variation Ideas
You can adapt the ingredients in this rainbow cabbage salad to suit your preferences:
Add Different Veggies: Bring even more colors to your rainbow salad by adding extra vegetables and greens from the fridge. Try broccoli, tomatoes, avocado, snow peas, shaved asparagus, kale, yellow peppers, beets, and radishes.
Add Protein: Top your salad with grilled chicken, sliced steak, shrimp, or crispy tofu. Or try mixing in some Asian Fire Meat for an extra spicy kick.
Different Dressing: Make this salad with a creamy coleslaw dressing, Homemade Ranch Dressing or a zesty vinaigrette instead.
Different Herbs: Cilantro isn't everyone's cup of tea. If you prefer, swap it out with basil or parsley.
Plus, mix it up with even more easy salad add-Ins: 
Fried noodles
Cashew nuts, chopped pecans, slivered almonds
Sunflower seeds or pumpkin seeds
Edamame or chickpeas
Craisins or raisins
Chopped mango
Sesame seeds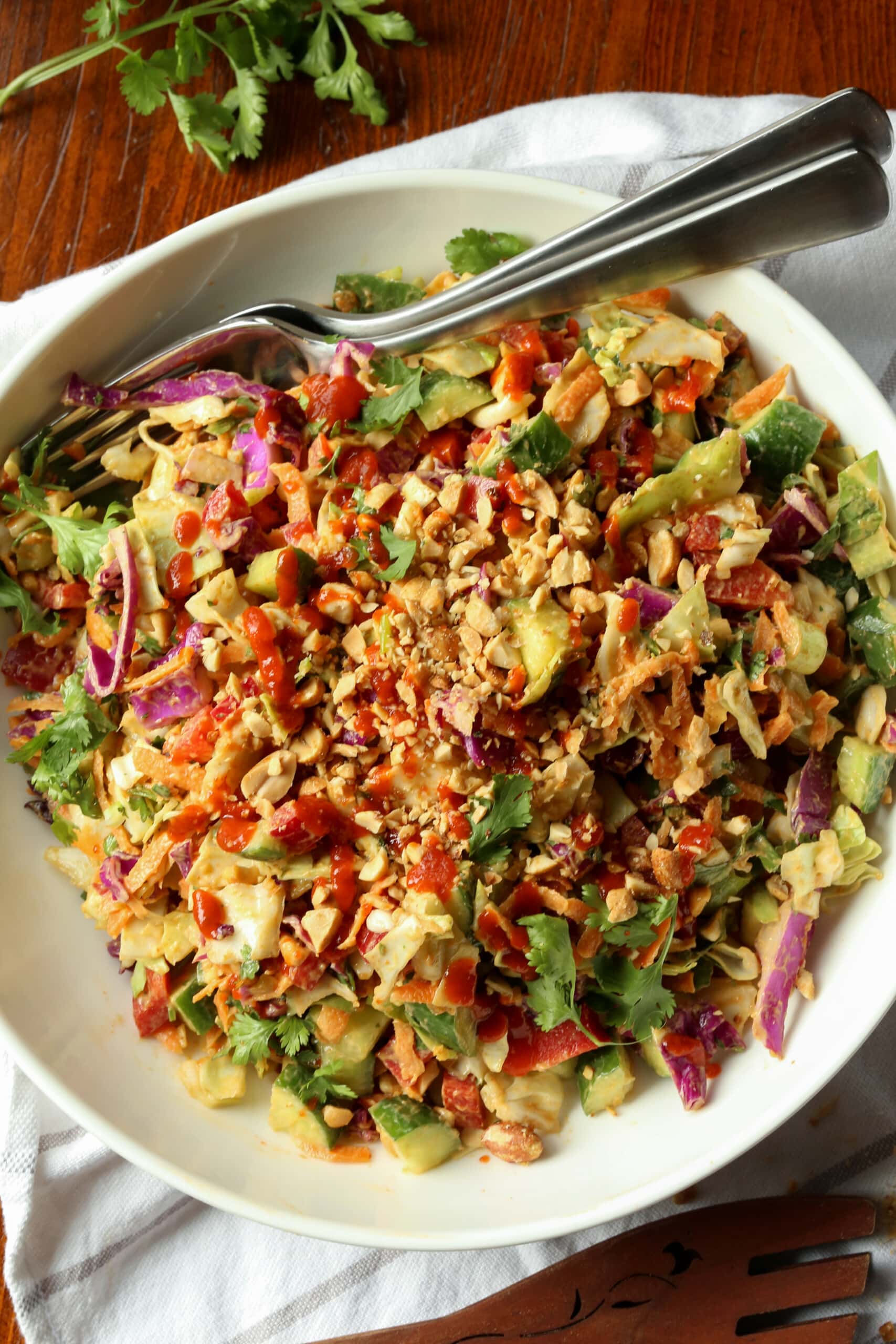 Serving Suggestions
This crunchy salad makes a delicious, filling meal on its own, or you can serve it in tons of easy ways:
Store any leftover salad in an airtight container in the fridge for up to 3 days. I make this salad at the beginning of the week and eat it for lunch for the next few days! The hearty cabbage doesn't wilt in the dressing and stays crunchy for days!
Can I Freeze Rainbow Salad?
This cabbage salad is hearty enough to freeze. Store the salad frozen in an airtight, freezer-safe container or bag for up to 2 months. Thaw in the fridge before serving, and spoon off any excess liquid. You can also add in some extra fresh dressing to revive the texture as needed.
More Asian-Inspired Sides to Try
---
Description
Eat the rainbow with this beautiful, Thai-style Rainbow Crunch Cabbage Salad tossed in deliciously spicy peanut dressing! An easy side dish to serve alongside your favorite Asian-inspired dishes.
---
Salad:
6 cups

green cabbage, chopped

3 cups

purple cabbage, chopped

2 cup

grated carrots

2/3 cup

chopped green onion

3 cups

chopped seedless cucumbers

2 cup

chopped red bell pepper

1 1/2 cup

chopped cilantro

1/2 cup

chopped dry roasted peanuts
Peanut Dressing:
3 tablespoons

soy sauce

1/2 cup

peanut butter

2 teaspoons

sriracha

3 tablespoons

rice vinegar

1 tablespoon

lime juice

2 teaspoons

sesame oil

1 tablespoon

honey

1 teaspoon

fresh minced ginger

1 teaspoon

garlic powder
---
Salad: Add all salad ingredients into a large bowl.
Dressing: In a medium bowl whisk together all the dressing ingredients. The dressing will be thick.
Assembly: Add the dressing to the chopped salad and stir to coat.
Garnish: Add more cilantro, chopped peanuts, or sriracha to serve.
---
Notes
Optional Add-Ins: grilled chicken, sliced steak, shrimp, crispy tofu.

This salad is great to make ahead. I make it at the beginning of the week and eat it for lunch throughout the week. The hearty cabbage and vegetables stay crisp even after being mixed with the dressing, and since the dressing is thick, the salad doesn't get watery.

Store airtight in the refrigerator for up to 3 days.
Keywords: asian cabbage salad, cabbage salad, easy salad recipes
Want To Save This Recipe?
Find more recipes like this:
PIN for later: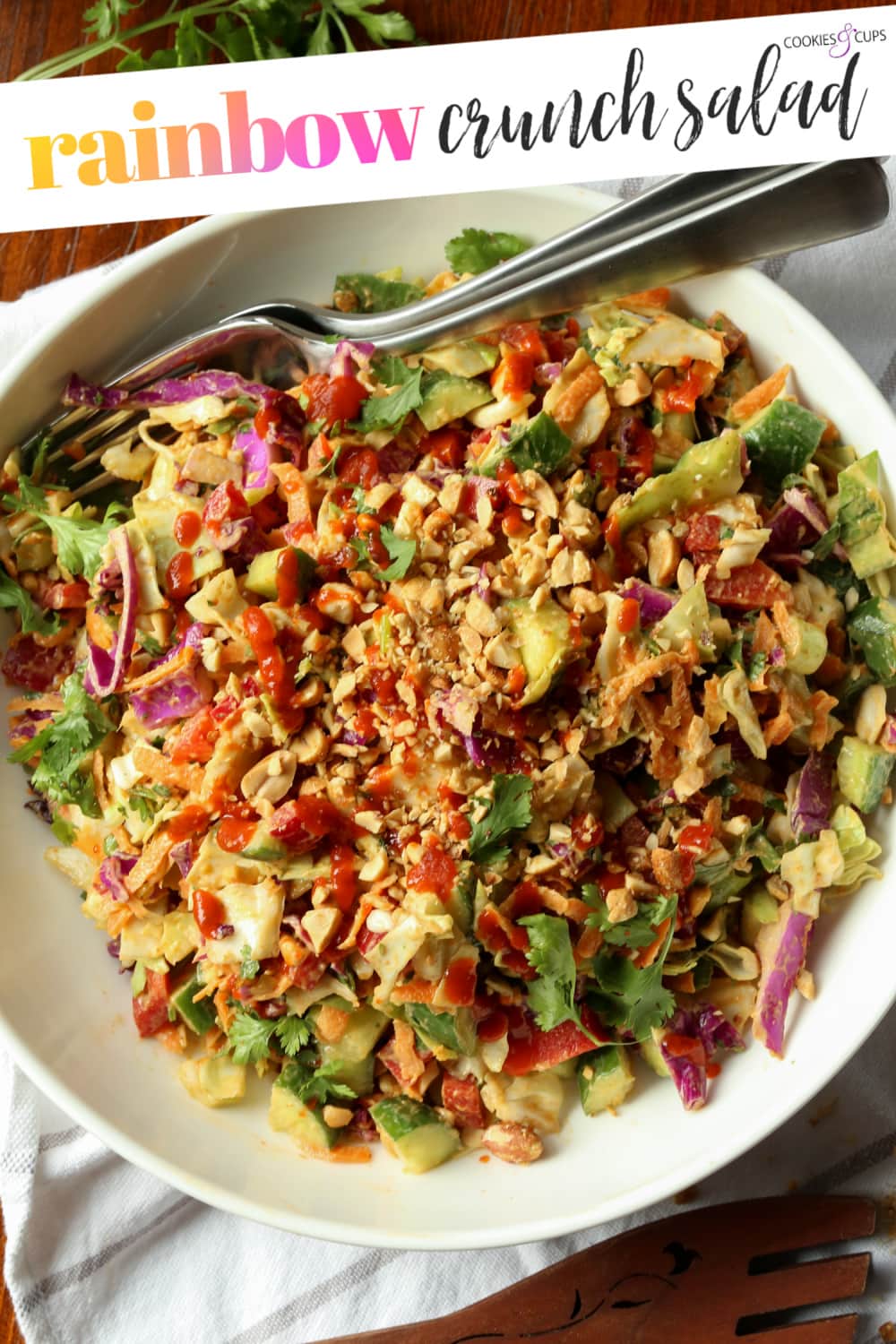 Source link
Originally posted 2022-07-29 11:53:52.