This creamy and cheesy Spinach and Artichoke Dip rarely lasts long at parties! A crowd-pleasing appetizer recipe packed with four kinds of melty cheese, juicy artichokes, spinach, garlic and herbs.
Want even more dip recipes? Try my Hot Corn Dip!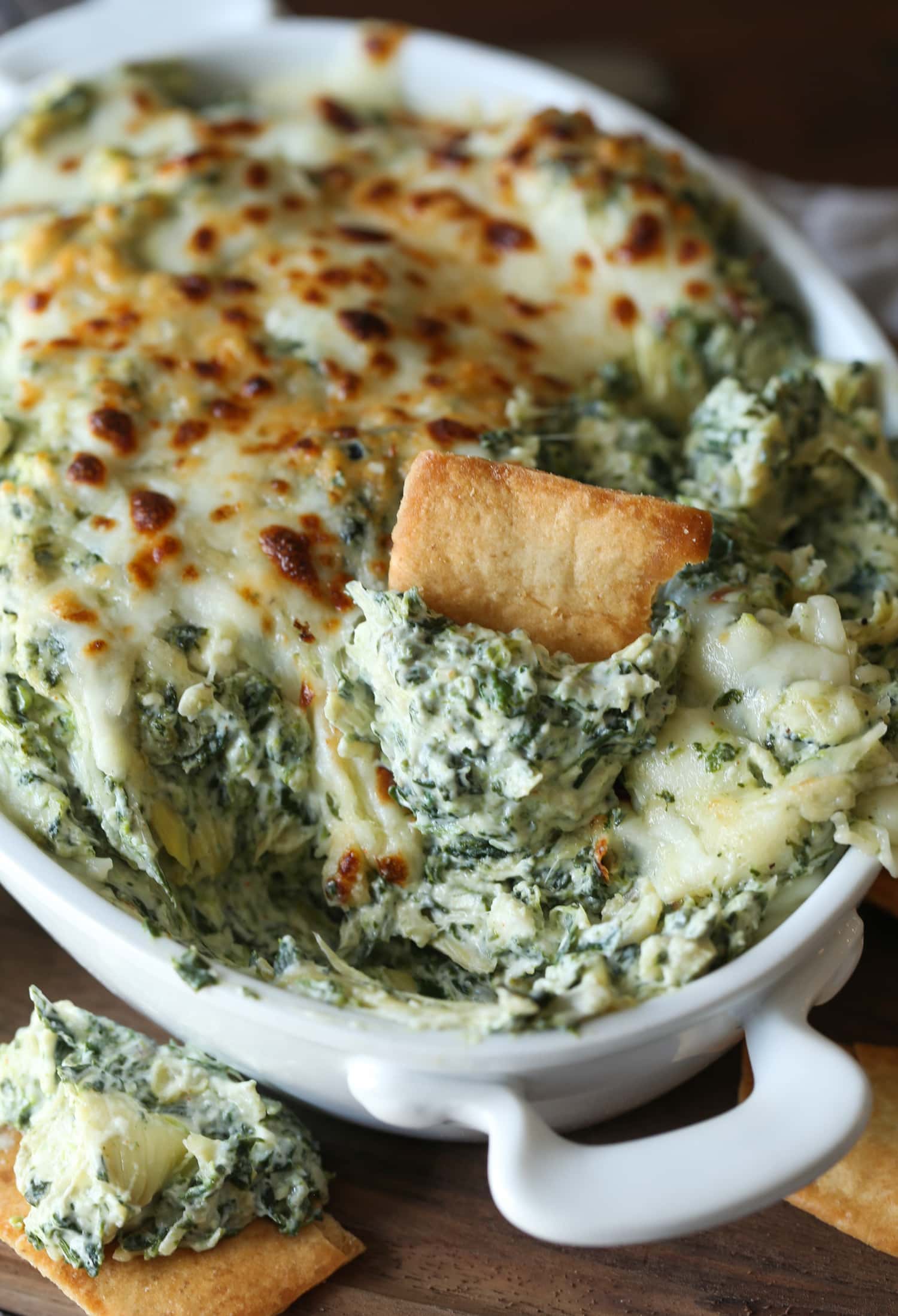 Extra Cheesy Spinach and Artichoke Dip Recipe
Spinach and Artichoke Dip is one of those classic party appetizers that never gets old. I have made this recipe so many times, and over the years I've tweaked it to absolute perfection. I use a combination of cheeses, using a few that you might not expect! You want it to be mild and creamy, but not tasteless, but not too overpowering using sharp cheeses. I've come up with the perfect recipe that's as good spread on crusty bread as an elegant appetizer as it is served on game day with tortilla chips.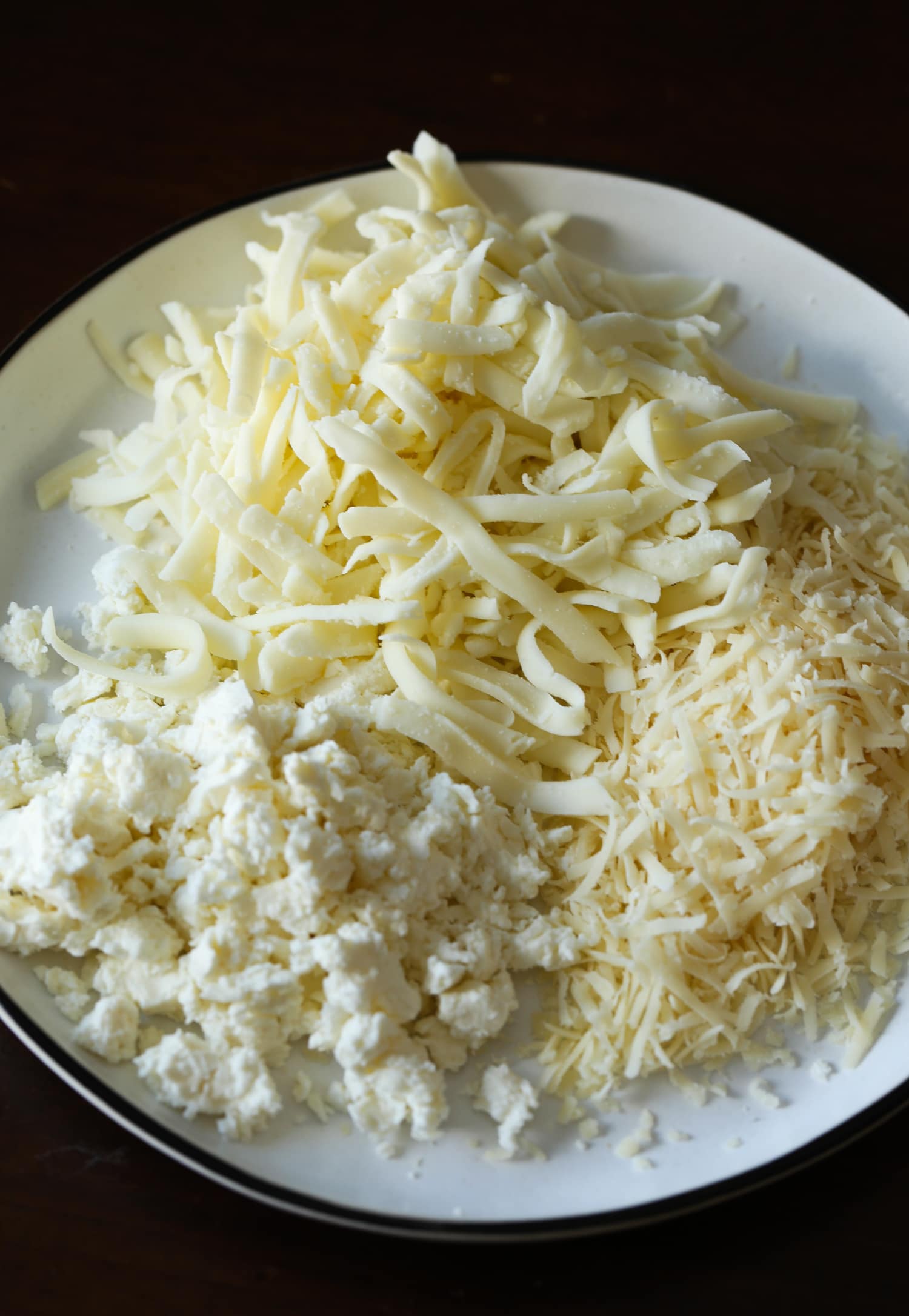 What You'll Need
Spinach: I love the convenience of frozen chopped spinach, but you can also use fresh spinach that's been sauteed.  
Artichokes: Artichoke hearts, drained of excess liquid. You can use the ones that are canned in water, or jarred marinated artichokes.
Herbs: Fresh minced garlic, and finely diced chives, with a hint of cayenne pepper for a bit of kick.
Cream Cheese: You'll need one full block, brought to room temperature and cut into cubes. Full fat, regular cream cheese gives this dip the best rich flavor and texture! However, you can use light cream cheese if that's your preference.
More Cheese: This dip recipe uses a combination of fresh grated parmesan, grated mozzarella, and feta cheese in addition to the cream cheese. For me, this makes the perfect blend of flavor, meltiness, and creaminess!
Sour Cream: The tanginess of the sour cream cuts the richness, and brings just one more layer of flavor.
Mayonnaise
Salt & Pepper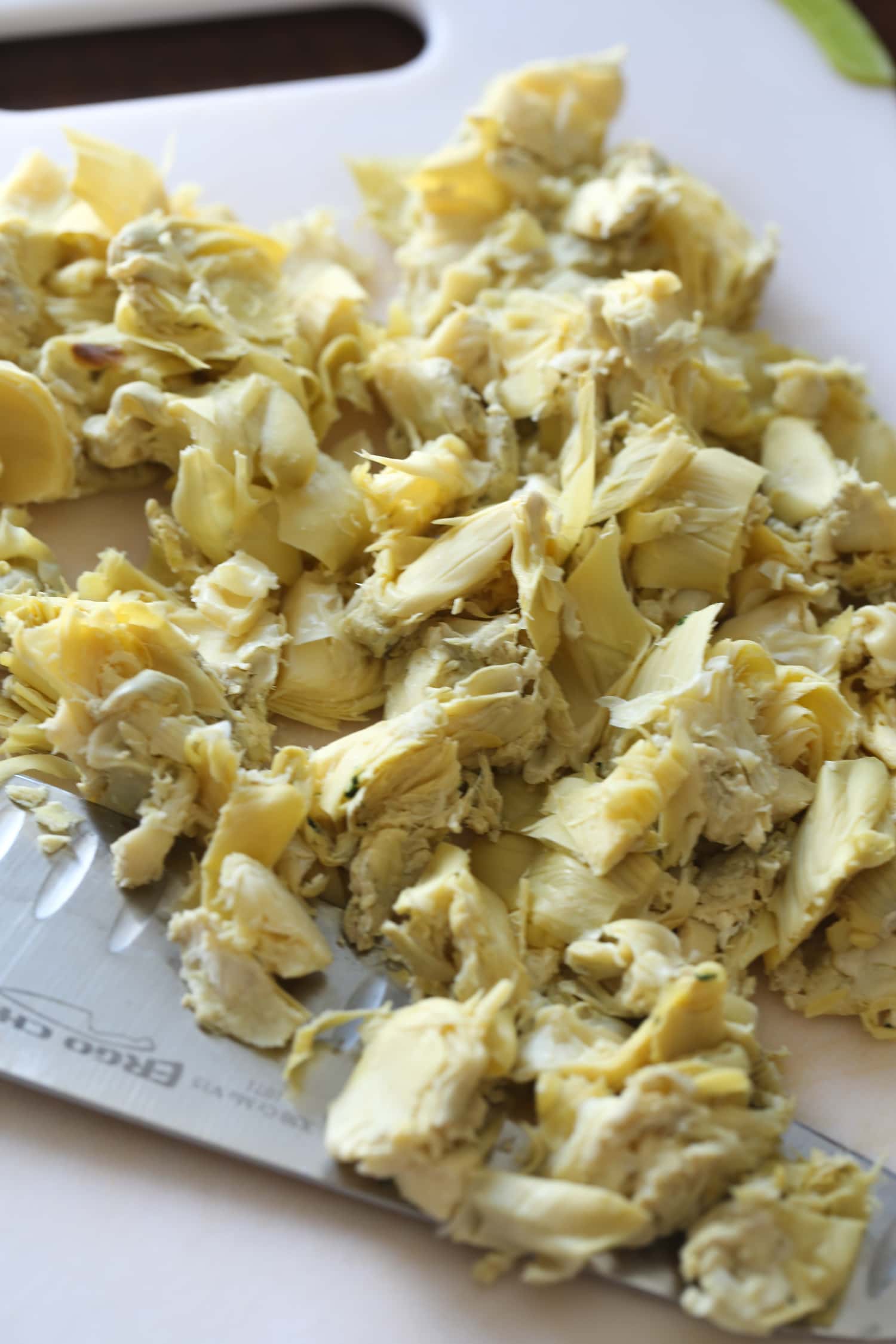 How to Make Hot Spinach and Artichoke Dip
This recipe uses a combination of fresh and frozen ingredients that come together into a dip that's just so incredibly rich and delectable! 
Before you make your dip, you'll need to thaw and drain the spinach, and also drain your artichoke hearts to remove any excess moisture. Then, follow these easy steps: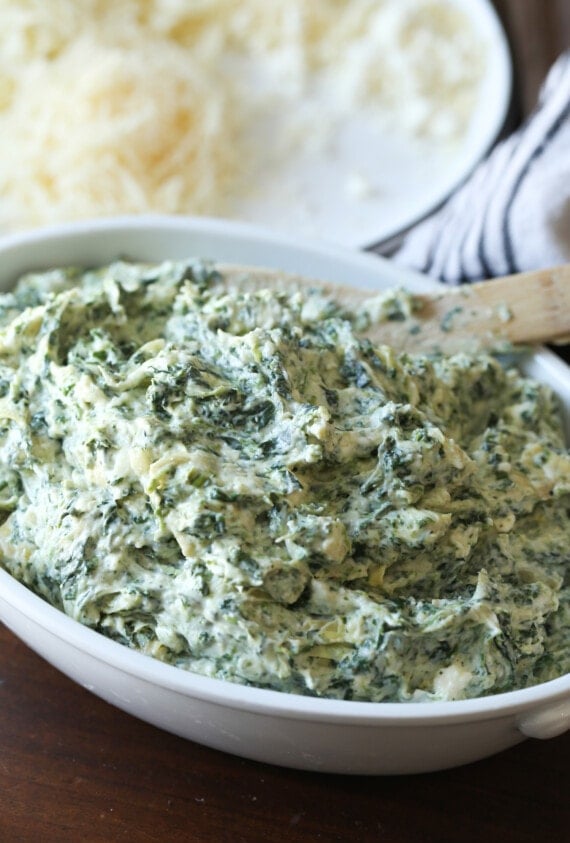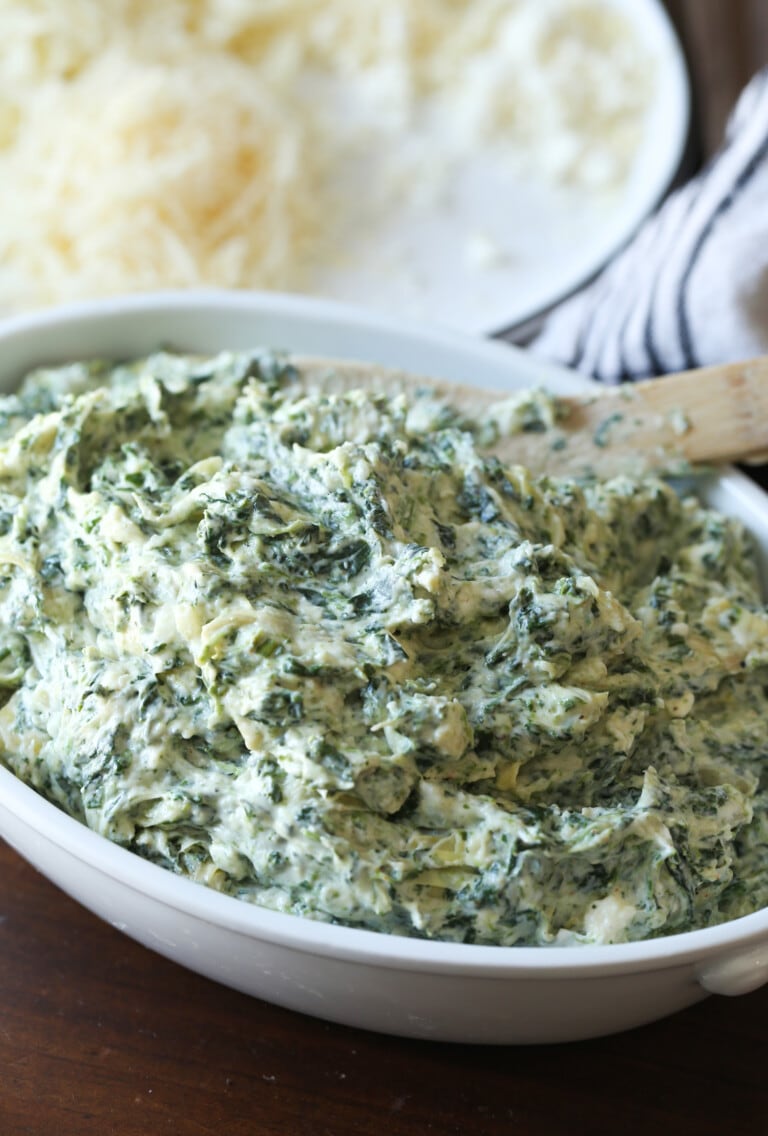 Combine: In a saucepan, combine the spinach, artichokes and cheeses with the other dip ingredients. Heat the mixture until it's warmed through and the cheese is nice and melty, giving it a frequent stir.
Broil: Pour the melted dip mixture into a prepared baking dish, and sprinkle mozzarella and parmesan over top. Place the dip under a preheated broiler until the cheese is toasted and bubbly. 
Serve: Serve your artichoke dip right away with your choice of dippables! Some of my favorites are pita chips, bread slices, or chopped veggies. See below for more serving suggestions!
Can I Prepare it Ahead of Time?
This dip is awesome to make up to 8 hours ahead, making it a perfect appetizer dip for parties and potlucks! To make your spinach and artichoke dip in advance, simply follow the recipe as directed up until you would bake it. Once it's topped with cheese, cover the dish with foil and pop it into the fridge until you're ready to heat it. You can even freeze artichoke dip for longer storage! Find more tips for storing and reheating later on in this post!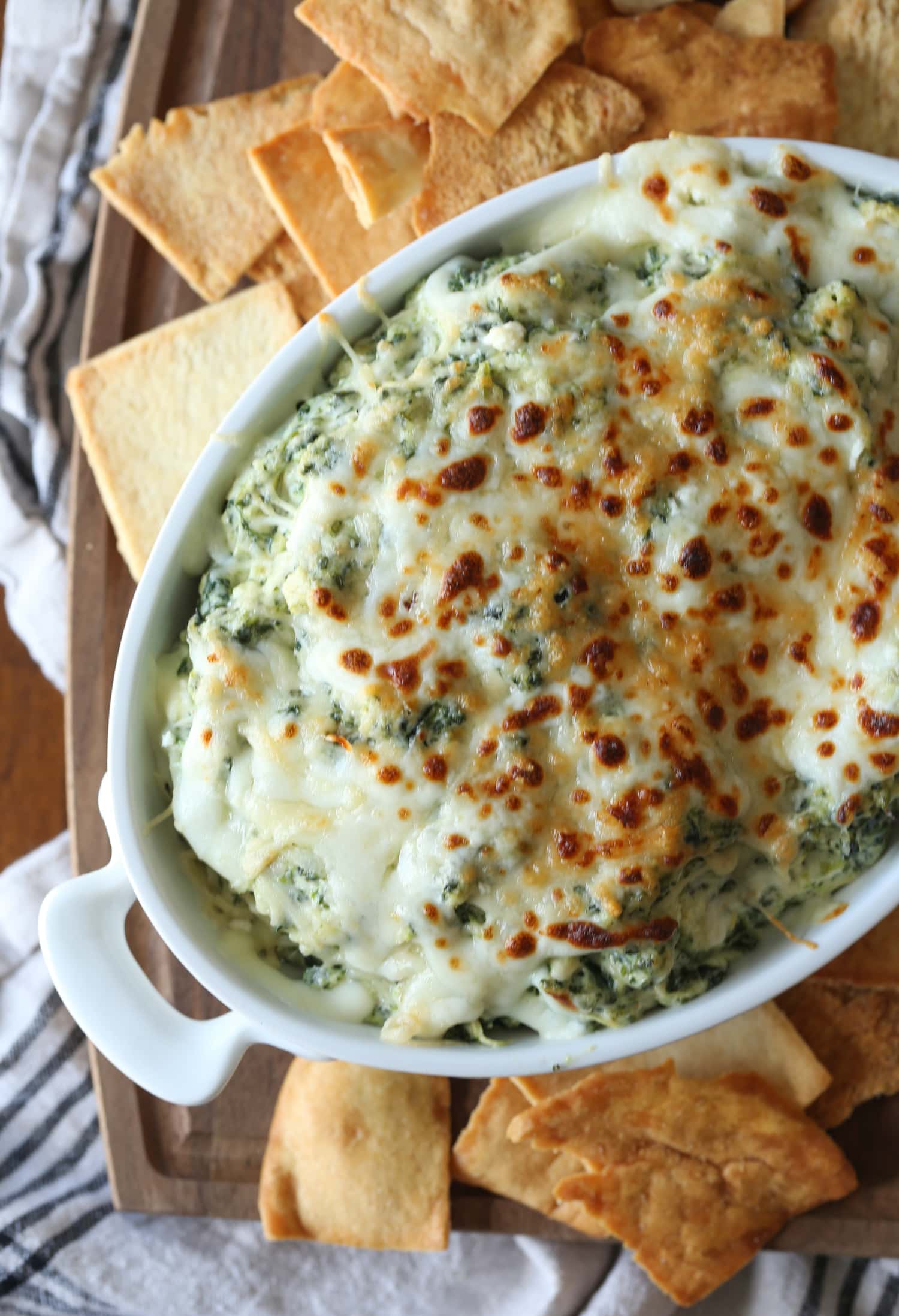 Tips for Success
Use Fresh Grated Cheese: It might be tempting to opt for pre-shredded cheese from the store, but I strongly recommend grating your own! Not only is the flavor fresher, there's less preservatives and anti-caking agents that keep pre-shredded cheeses from melting as smoothly.
Can I Use Low Fat Ingredients?: You can lighten up this dip recipe using low fat cream cheese, low fat sour cream, and/or low fat mayonnaise. However, the creamy texture and flavor of the dip won't be quite the same.
Add-In Ideas
You can customize this dip to your tastes with all kinds of add-ins!
Stir in some Shredded Chicken (or store bought rotisserie chicken), or another pre-cooked protein like diced ham, crispy bacon, or sausage.
Add in veggies like roasted bell peppers, caramelized onions, sauteed kale or mushrooms. 
Mix in or swap in additional herbs and spices such as fresh dill, parsley, rosemary and thyme.
Customize the flavors with chopped olives, sun-dried tomatoes, or pine nuts.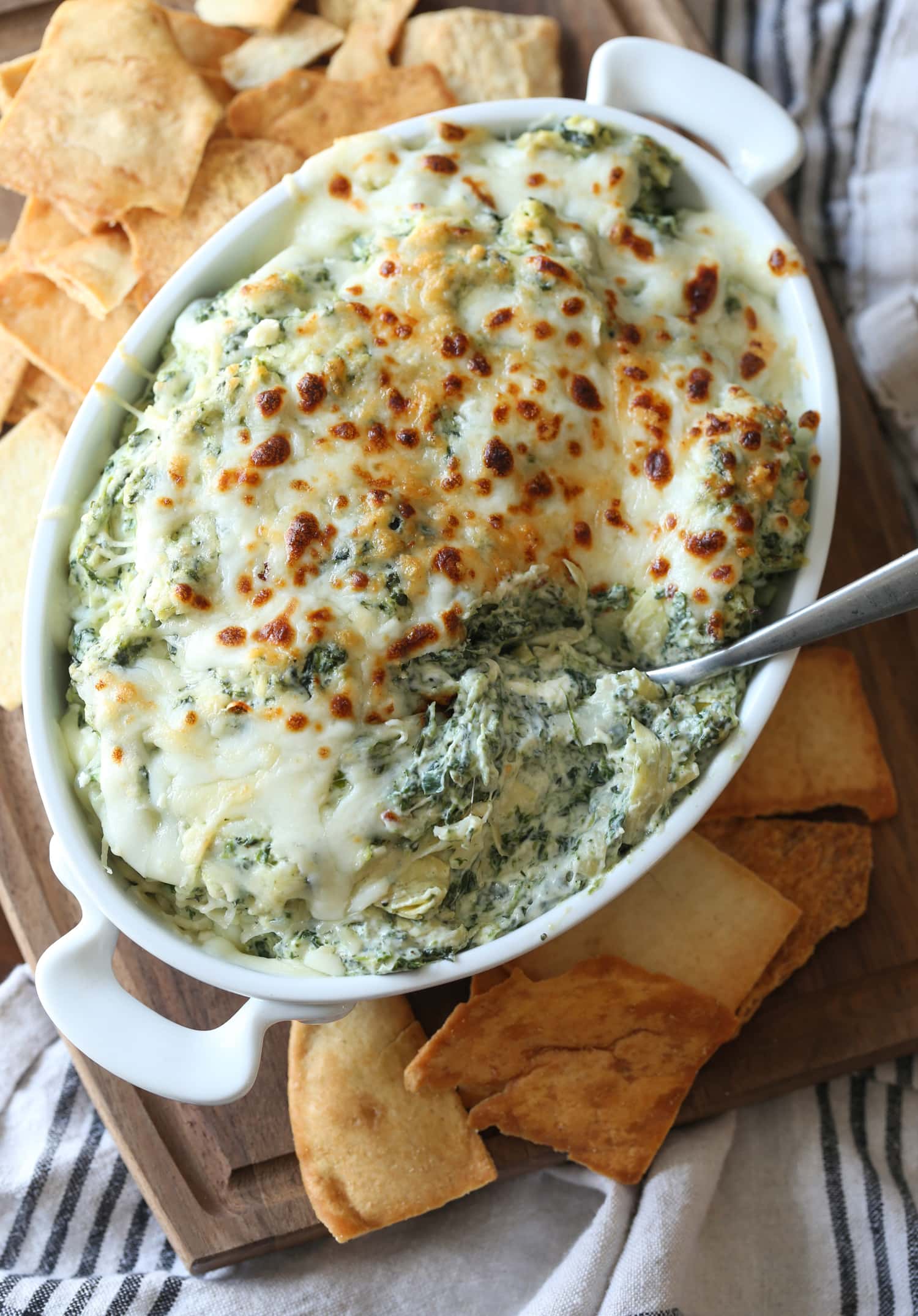 Serving Suggestions
I love serving this artichoke dip at gatherings, next to all kinds of dipping options like pita chips, fresh veggies, baguette slices, and crostini. It also goes wonderful alongside a charcuterie board next to cured meats and cheeses.
This dip honestly pairs with just about any hearty bread or cracker. For an extra spicy kick, serve it with these Seasoned Crackers! Just make sure that whichever dipping options you choose will hold up to the thick dip (so maybe skip those thin wafers this time). 
Creamy artichoke dip is the perfect appetizer dip to serve for holidays, game days, and more. Try this dip alongside other festive appetizers like these Crazy Delicious Cheeseburger Sliders, Homemade Soft Pretzels, and Easy Homemade Cheez Its Crackers!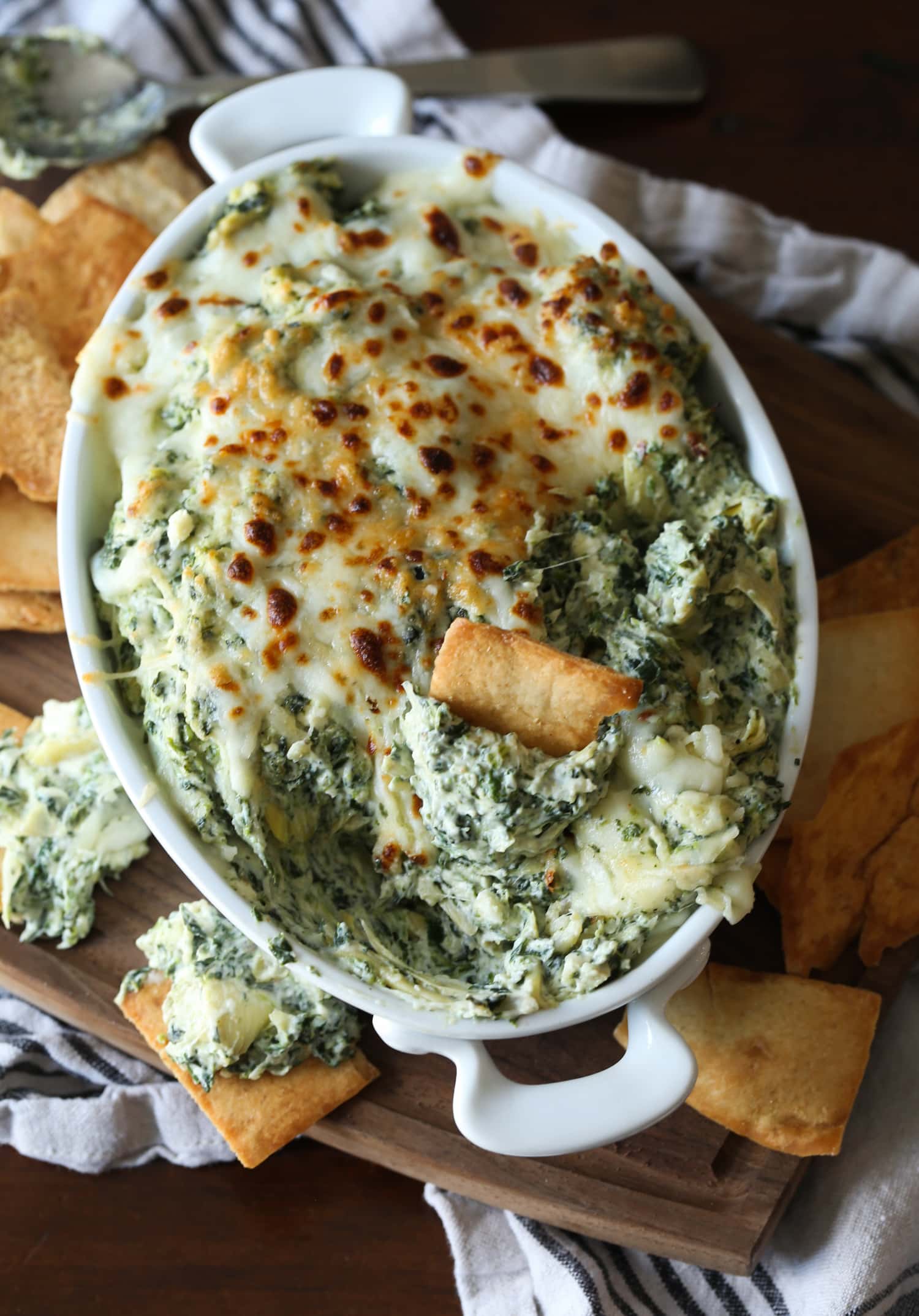 How to Store and Reheat Leftover Dip
Store any leftover spinach and artichoke dip airtight in the fridge, where it will keep fresh for up to 3 days. 
Reheat the dip uncovered in the oven at 375°F until warmed through and melted, about 25-30 minutes. Switch the oven to broil for the last minute or so if needed, to lightly toast the top.
Does This Freeze Well?
For longer storage, you can keep this dip frozen for up to one month. Store the dip airtight in a freezer-safe container until you're ready to thaw it, then place it in the fridge overnight to defrost.
More Crave-Worthy Appetizer Dips
---
Description
This ultimate recipe for creamy, cheesy Spinach and Artichoke Dip rarely lasts long at parties! A crowd-pleasing appetizer packed with melty cheese, garlic and herbs.
---
1

(12- ounce) package frozen chopped spinach

2

(14- ounce) cans artichoke hearts, packed in water

3 tablespoons

diced chives

3

cloves garlic, minced

1

(8- ounce) block cream cheese, cubed at room temperature

2/3 cup

fresh grated parmesan, divided

1 cup

grated low moisture mozzarella, divided

1/3 cup

crumbled feta cheese

1 cup

sour cream

2/3 cup

mayonnaise 

1/2 teaspoon

fresh ground black pepper

1/2 teaspoon

seasoned salt (or kosher salt)

1/4

–

1/2

teaspoon cayenne pepper
---
Preheat the oven to broil. Coat a 2- quart casserole dish with nonstick spray and set aside.

Cook the spinach according to package directions, or microwave in a microwave-safe bowl in 1 minute increments until thawed. Place the spinach in a thin towel or cheesecloth and squeeze out all excess water. Place the spinach in a medium saucepan and set aside.

Drain the artichokes. Place the artichokes in the same towel or cheesecloth and squeeze out all the excess water. Place the artichokes on a cutting board and coarsely chop. 

Add the artichokes, chives, garlic, cream cheese, 1/3 cup parmesan, 1/2 cup mozzarella, feta, sour cream, mayonnaise, pepper, salt, and cayenne into the saucepan with the spinach. 

Heat the mixture over medium heat, stirring frequently until warmed through and all the cheese is melted, approximately 10 minutes.

Transfer the dip into the prepared dish. Top with the remaining 1/2 cup mozzarella and 1/3 cup parmesan. Place under the broiler until the cheese is lightly toasted, about 1 minute.

Serve immediately with pita chips, fresh vegetables, or bread.
---
Notes
Store airtight in the refrigerator for up to 3 days.
Make Ahead Instructions: Prep the dip as instructed, top with extra cheese. Cover with foil and refrigerate until ready to use. To heat, place in a 375°F oven for 25 – 30 minutes, until the cheese is golden and warmed throughout.
Keywords: easy appetizer ideas, appetizer dip, party food
Want To Save This Recipe?
Find more recipes like this:
PIN for later: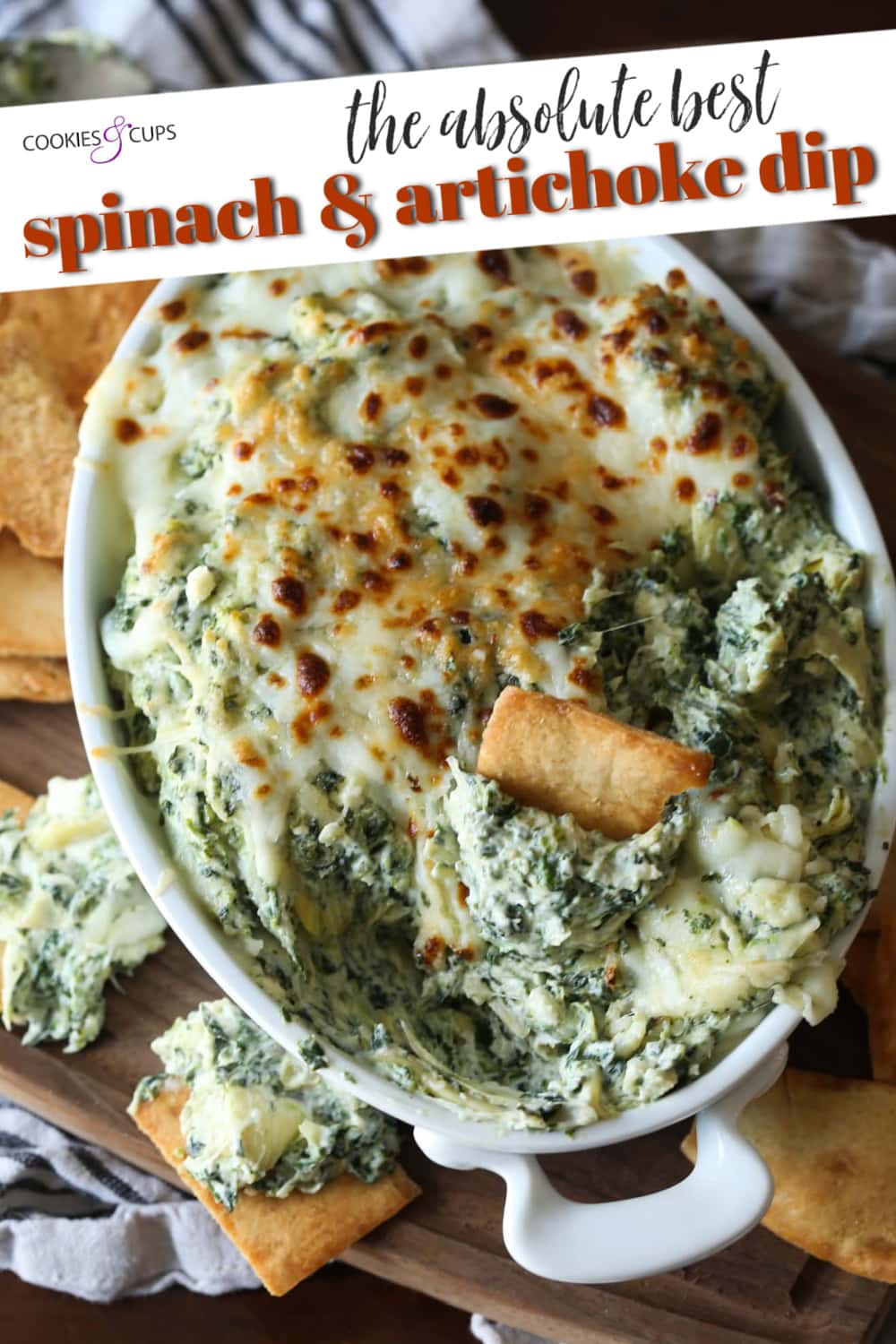 Source link
Originally posted 2022-08-31 13:18:20.